VIDEO LINKS

PBS Short Docs, How Autism has Shaped Artist Gregory Blackstock's Work

Director - Drew Christie and Producer Kalakala Animation created this short animation about Gregory Blackstock's journey making art



February 27, 2019
Eric's Heroes: A Seattle man uses his unique gift to create art
by Eric Johnson
Link to KOMO: https://komonews.com/news/erics-heroes/erics-heroes-a-seattle-man-uses-his-unique-gift-to-create-art

YouTube video about Hiding Places: Memory in the Arts, John Michael Kohler Art Center, Sheboygan, WI from 2011
RECENT AWARD

Gregory Blackstock has just been awarded a 2017 Wynn Newhouse Foundation award. The Wynn Newhouse Foundation grants annual awards to an artist of exceptional merit with a disability.
DESCRIPTION

Read about Gregory Blackstock: Foundations of a Blackstock Drawing written by Dorothy Frisch


RECENT PRESS

Crosscut
ArtSEA: New animated film illustrates a beloved Seattle "outsider artist" By Brangien Davis
July 15, 2021

The Seattle Times
Seattle artist Gregory Blackstock's possibly last show with new work on view at Greg Kucera Gallery By Melissa Hellmann
June 30, 2021

April 1, 2015
Pomegranate
Artist Spotlight: Gregory Blackstock

December 14, 2012
The Seattle Times

Gregory Blackstock's intricate world is a charming one, too | Art review by Robert Ayers

GREGORY BLACKSTOCK

Seattle artist, Gregory Blackstock, began drawing regularly in his mid-40s, cataloguing the world around him just as a botanist might classify plants in terms of families, species and genus, or an entomologist might arrange the various types of bugs within his collection. Blackstock is autistic, and his need to make sense of an unpredictable world is given a deeply satisfying outlet in his art. For him, the world is made up of things which need to be identified, ordered, and arranged - be they bugs, birds, vehicles or landmarks. One thing or another is seemingly of no greater weight but, once he decides to draw the subject, he seeks to reveal all of the specific variations within that subject.

As he draws, he further breaks down those categorical distinctions, setting them on paper in neat rows and columns and always clearly labeling each item. He might create a simple, small drawing comparing two colors of The Tasmanian Devils, detail each one of The Great Americas Jays, or explore delightful variety in The Christmas Novelties. Occasionally, he will add informative or dramatic descriptors as well. His Notorious Harmful- to- Man Plants warns "irrigationists, farmers, linemen, foresters, campers, hikers, ranchers" in a lengthy caution about the dangers of poison ivy. While nothing is either too exotic or too banal to capture his attention, Blackstock particularly likes to depict things that are dangerous, irritating, or loud.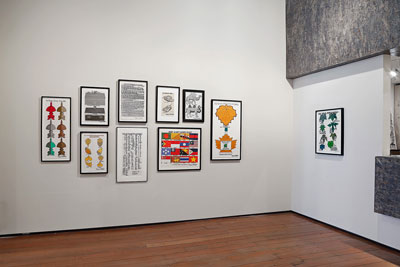 2018 exhibition, The Great World Survey of Gregory Blackstock Drawings, through March 31.


TECHNIQUE

Blackstock's work showed remarkable power and precision from the start, as if he had been storing data in his memory banks all his life. His uncanny depictions are drawn with incredible precision and a vivid use of color. Straight lines, musical notes and text, are all executed freehand. The detail to his work, aided by his innate memory skill, is nearly faultless.

For his research, Blackstock buys books, visits libraries and, when possible, studies the subject itself. He cannot use a computer and often leaves it to the helpful librarian to select an image from a computer search and mail it to him. He learns incredibly detailed information about each of his subjects, memorizing a range of geographical, anecdotal, and scientific information he will never forget.

The artist does not strive to make the drawing realistic but it must be factually correct. He is not drawing as a photorealist; he's drawing as a lover of information. First and foremost, he must be able to NAME what he is drawing, and it not only has to be specific (pine tree vs. maple tree), but it has to be exact (Ponderosa Pine vs. Western White Pine) and he is careful to draw it in a readable fashion. It also bothers him if for some reason he leaves out any example of his chosen category. Occasionally, the omissions from one drawing will become the genesis of a second iteration which then completes the category to his satisfaction.

He begins by drawing the item in pencil, carefully labeling it, then outlining in black marker, and finally using colored pencil or crayon to fill in. He usually finishes one entire row in full detail before moving on to the next. As an artist Blackstock intuitively understands how he wants the subjects to fit on the page, with the total pattern of shape and color captured in his mind, before he even begins the piece.

Blackstock will usually have between 5 and 10 drawings in various stages of completeness at any given time. The more complex the subject, the more often he has to take breaks from it. Sometimes a year or more will pass before he is satisfied that it is finished. Other times, if an idea captures him, he will work steadily for hours and hours each day until the drawing is finished.

Paradoxically, while minute details of the subjects are a fixation for him, he is less concerned with the specific conditions of the physical drawing itself. Blackstock will add paper to the work to build it to a size he needs, regardless of whether it is the same tone or weight as the rest of the piece. He will often eat meals while he draws. If he bumps into or crinkles one of the drawings as they are casually stacked in his small apartment he makes no effort to repair it. Smudges, food stains, dimples, and rips are not important in his concept of getting a drawing right. He is also inclined toward an economy of material, holding on to paper from various sources, until he can make use of it in a drawing.

Although in 1966 the Seattle Times published one of Blackstock's earliest drawings, taken from the TV series "Batman," it wasn't until the late 1980s that he began to draw in earnest. While he clearly draws for his own satisfaction, he was thrilled when, working as a pot-and-dish washer at the Washington Athletic Club, the employee newsletter began to include small reproductions of his work in "Blackstock's Corner." He began to enthusiastically plan out his drawings based on the publication schedule with subjects ranging from state birds to state prisons, gardening tools to WWII bombers, and from mackerels to Boeing jet liners. He would solicit ideas from his co-workers, and sometimes credit them under the title. As the newsletter could reproduce his images only in black and white, Greg didn't regularly use color in his drawings until there was a new audience in the form of gallery attendees.

After he introduced color to his drawings in 2004, his categories became narrower and more specific while including even more color variations. For instance, in black and white, he might do a grouping such as The Herding Dogs. After color, he had to do a single drawing of all the possible colors of The Bearded Collies, another of the different shades of The German Shepherd Police Dogs.

HISTORY

Blackstock was born in Seattle in early 1946, long before the term autism was widely known. Although his parents were educated and relatively affluent, they could do little to nurture and support his unique needs, having no idea of what made him so different from other children. His family physician gave the diagnosis of paranoid schizophrenia (a common psychiatric label for the times) and Blackstock was sent to special boarding schools for "troubled" children in California from the age of 10 until he was 14. His father left the family home when Blackstock was about 11, further disrupting his difficult young life.

Because of his remarkable abilities in art, music, language and memory, Blackstock is now considered a rare "prodigious savant" according to Dr. Darold Treffert, the acknowledged expert on the subject, who has included the artist in his latest book, Islands of Genius. Blackstock exhibits many of the classic contradictions of the savant. Social conversations are very difficult for him, yet he can speak and understand the rudiments of about twelve languages, including Japanese, Mandarin Chinese, German, Tagalog and Czech. He obsessively reads and memorizes the thesaurus to improve his vocabulary, but he cannot understand which words are in current usage and which are archaic, nor can he grasp nuance or irony, find meaning in metaphors, euphemisms, or satire, all of which are the underpinnings of everyday conversation. It is difficult for Blackstock to interpret (human) facial expressions to gauge the mood of another person, and he cannot use empathy to imagine what that person is thinking. Therefore, though eager to engage with people, his interactions can be lengthy monologues about his own current interests.

Blackstock enjoys music, plays an enthusiastic accordion, and is self-taught on the piano and organ. He often relaxes by creating, from memory, hand-drawn sheet music of old favorites, while effortlessly changing them into a more difficult key. He fashions an artistic folder for each, then places it on the growing stack in his closet. He has no need to look at them again to remember how to play (and sing) all the verses of the music in its new key. He used to regularly frequent Seattle area sports arenas and the opera house to play his accordion outside as fans entered and exited. Even in his late 60's he can still be seen playing "The Husky Fight Song" near the entrance to the college stadium.

For Blackstock, rules and facts are his reality. What he learned as a child is immutable, and he takes comfort in the unchanging facts of the natural world. He is confused by the emotions of others, oblivious to the shifting tides of political correctness, and unnerved by advances in technology. He can expertly shade a drawing of a Goldfinch's wing, yet cannot understand verbal directions to "put the yellow plug into the yellow circle" when setting up a DVD player.

Gregory Blackstock worked most of his adult life. From a teenaged newspaper carrier, to his twenty-five years as a dishwasher at the Washington Athletic Club, he has rarely been idle. In the years since full retirement, he now spends many hours each day creating the drawings that catalogue the world for him.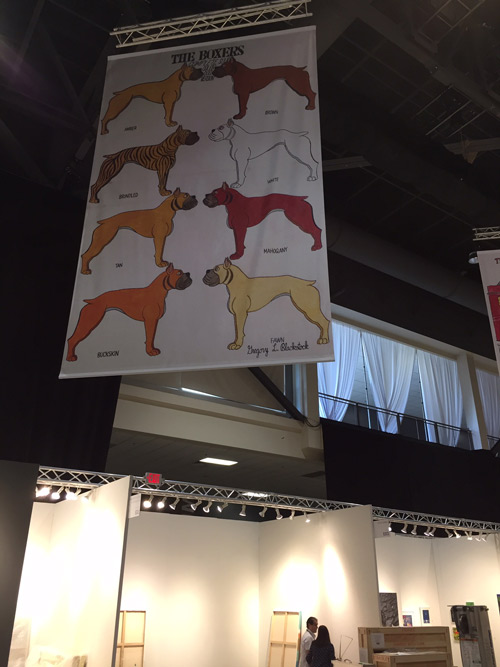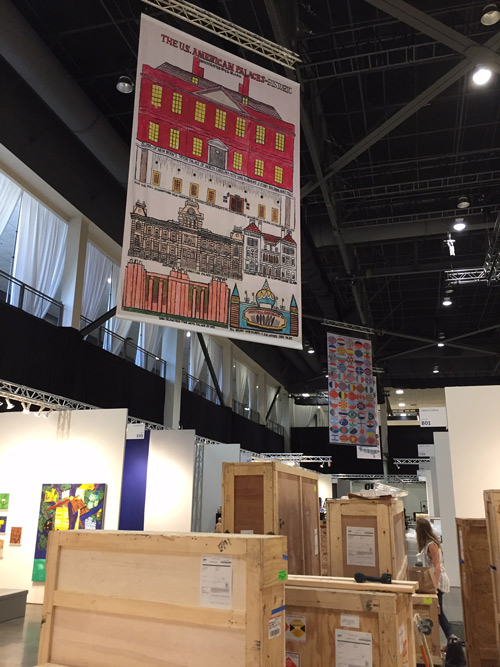 2019 Seattle Art Fair, Gregory Blackstock featured artist
20 ft. x 8 ft. banners of his work displayed at CenturyLink Event Center, August 1 - 4, 2019

EXHIBITIONS AND COLLECTIONS

In the years since his first exhibition in Seattle at Garde Rail Gallery in 2004, Blackstock's distinctive drawings have captured the imagination of art collectors throughout the world. A 2006 book of his works, Blackstock's Collections, (with introduction by Karen Light-Piña and foreword Dr. Darold Treffert) is now in libraries worldwide. Six of his illustrations were featured on a collection of limited edition men's clothing by the avant-garde French fashion label "Commes des Garçons," and the Seattle Art Museum Gift Shop has produced a t-shirt using his drawing of "The Art Supplies."

Garde Rail Gallery (now in Austin, TX) has shown Blackstock's drawings at the Outsider Art Fair in New York City, Aqua Art Fair in Miami, and Santa Fe's Outsider and Folk Art Fair. Blackstock's art has also been shown at the John Michael Kohler Art Center, Sheboygan, WI.

In 2011, the prestigious Collection de l'Art Brut in Lausanne, Switzerland presented a solo exhibition of Blackstock's work. Today, 18 of his works now reside in their permanent collection. In collaboration with award winning filmmaker, Philippe Lespinasse, the museum also produced a documentary about him, Gregory Blackstock, l'Encyclopédiste, that has been shown at film festivals in Montreal and Nice. Galerie Susi Brunner in Zurich, and Galerie Gugging in Vienna showed Blackstock's work in 2012.

Both Microsoft Corporation and the Seattle Art Museum own examples of the artist's work in their permanent collections. As well as Blanton Museum of Art, University of Texas at Austin, Austin, Texas and Collection de l'Art Brut, Lausanne, Switzerland.

Gregory Blackstock is exclusively represented by Greg Kucera Gallery, Seattle, WA. He is assisted in his life and daily endeavors by his cousin, Dorothy Frisch.