Our news of France:
About a year ago, together with my mate Shaun Warner, and my dearest friend Larry Yocom, I bought a house in the south of France.

Well, more than a home. A castle. As castles go, it's a smallish, medieval stone fortress, built in 1501 for one of the minor Knights of Rhodes. It's called Le Château de l'Astorguié. The address is 39 Rue de la Mairie, Parisot 82160 France. Using that address, you can look it up on Google maps. The satellite view will show you the surrounding area most easily. It's a fascinating historic site in a rural setting. The town of almost 900 people has 2 bakers, 2 restaurants, a butcher, bar, pharmacy, post office, primary school, medical office, chocolatier, beauty parlor...and a big church right across the street from us. We are perched on a steep hillside, along an ancient road encircling the village.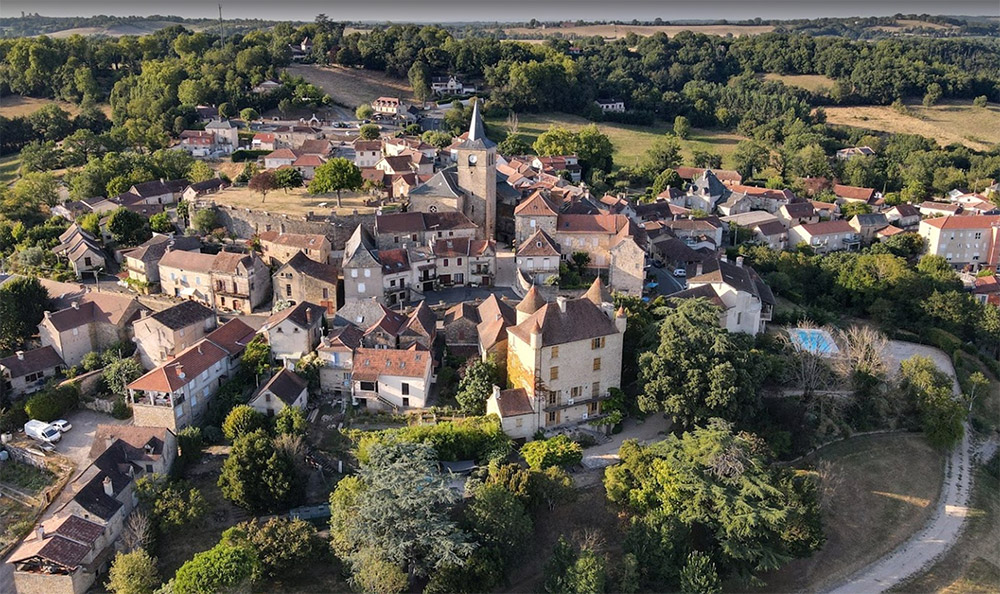 The process:
Starting right after Trump's election, fearing the worst, we began to look online at real estate sites in France. We were amazed what great value American dollars can buy in places like France, Spain or Italy. We viewed 160 properties online, made a comprehensive spreadsheet listing each property's qualities, focusing it as we researched. In May of 2019, we viewed ten homes and three châteaux on our shortlist. Mostly we were looking in the Tarn et Garonne, Loire, and Dordogne areas.



The place we bought is shown in this YouTube video: https://www.youtube.com/watch?v=f4iuoAJSbds.

The music is a little ponderous but the photography is good. The video shows the castle's medieval architecture, outbuildings, stone terrace, hay fields, and the town quite nicely.

The British couple who sold this to us finished its remodel to a very high degree of perfection, preserving its historic look while updating all the systems. They bought it in 2000, and spent two years dealing with the complications of permits, plans, architects, etc. (The French do love their bureaucracy which makes remodeling a historical property like this a nightmare.) Then in 2003 they started rebuilding the place, keeping it in scaffolding into 2005. They moved in during 2005, and lived there until 2019, when their children and grandchildren had dispersed around the world.

Location:
The address is 39 Rue de la Mairie, Parisot 82160 France.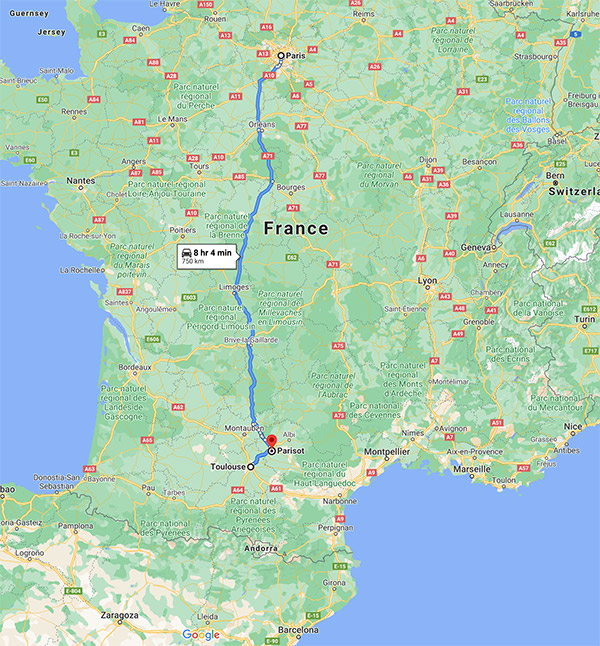 Perimeter view of the property





Le Château de l'Astorguié:
It's a six-story building with a lovely circular staircase to all the various levels in one of its towers. It's not wheelchair accessible so we have to use it while we're still healthy!

Each floor has two main rooms. The large rooms (salon, kitchen, major bedrooms) are all 20 x 24 feet. The smaller rooms (dining room, office, and guest bedrooms) are all 20 x 15 feet. The second tower contains the bathrooms for each of the adjacent major rooms. In fact, each of the five bedrooms in the castle has an attached "ensuite" bathroom. On the back corners of the building are even two echaugettes, or sentinel turrets.

There are two vaulted "cave" rooms on the lowest floor that open out to the expansive, south facing, stone terrace which is also reachable from a grand stone staircase outside the kitchen. Off the terrace is a swimming pool, a greenhouse, and extensive gardens, including a kitchen garden that will bring us much pleasure.

There are also two large "grange" barn buildings, ready now to be finished out for further living space. The property also has two separate small rental apartments in another building on the far side of the pool. The entire land parcel is about 8 acres.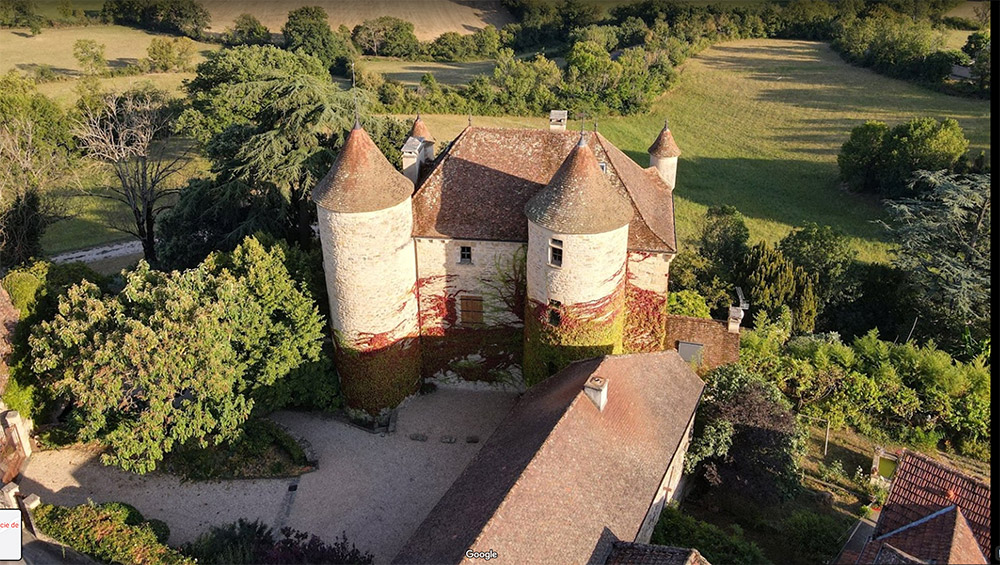 In search of simpler life:
We returned to France to sign and close on the castle in December, 2019 after a 6-month purchase process full of tedious French bureaucracy. Larry moved to France permanently on that trip and I returned to Seattle expecting that Shaun and I would visit Larry a few times during 2020. Now, due to COVID, we don't yet have a timeline for when we can apply for a visa. As soon as the world opens up, Shaun and I plan to join Larry in our new French home and live there permanently, hopefully by this summer.

Shaun is a registered nurse working in behavioral health and addiction/recovery. He hopes to continue his career working remotely from France, but also plans to create vacation rentals in the two already renovated grange apartments on the property. I am researching the possibility for doing artist residencies in the apartments during the off season. We hope to share these future endeavors with you as they take shape.

Larry has been paving the way for all of us by meeting many fine people, mostly British expats, since he doesn't speak French yet. He promises to try learning French once we join him there. Thankfully, Shaun speaks French fluently and will help both of us with our understanding of the language. Immersion is the key, we hear.

For pleasure, I plan to improve my gardening skills, learn more about fruit tree cultivation, and investigate beekeeping. Shaun is eager to take up the guitar, exercise more, and investigate the history of the region's nearby Bastide villages. Larry is already building on his baking skills. He's also been doing a great job managing the castle and holding down the fort. We all plan to cook and entertain our visiting friends there.

Our home will be a great place from which to explore Europe through its nearest airport, Toulouse. We are all eager to see more of the world. We have high hopes for how all of this goes for each of us.

Transitions within the gallery:
I opened the gallery in 1983 and have enjoyed every minute of it for the last 37 years. Now, Jim Wilcox, my trusted employee for 21 years, is buying the gallery with his wife, Carol Clifford, who has worked with us for all of 2020. Along with Jim, I will be the co-director of it for several years and then my ownership will decrease over time. It will be easy for me to stay in touch with the gallery by email and phone from France, assisting with curating and selling shows, for as long as Jim and Carol want my help. We continued to have good business during all of 2020 which is a good sign for our future.

The gallery will keep its name and its current location and configuration. We plan to continue to work with our current staff and roster of artists, updating with new talent as time and opportunity allow. We hope to continue to stay abreast of changes in the art world, and politics in the larger world. We aspire to remain relevant and meaningful to our artists and collectors.

Please offer your support to Jim and Carol and their work with our gallery artists. I know they will do a great job and I trust the gallery to them completely.

Thank you to all of you who have supported us over the years.

Greg Kucera, January, 2021