Prints from THE INCOMPLETE HISTORICAL WORLD, PART II, 2021
18 different images, printed in editions of 15. All prints are 30 inches tall. The widths vary, according to the original proportions of the drawing. Each print is hand-signed by the artist. Images include Artichokes, Barracudas, Big Cats, Parrots, German Shepherd Police Dogs, Leghorn Roosters, Noisemakers, Saws, and Scorpions among others. Printed on hand-deckled Estrada Rag paper by Stephen Rock of Rock's Studio, Seattle. The print, Leghorn Roosters also contains hand-collaged elements. All prices are for the unframed print. Published in collaboration with Gregory Blackstock by Greg Kucera Gallery and Dorothy Frisch.

Please note all prints are listed at unframed prices.


THE ARTICHOKES from THE INCOMPLETE HISTORICAL WORLD, PART II, 2021
Archival pigment print
30 x 17.5 inches
Edition of 15
$1,400 unframed




THE BARRACUDAS from THE INCOMPLETE HISTORICAL WORLD, PART II, 2021
Archival pigment print
30 x 16.5 inches
Edition of 15
$1,000 unframed



THE BEETS from THE INCOMPLETE HISTORICAL WORLD, PART II, 2021
Archival pigment print
30 x 11.75 inches
Edition of 15
$1,800 unframed


THE BIG CATS from THE INCOMPLETE HISTORICAL WORLD, PART II, 2021
Archival pigment print
30 x 14.5 inches
Edition of 15
$1,400 unframed



CLOSE-UP EAGLE-EYED VIEWS - HISTORIC-ARTIST MODEL PETOSA ACCORDIONS OF THE 1950'S-1960'S from THE INCOMPLETE HISTORICAL WORLD, PART II, 2021
Archival pigment print
30 x 16.5 inches
Edition of 15
$1,200 unframed




THE FAMOUS COMPOSITE FAMILY GARDEN FLOWERS from THE INCOMPLETE HISTORICAL WORLD, PART II, 2021
Archival pigment print
30 x 19.25 inches
Edition of 15
$1,000 unframed




THE GERMAN SHEPHERD POLICE DOGS from THE INCOMPLETE HISTORICAL WORLD, PART II, 2021
Archival pigment print
30 x 21 inches
Edition of 15
$1,200 unframed




THE GREAT WORLD PARROTS COMPLETE - COLOR from THE INCOMPLETE HISTORICAL WORLD, PART II, 2021
Archival pigment print
30 x 29 inches
Edition of 15
$2,200 unframed



THE GREAT WORLD SCORPIONS from THE INCOMPLETE HISTORICAL WORLD, PART II, 2021
Archival pigment print
30 x 16 inches
Edition of 15
$1,000 unframed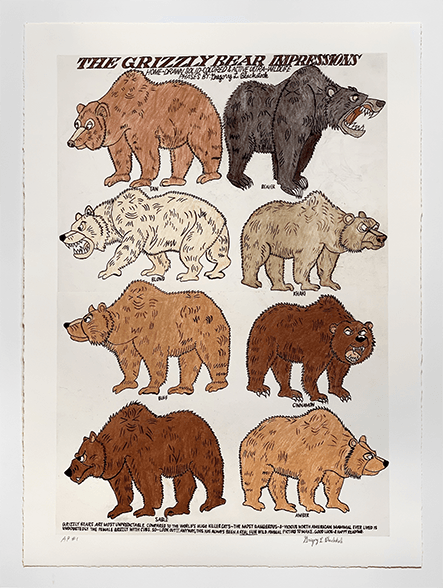 THE GRIZZLY BEAR IMPRESSIONS from THE INCOMPLETE HISTORICAL WORLD, PART II, 2021
Archival pigment print
30 x 21.25 inches
Edition of 15
$1,400 unframed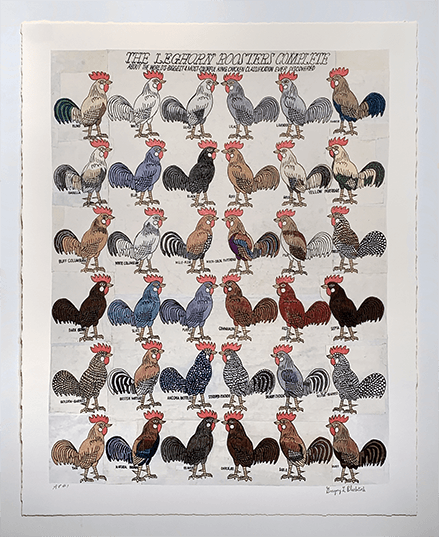 THE LEGHORN ROOSTERS COMPLETE from THE INCOMPLETE HISTORICAL WORLD, PART II, 2021
Archival pigment print
30 x 24 inches
Edition of 15
$1,600 unframed



THE MISCELLANEOUS TOOLS from THE INCOMPLETE HISTORICAL WORLD, PART II, 2021
Archival pigment print
30 x 13.75 inches
Edition of 15
$1,000 unframed



MONSTERS OF THE DEEP from THE INCOMPLETE HISTORICAL WORLD, PART II, 2021
Archival pigment print
30 x 14.75 inches
Edition of 15
$1,600 unframed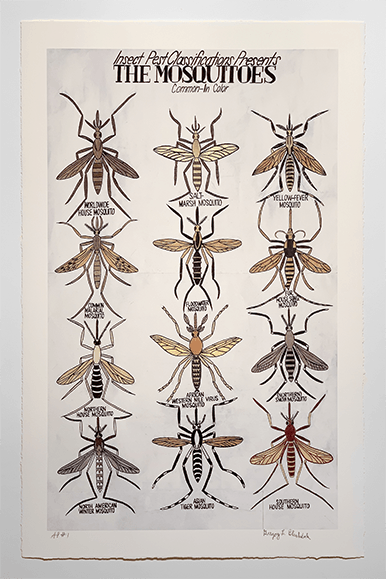 THE MOSQUITOES from THE INCOMPLETE HISTORICAL WORLD, PART II, 2021
Archival pigment print
30 x 19.5 inches
Edition of 15
$1,200 unframed



THE NOISEMAKERS from THE INCOMPLETE HISTORICAL WORLD, PART II, 2021
Archival pigment print
30 x 14.25 inches
Edition of 15
$1,600 unframed



THE PUMPKINS from THE INCOMPLETE HISTORICAL WORLD, PART II, 2021
Archival pigment print
30 x 16 inches
Edition of 15
$1,800 unframed



THE SAWS from THE INCOMPLETE HISTORICAL WORLD, PART II, 2021
Archival pigment print
30 x 14.5 inches
Edition of 15
$1,000 unframed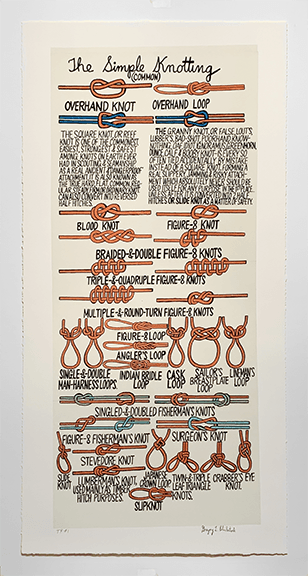 THE SIMPLE KNOTTING from THE INCOMPLETE HISTORICAL WORLD, PART II, 2021
Archival pigment print
30 x 15 inches
Edition of 15
$800 unframed