Prints from THE INCOMPLETE HISTORICAL WORLD, PART I, 2020
20 different images, printed in editions of 20. All prints are 24 inches tall. The widths vary, according to the original proportions of the drawing. Each print is hand-signed by the artist. Images include Tropical Fruit, Art Supplies, Piranhas, Birdwing Butterflies, Carrots, Lilies, Shoes, "Super-Red-Hot" Peppers, Cockroaches, and Crows among others. Printed on hand-deckled Estrada Rag paper by Stephen Rock of Rock's Studio, Seattle. Several of these prints contain hand-collaged elements; namely, Birdwing Butterflies, Crows, Lilies, Penguins, Piranhas and Shoes. All prices are for the unframed print. Published in collaboration with Gregory Blackstock by Greg Kucera Gallery and Dorothy Frisch.

Please note all prints are listed at unframed prices.


OUR FAMOUS TROPICAL FRUITS from THE INCOMPLETE HISTORICAL WORLD, PART I, 2020
Archival pigment print
24 x 13 inches
Edition of 20
$800 unframed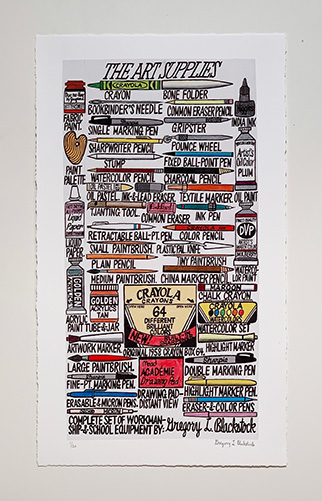 THE ART SUPPLIES from THE INCOMPLETE HISTORICAL WORLD, PART I, 2020
Archival pigment print
24 x 13.5 inches
Edition of 20
$1,500 unframed




THE AUTOMOBILE CLASSICS - COLOR from THE INCOMPLETE HISTORICAL WORLD, PART I, 2020
Archival pigment print
24 x 16.75 inches
Edition of 20
$1,500 unframed





THE BIRDWING BUTTERFLIES from THE INCOMPLETE HISTORICAL WORLD, PART I, 2020
Archival pigment print
24 x 16.75 inches
Edition of 20
$1,200 unframed



THE CARNIVOROUS PLANTS from THE INCOMPLETE HISTORICAL WORLD, PART I, 2020
Archival pigment print
24 x 16.5 inches
Edition of 20
$1,000 unframed



THE CARROTS from THE INCOMPLETE HISTORICAL WORLD, PART I, 2020
Archival pigment print
24 x 13.75 inches
Edition of 20
SOLD OUT



THE GREAT WORLD COCKROACHES from THE INCOMPLETE HISTORICAL WORLD, PART I, 2020
Archival pigment print
24 x 11.5 inches
Edition of 20
$800 unframed




THE GREAT AMERICAN ART MUSEUMS from THE INCOMPLETE HISTORICAL WORLD, PART I, 2020
Archival pigment print
24 x 16.75 inches
Edition of 20
$1,000 unframed




THE GREAT WORLD CROWS from THE INCOMPLETE HISTORICAL WORLD, PART I, 2020
Archival pigment print with collage
24 x 17 inches
Edition of 20
$1,500 unframed




THE GREAT WORLD DRONGOS from THE INCOMPLETE HISTORICAL WORLD, PART I, 2020
Archival pigment print
24 x 16.5 inches
Edition of 20
$1,200 unframed




THE GREAT WORLD PENGUINS from THE INCOMPLETE HISTORICAL WORLD, PART I, 2020
Archival pigment print with collage
24 x 15 inches
Edition of 20
$1,200 unframed



THE HISTORIC WORLD STRONGHOLDS from THE INCOMPLETE HISTORICAL WORLD, PART I, 2020
Archival pigment print
24 x 20.5 inches
Edition of 20
$1,500 unframed



THE LILIES from THE INCOMPLETE HISTORICAL WORLD, PART I, 2020
Archival pigment print with collage
24 x 18.25 inches
Edition of 20
$1,200 unframed



THE MAJOR WORLD TROUBLEMAKER BEETLES from THE INCOMPLETE HISTORICAL WORLD, PART I, 2020
Archival pigment print
24 x 17 inches
Edition of 20
$1,500 unframed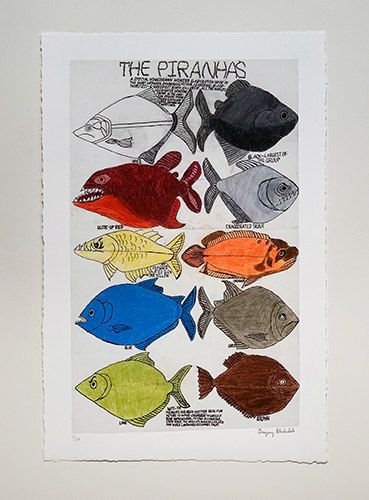 THE PIRANHAS from THE INCOMPLETE HISTORICAL WORLD, PART I, 2020
Archival pigment print with collage
24 x 15.5 inches
Edition of 20
$1,200 unframed



THE SHOES from THE INCOMPLETE HISTORICAL WORLD, PART I, 2020
Archival pigment print with collage
24 x 15 inches
Edition of 20
$1,200 unframed




THE "SUPER-RED-HOT" WORLD PEPPERS from THE INCOMPLETE HISTORICAL WORLD, PART I, 2020
Archival pigment print
24 x 12 inches
Edition of 20
$1,500 unframed



THESAURUS #7 (RESENT) from THE INCOMPLETE HISTORICAL WORLD, PART I, 2020
Archival pigment print
24 x 19.75 inches
Edition of 20
$1,000 unframed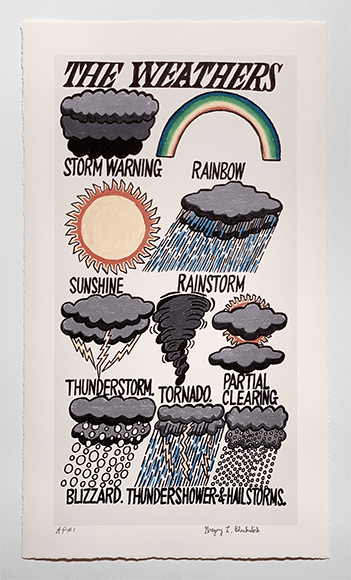 THE WEATHERS from THE INCOMPLETE HISTORICAL WORLD, PART I, 2020
Archival pigment print
24 x 13.5 inches
Edition of 20
$1,200 unframed






THE WORLD WAR 2 CURTISS U.S. ARMY FIGHTERS from THE INCOMPLETE HISTORICAL WORLD, PART I, 2020
Archival pigment print
24 x 13.5 inches
Edition of 20
$1,000 unframed