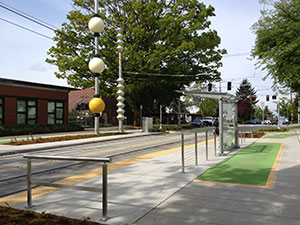 First Hill Streetcar
Left: International District, Jackson and 7th Avenue, Seattle
Center: LoopStitch Bollards, Broadway and Howell, Seattle, WA, cast polyethylene, 28 x 72 x 20 inches
Right: Broadway + Yesler, Seattle, WA, Aluminum, industrial finish





FineTunedTulle
Center for the Arts Plaza, Gresham, OR 2010
Fabricated steel, industrial epoxy paint
Integrated halogen lighting
Dimensions variable: 20'H x 6'W x 6'D to 28'H x 3'W x 3'D



Below are images of Fitch's sculpture commission "Colossal Heads" for the new Seattle Seahawks football stadium. The five large fiberglass heads are installed on the walls of the west side corridor and can be viewed at anytime without fee.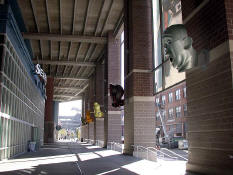 Fitch was inspired first by the monumental statuary of Roman civic arenas to create a series of "Colossal Heads" for the stadium.

In reinventing that ancient tradition for a 21st century facility, the "Colossal Heads" are idiosyncratic interpretations of images from a variety of eras and cultures; the huge puppet-like masks of Rio de Janeiro's Carnival; sculptural signs from Coney Island penny arcades; theatrical masks from a variety of African and Asian traditions; and familiar photographs of movie stars from the 20th century.

Each head is urethane enamel paint on fiberglass over polystyrene foam.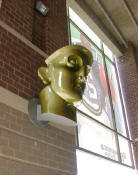 Colossal Heads: Roman Spectator





Colossal Heads: The Girl Next Door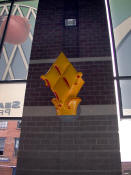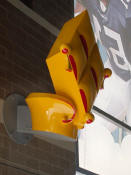 Colossal Heads: Dutch Elvis


Colossal Heads: Lauren Bacall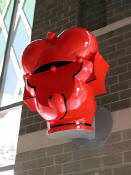 Colossal Heads: Sleeping Spectator



Colossal Heads: Ivory Coast Mask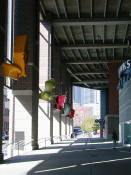 View looking to the north end of the corridor (above)
and looking toward the south (below).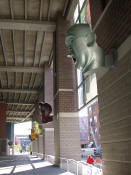 Return to Claudia Fitch's Main Page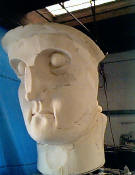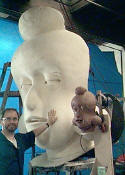 The artist at work on these sculptures.