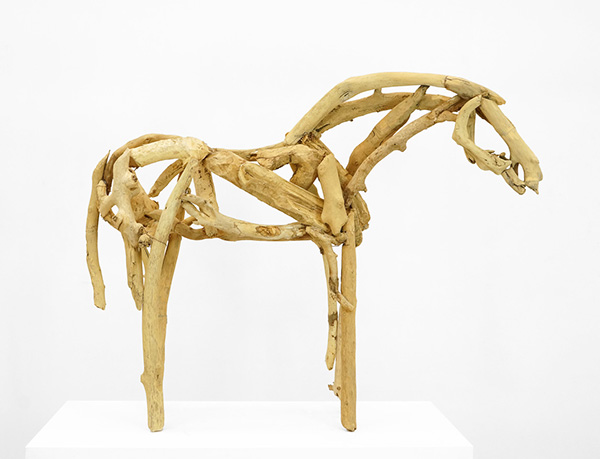 CHEW, 2022
Unique cast bronze
38.5 x 48 x 13 inches
Price on request
CHEW
The descriptively appropriate title for this sculpture derives from the wood collected from trees that were chewed by beavers near the artist's home in Montana. It took Deborah a long time to collect enough of the wood to build this medium sized horse. All the bark was chewed off and removed so that only the raw wood remained. Because they gnawed randomly on the branches, the beavers' teeth marks can be seen throughout the work.

ŌHIA ĀPANE, 2021
Unique cast bronze
26 x 32 x 9 inches
Price on request



ŌHIA ĀPANE
Deborah made this work in her studio on the Big Island. The wood for her sculptures with Hawaiian names comes from walks she takes on her property where she and John Buck live during the winter months. Vegetation there is always sprouting, growing, blossoming, ripening, wilting, dying and decaying. The tropical nature of it just speeds up the process so there are always sticks and branches to pick up.

The Ōhia trees are particularly messy and are always blooming and then dropping twigs. leaves, and flowers on the ground. The small flowers and leaves of the tree are added to this sculpture to mimic what Deborah sees in her nature walks. They are cast in bronze and welded to the limbs and branches after the rest of the work has been cast and reconstructed.

ŌHIA ĀPANE is Hawaiian, meaning "red blossoms from the Ōhia tree."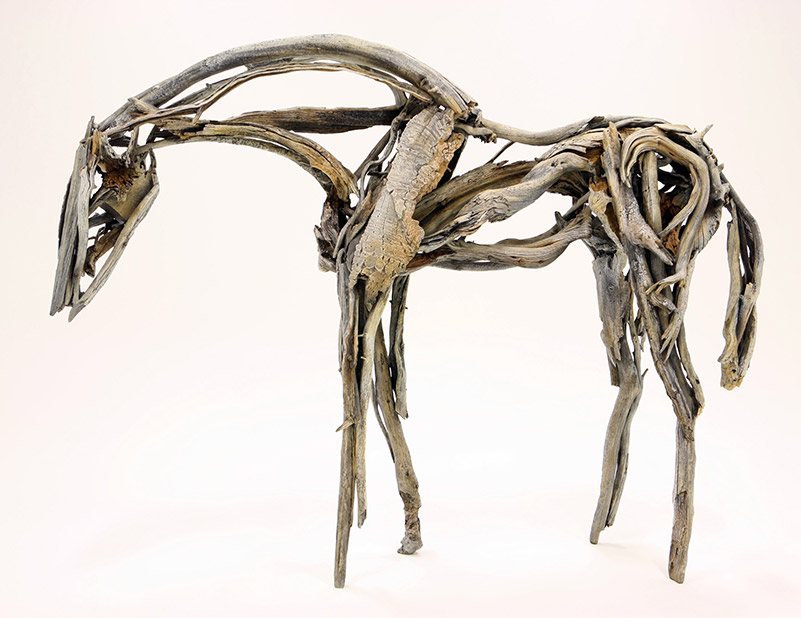 HOPE, 2006
Unique cast bronze
91 x 120 x 35 inches
Price on request


FAITH AND HOPE
Named after Ed Keinholz and Nancy Reddin Keinholz's Idaho art gallery, The Faith, Hope and Charity gallery from the 1970s. These are two works made in the same time frame but they are not a pair. They were sold separately at the time of their making and we are likewise offering them separately now.

The wood used for these works is delicate in comparison to many other of Butterfield's large works. The posture in FAITH, of the head down, suggests a restful and calm posture. This nearly grazing posture is less common in her oeuvre but these, like the fully resting, reclining works, display the range in her sculpture over the years. Most of the standing horse sculptures, like HOPE, have the head and neck in an upward, even reaching, position signaling a horse that is alert and paying attention.

MARK, 2020
Unique cast bronze
87 x 115 x 26 inches
SOLD
MARK
This largest work in our show is titled after Mark Anderson, who started and directed the Walla Walla Foundry for many years. When Butterfield made her first bronze sculpture from wood pieces, at the invitation of the Walker Sculpture Garden in Minneapolis, she worked with Mark and the then nascent Walla Walla Foundry. She enjoyed a long friendship and fruitful professional relationship with Mark until his untimely death earlier this year.

Installation views of Deborah Butterfield's Sculpture 2020



PŪNONI, 2021
Unique cast bronze
27 x 32 x 10 inches
SOLD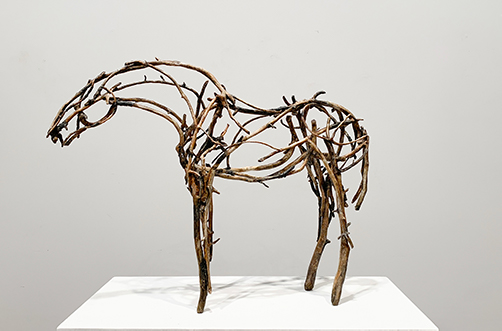 LACEY, 2019
Unique cast bronze
18.5 x 23.5 x 6.5 inches
SOLD


LACEY
This smallest work in our show is titled Lacey after the town Lacey, Washington is the smallest Butterfield sculpture we have ever had to offer.  This cast bronze sculpture is handsomely made with gently curved branches that form graceful lines from the head throughout the body. It has the feeling of the artist drawing a sketch in space.

PINK AND BLUE, 2019
Unique cast bronze
32 x 39 x 10 inches
SOLD
PINK AND BLUE
The found materials in this piece range from a piece of a broken 5-gallon blue bucket to a plastic float fishing float to pieces of lumber. The sun baked, slightly faded colors of pink, white and blue have been thoughtfully painted by the artist onto the cast bronze elements.

FOX TROT, 2019-20
Unique cast bronze
36 x 31.75 x 14 inches
SOLD

MAKU'E, 2019
Unique cast bronze
19.5 x 22.75 x 7.75 inches
SOLD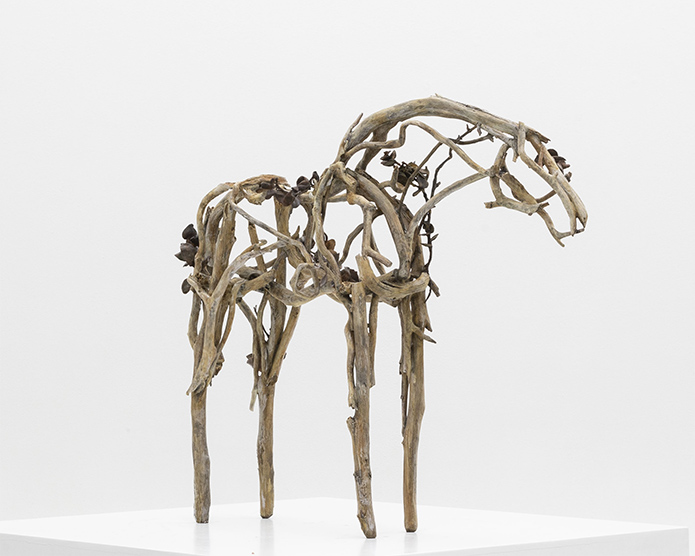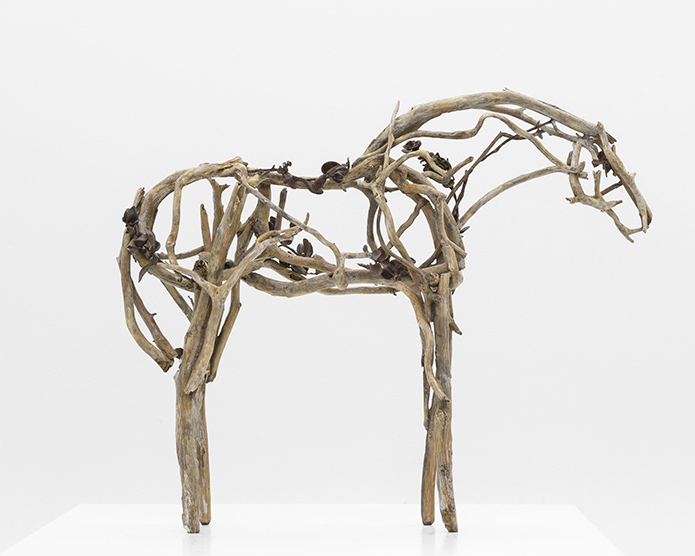 MAKALAU, 2020
Unique cast bronze
31 x 38 x 9.5 inches
SOLD

KIKI'O, 2020
Unique cast bronze
40 x 48 x 15 inches
SOLD
KIKI'O translates as "to settle" which completes the reading of this work as a completely content horse with a lovely arching and turning gesture in the neck.  The materials are both delicate and sinuous.

LINO, 2020
Unique cast bronze
36.5 x 46 x 15 inches
SOLD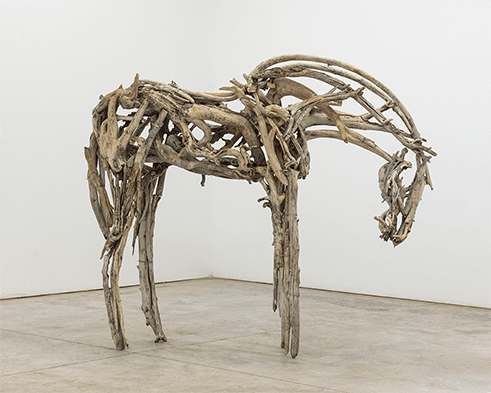 MOON CREEK, 2020
Unique cast bronze
98.5 x 81.5 x 30.75 inches
SOLD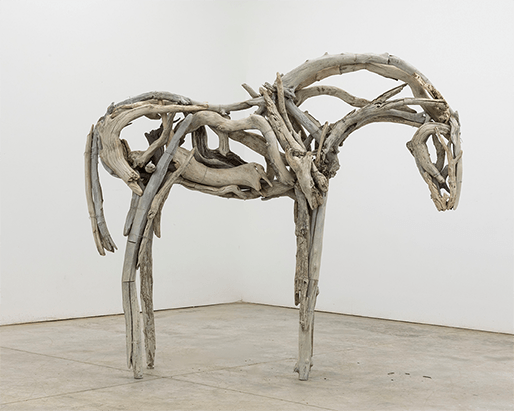 SILVERGATE, 2020
Unique cast bronze
89 x 102.25 x 27.5 inches
SOLD