Earlier work


MARK
This largest work in our show is titled after Mark Anderson, who started and directed the Walla Walla Foundry for many years. When Butterfield made her first bronze sculpture from wood pieces, at the invitation of the Walker Sculpture Garden in Minneapolis, she worked with Mark and the then nascent Walla Walla Foundry. She enjoyed a long friendship and fruitful professional relationship with Mark until his untimely death earlier this year.
LACEY
This smallest work in our show is titled Lacey after the town Lacey, Washington is the smallest Butterfield sculpture we have ever had to offer.  This cast bronze sculpture is handsomely made with gently curved branches that form graceful lines from the head throughout the body. It has the feeling of the artist drawing a sketch in space.
PINK AND BLUE
The found materials in this piece range from a piece of a broken 5-gallon blue bucket to a plastic float fishing float to pieces of lumber. The sun baked, slightly faded colors of pink, white and blue have been thoughtfully painted by the artist onto the cast bronze elements.
KIKI'O translates as "to settle" which completes the reading of this work as a completely content horse with a lovely arching and turning gesture in the neck.  The materials are both delicate and sinuous.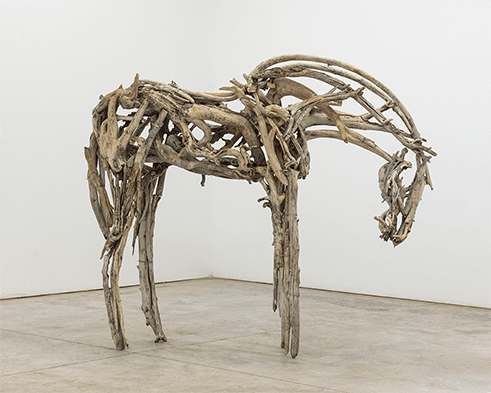 MOON CREEK, 2020
Unique cast bronze
98.5 x 81.5 x 30.75 inches
SOLD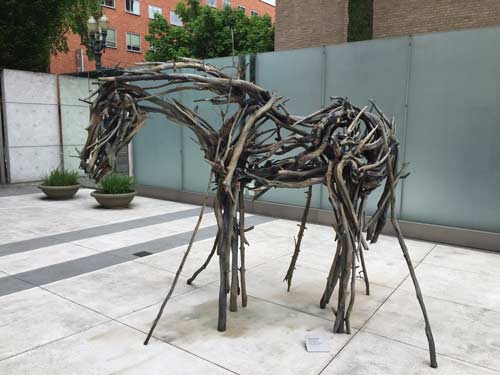 STORM CASTLE, 2012
Unique cast bronze with patina
99.5 x 111 x 88.5 inches
SOLD




HALF MOON, 2013
Unique cast bronze with patina
87.5 x 113 x 73 inches
SOLD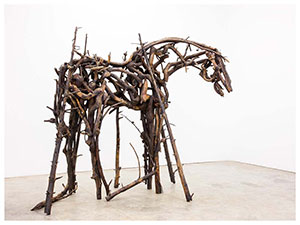 RED FOREST, 2013
Unique cast bronze with patina
93 x 101 x 44 inches
SOLD



RED FOREST
With a dark, reddish patina, Red Forest, creates a complex silhouette of dark shapes and lines. The large globes of pine boles contrast with the diagonal and vertical lodgepole pine trunks that rest against it and anchor it to the floor.
View an earlier example of this body of work.
In these standing works from the 1970s, Butterfield used a similar leaning of elements against the horse figure.
In the earlier works, the horses were made of mud and sticks and the branches or tree trunks were still wood. In current works, the entire sculpture is made of wood first and then cast in bronze providing lasting stability to the work.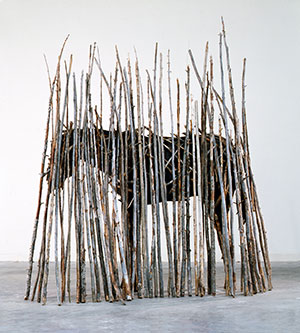 Horse #6, 1978
Mud, sticks, steel
144 x 108 x 84 inches
Collection of Oakland Museum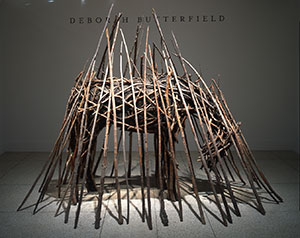 Horse #7 (Bonfire), 1978
Mud, sticks, steel
144 x 108 x 65 inches
Collection of di Rosa Preserve Napa, California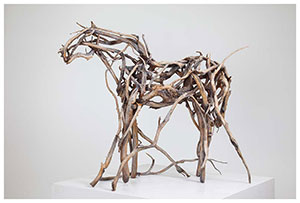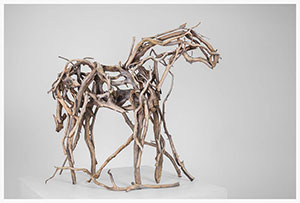 KULAMEA (Mother Pele), 2013
Unique cast bronze with patina
39 x 45 x 24 inches
SOLD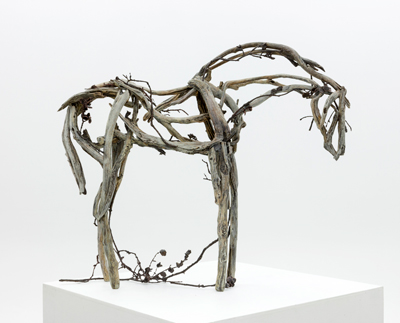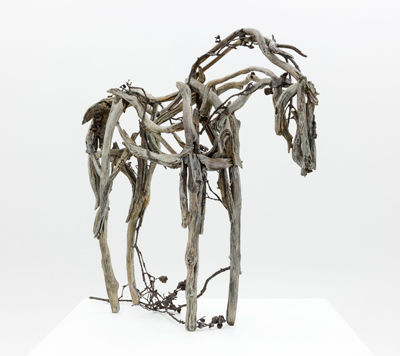 WAO'KELE, 2016
Unique cast bronze
36.25 x 46.5 x 12 inches
SOLD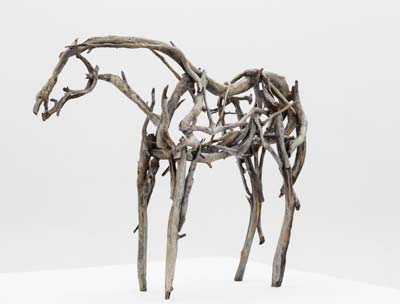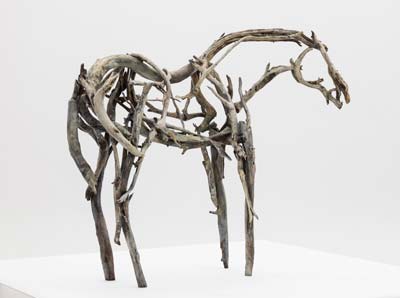 TINY, 2015
Unique cast bronze with patina
25.5 x 29 x 10 inches
SOLD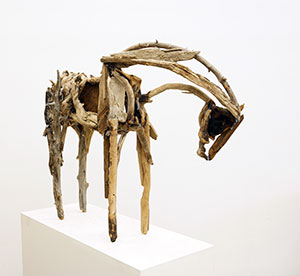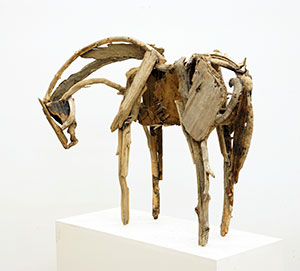 LITTLE SORREL, 2014
Cast bronze
38 x 48 x 17 inches
SOLD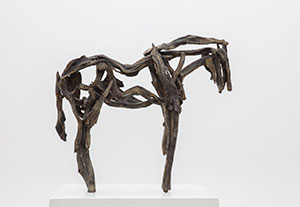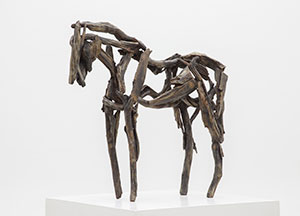 KINO PALUA , 2014
Unique cast bronze with patina
32.5 x 38 x 11 inches
SOLD


More about KINO PALUA
"Kino Palua" is a Hawai'ian phrase, meaning "Dual Natured" referring to the variation between smooth and rough surfaces in this work. The wood was collected along mountain sides in Hawai'i. The bronze is patinated in rich earthy colors accentuating the beautifully curving parts in its graceful form.

LITTLE BELT, 2005
Unique cast bronze
43 x 11.5 x 22 inches
SOLD
Earlier works in found steel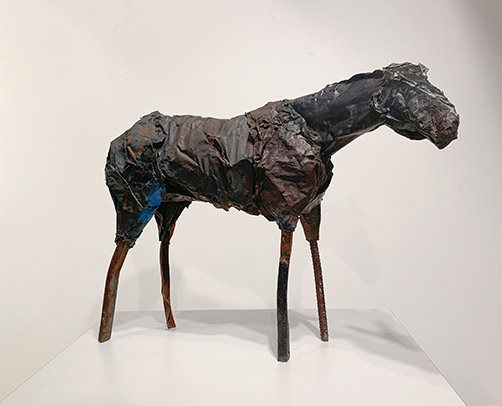 DERBY HORSE (dark blue/steel), 1985
Found and welded metal
29 x 40 x 11 inches
SOLD



LEMON DROP, 2014
Found steel
38 x 44 x 16.5 inches
SOLD



>