Earlier work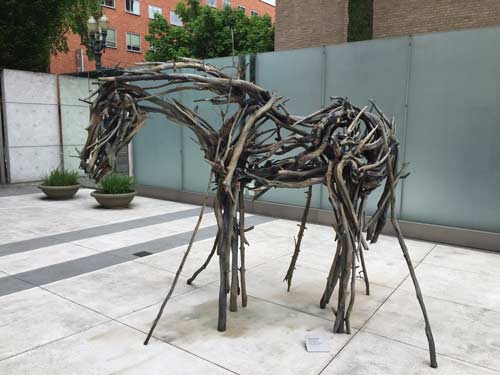 STORM CASTLE, 2012
Unique cast bronze with patina
99.5 x 111 x 88.5 inches
SOLD




HALF MOON, 2013
Unique cast bronze with patina
87.5 x 113 x 73 inches
SOLD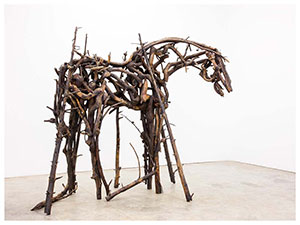 RED FOREST, 2013
Unique cast bronze with patina
93 x 101 x 44 inches
SOLD



RED FOREST
With a dark, reddish patina, Red Forest, creates a complex silhouette of dark shapes and lines. The large globes of pine boles contrast with the diagonal and vertical lodgepole pine trunks that rest against it and anchor it to the floor.
View an earlier example of this body of work.
In these standing works from the 1970s, Butterfield used a similar leaning of elements against the horse figure.
In the earlier works, the horses were made of mud and sticks and the branches or tree trunks were still wood. In current works, the entire sculpture is made of wood first and then cast in bronze providing lasting stability to the work.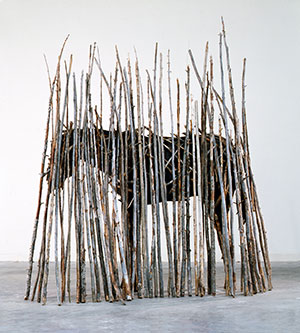 Horse #6, 1978
Mud, sticks, steel
144 x 108 x 84 inches
Collection of Oakland Museum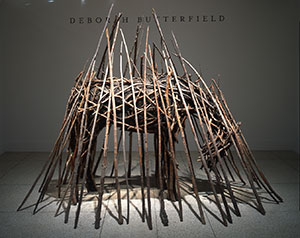 Horse #7 (Bonfire), 1978
Mud, sticks, steel
144 x 108 x 65 inches
Collection of di Rosa Preserve Napa, California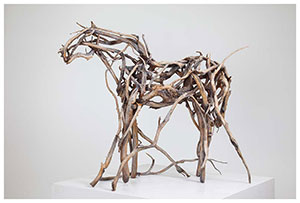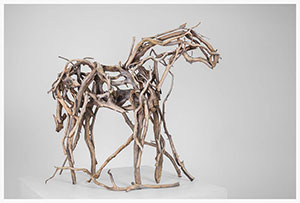 KULAMEA (Mother Pele), 2013
Unique cast bronze with patina
39 x 45 x 24 inches
SOLD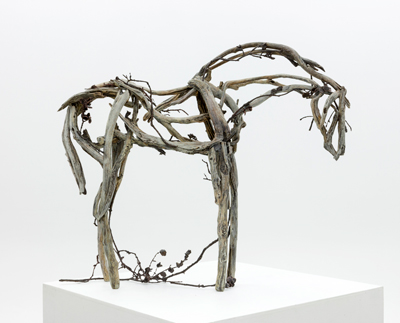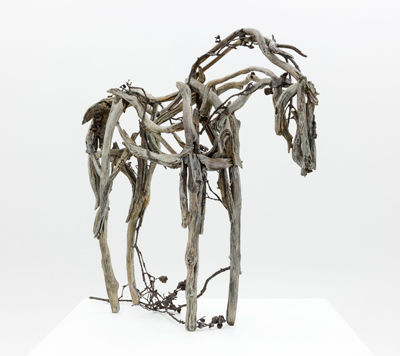 WAO'KELE, 2016
Unique cast bronze
36.25 x 46.5 x 12 inches
SOLD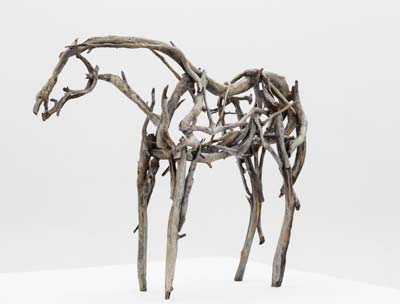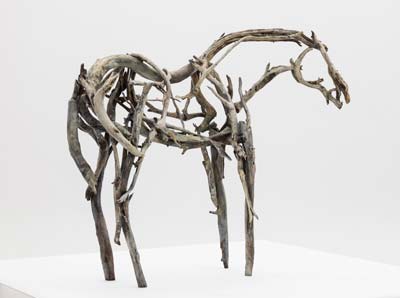 TINY, 2015
Unique cast bronze with patina
25.5 x 29 x 10 inches
SOLD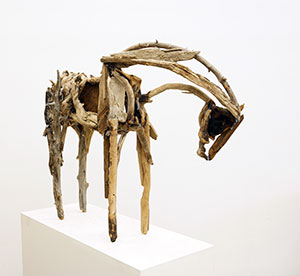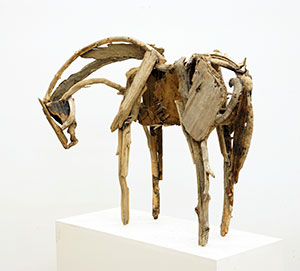 LITTLE SORREL, 2014
Cast bronze
38 x 48 x 17 inches
SOLD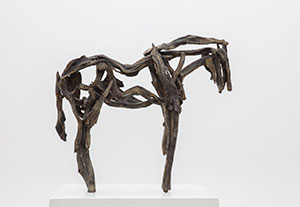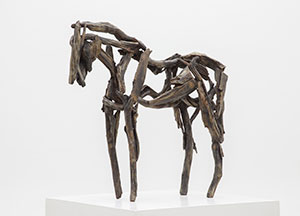 KINO PALUA , 2014
Unique cast bronze with patina
32.5 x 38 x 11 inches
SOLD


More about KINO PALUA
"Kino Palua" is a Hawai'ian phrase, meaning "Dual Natured" referring to the variation between smooth and rough surfaces in this work. The wood was collected along mountain sides in Hawai'i. The bronze is patinated in rich earthy colors accentuating the beautifully curving parts in its graceful form.

LITTLE BELT, 2005
Unique cast bronze
43 x 11.5 x 22 inches
SOLD
Earlier works in found steel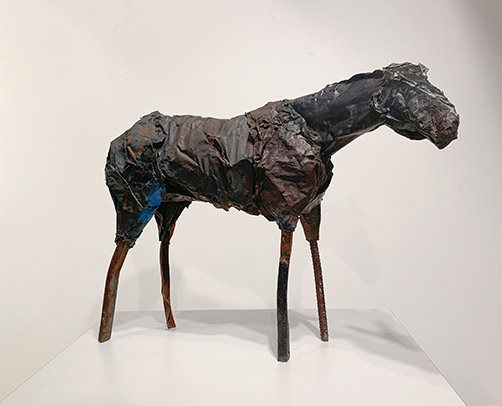 DERBY HORSE (dark blue/steel), 1985
Found and welded metal
29 x 40 x 11 inches
SOLD



LEMON DROP, 2014
Found steel
38 x 44 x 16.5 inches
SOLD



>