Upcoming exhibition:
Ed Wicklander - Low Profile
February 16 - April 1, 2023
Opening reception: Thursday, March 2, 6-8pm
Artist talk: Saturday, March 4, at noon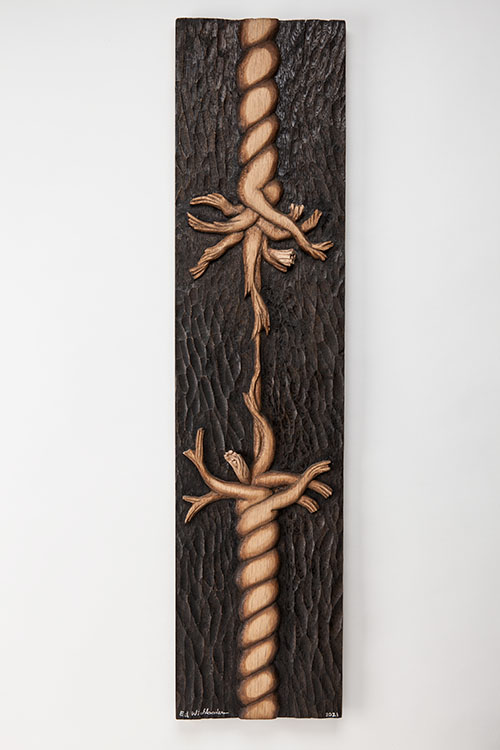 TIGHTROPE, 2021
Carved and painted mahogany
31 x 7.5 x 1.5 inches
SOLD

FLOATING HAND, 2022
Carved and stained fir and oak, cast lead, and plexiglass
15 x 7 x 10 inches
$7,500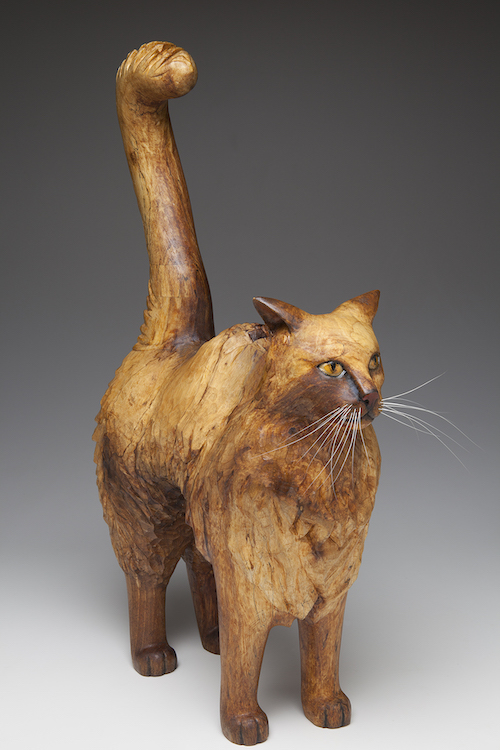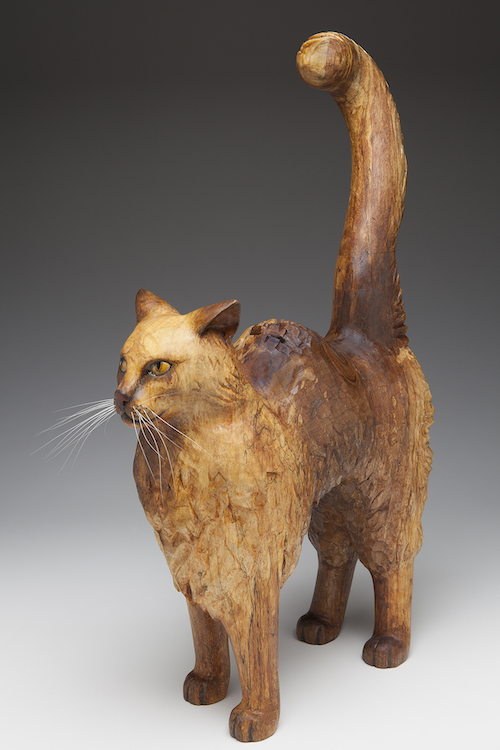 BIG CALICO, 2022
Carved and painted oak, and cat whiskers
25 x 15 x 7 inches
SOLD
Photo credit: Lynn Thompson

BIG CHEESE, 2023
Carved and painted wood and cat whiskers
17 x 15 x 8 inches
SOLD
Photo credit: Lynn Thompson

HIGH TIDE, 2023
Fabricated and electroformed copper
12 x 15 x 2 inches
SOLD
Photo credit: Lynn Thompson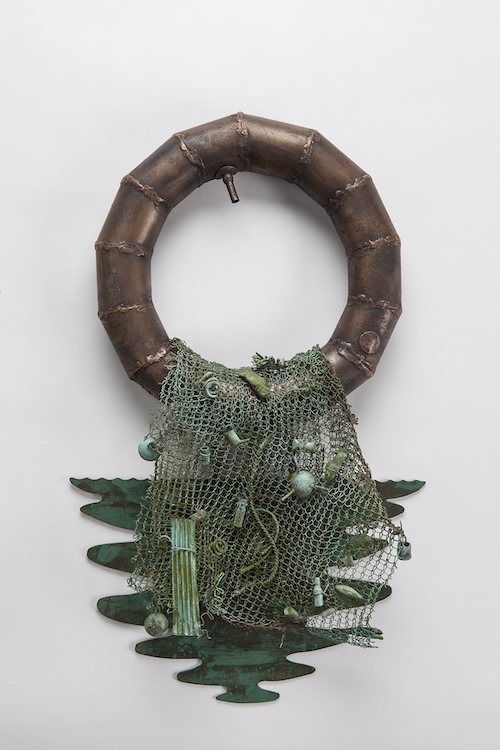 LOW TIDE, 2023
Fabricated and electroformed copper
19 x 10.5 x 3 inches
$4,500
Photo credit: Lynn Thompson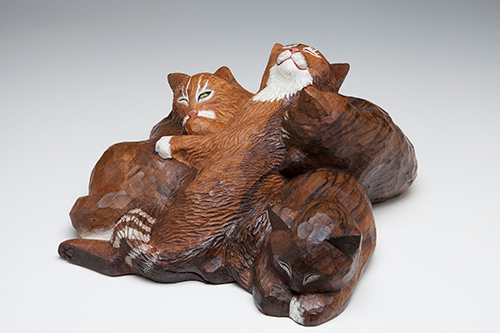 SLEEPING LITTER, 2022
Carved and painted English Walnut
5.5 x 11 x 11 inches
SOLD
Photo credit: Lynn Thompson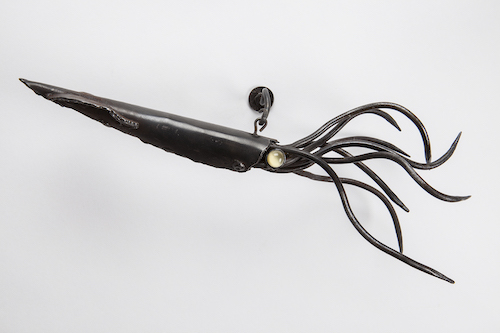 SQUID, 2023
Welded steel and glass
4 x 10 x 4 inches
$600
Photo credit: Lynn Thompson

STUMP OF SNAKES, 2022
Carved and stained wood, bbs
22 x 12 x 5 inches
$9,000
Photo credit: Lynn Thompson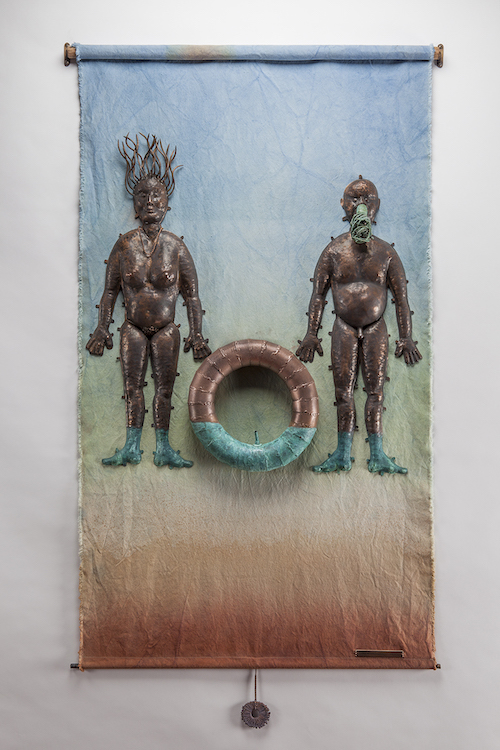 SUN BATHERS, 2023
Hammered and fabricated copper, electroformed copper on dyed canvas
55 x 31.5 x 3.5 inches
$10,000
Photo credit: Lynn Thompson

WHEEL OF MISFORTUNE, 1987
Mixed media 54 x 36 x 10 inches
$25,000.
Also Available: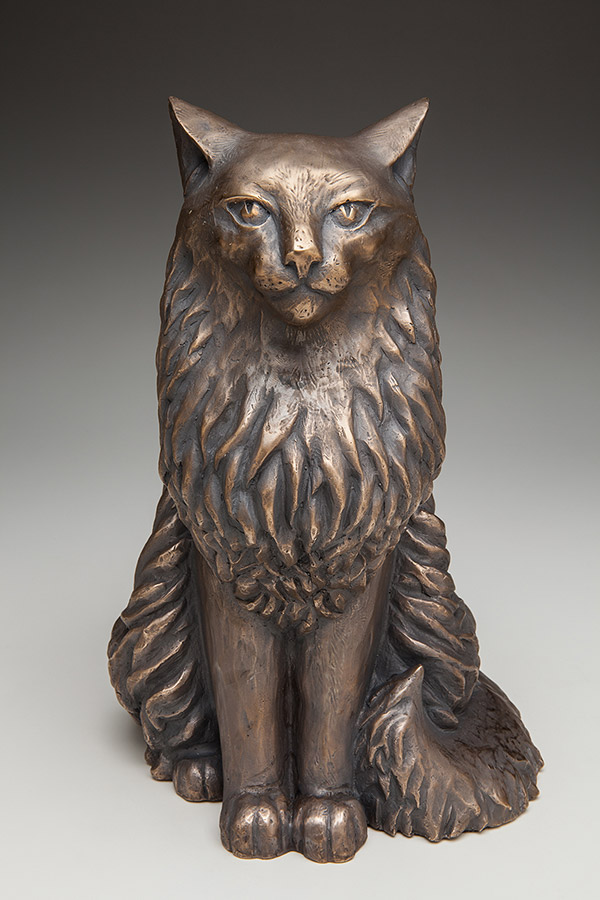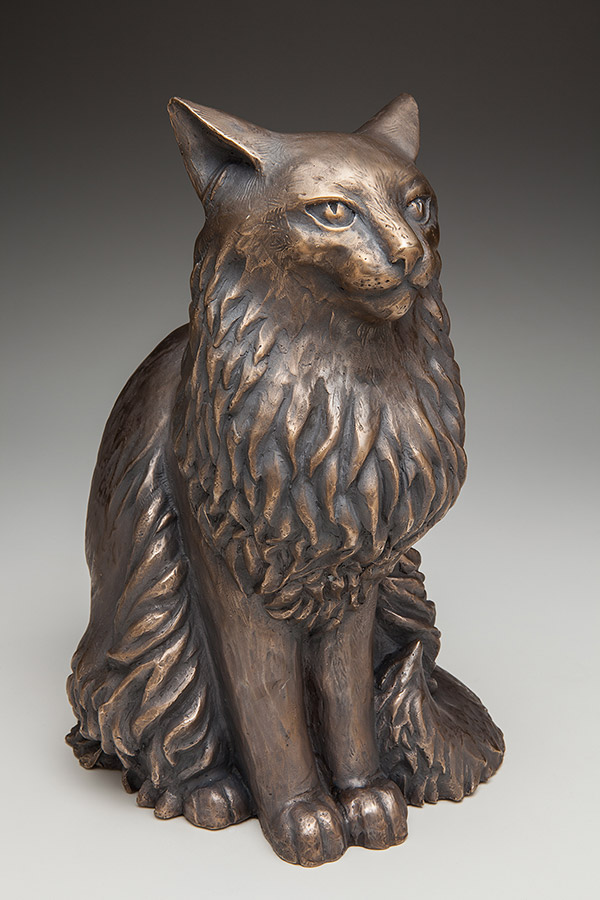 SINGLE BRONZE CAT, 2019
Cast bronze
13 x 8.5 x 8.5 inches
Edition of 3
$7,000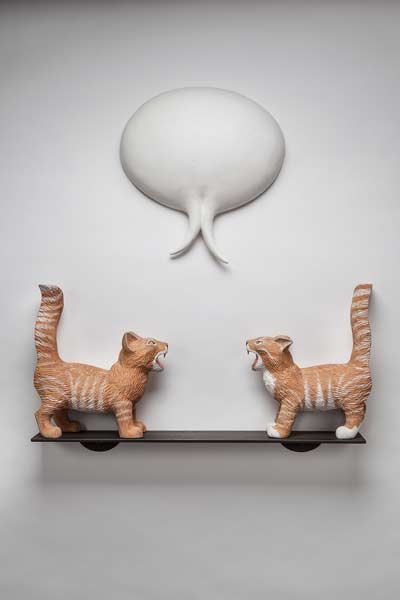 WHAT'D I SAY, 2018
Carved and painted Fir, cast plaster and welded steel
29 x 25 x 4 inches
$12,000

BIG GIRL, 2019
Carved and painted walnut, mahogany, and cat whiskers
35 x 20 x 14 inches
$15,000

WALNUT TABBY (girlfriend), 2008
Carved walnut, horse tail hair, ivory nut, enamel paint and steel base
20 x 30 x 8 inches
SOLD






FIGHTING AND BITING, 2019
Carved and painted walnut with cat's whiskers
11 x 34 x 11 inches
$25,000
Additional views of: FIGHTING AND BITING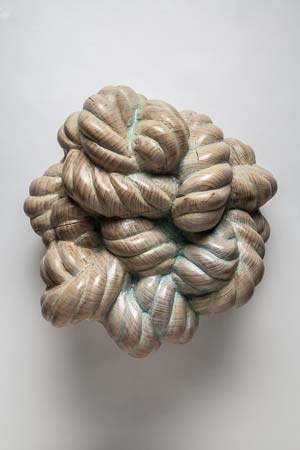 NEBULA, 2015
Carved and stained wood
11 x 12 x 7 inches
$9,000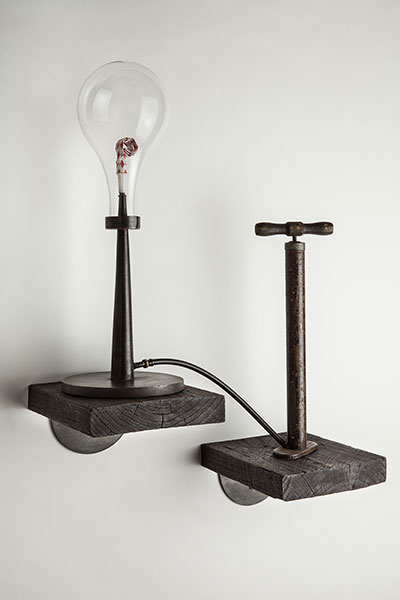 SILENT PARTY, 2018
Welded steel, blown glass and found objects
35 x 24 x 11 inches
$6,000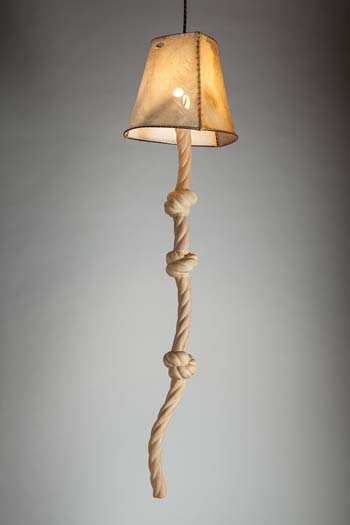 CONTRAKNOTTO #1, 2014
Carved wood, stitched rawhide, welded steel, electric cord and light bulb
51 x 13 x 13 inches
$7,000

WHITEY, 2015
Carved and painted maple
16 x 14 x 5 inches
SOLD


KITTENS, 2010
Carved English walnut and enamel paint
3.5 x 12 x 9.5 inches
SOLD
Seattle artist Edward Wicklander's recent body of work showcases the artist's ability as a woodcarver as well as his unique brand of humorous narrative. His intricately carved surfaces reveal a deep reverence for materials, while his subject matter stimulates the imagination, as his eccentric storytelling eludes concrete meaning.

Wicklander is a craftsman of diverse talents. His work involves many different techniques including wood carving, blown and cast glass, metalsmithing and welding, bronze casting, and an intriguing combination of materials. He sees his forte as his "ability to use very different materials to their greatest advantage."