A Careful Observer's Meditative Impressionism
by Sheila Farr, Seattle Times
Friday, December 10, 2004

The back gallery at Kucera holds a show of small, almost unbelievably obsessive drawings by Lynne Woods Turner. The scarcely visible grids of tiny circles, circles within circles, and wavery designs (executed in pencil with occasional whispers of color) require an act of fervent viewer participation to see and appreciate.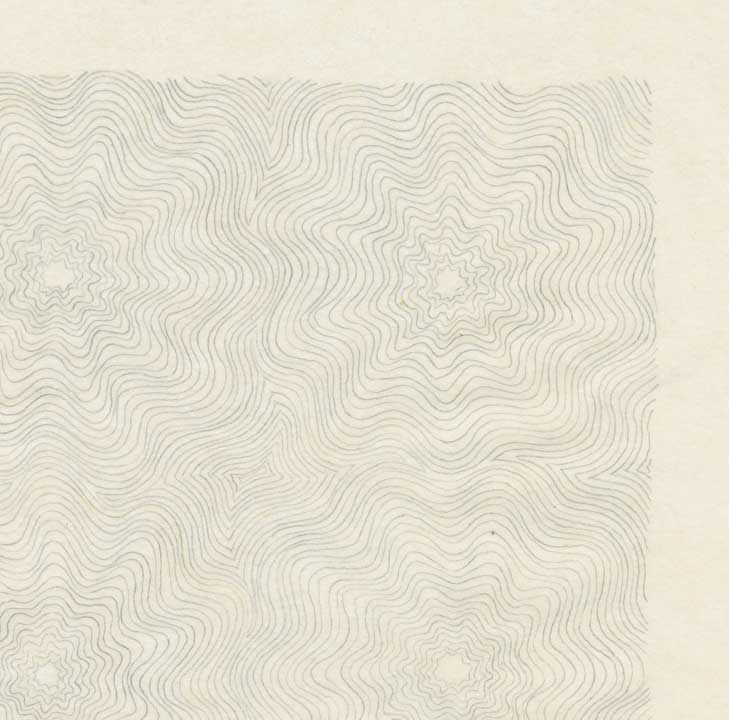 While you are back there, peek into the work-in-progress that is soon to be a big new addition to the gallery. Greg Kucera purchased the space next door, has torn out a wall and is making a flexible room that can hold multimedia installations and/or video works, opening in February.

Sheila Farr: sfarr@seattletimes.com
Copyright © 2004 The Seattle Times Company
Susan Skilling and Lynne Woods Turner
by Andrew Engelson, Seattle Weekly Visual Arts
December 1 - 7, 2004

Minimalism is usually a cold, calculating brand of visual art. But Seattle's Skilling and Portland's Turner manage to inject a hefty dose of emotion into simple, austere forms. Skilling's recent paintings offer passionate glimpses into the heavens—a place of frosty moonlight and orblike objects that recall the intense spiritual iconography of Morris Graves. Turner's drawings create a captivating place of concentric rings and faint dots, all sketched so lightly as to be nearly invisible. There's no need to revive the tired "Northwest Mystics" label, but these two artists definitely deliver a quiet, meditative art that's a refreshing blend of complexity and subtlety.
In the galleries: December
By Regina Hackett, Thursday, December 2, 2004

Seattle's Susan Skilling and Portland's Lynne Woods Turner open at the Greg Kucera Gallery, 212 Third Ave. S. Skilling brings muscle to her painterly tributes to inner peace, and Woods Turner's dot patterns give her softly colored spaces the grid equivalent of a backbone.
Fine Lines: Drawings from the Collection of Wynn Kramarsky
Santa Barbara Contemporary Arts Forum, Santa Barbara, CA USA
November 16, 2003 - November 1, 2004

Drawing is the oldest artistic medium, and given the way in which the drawn line so palpably traces the workings of the artist's mind, the most intimate. A drawing can convey aspects of human experience that often elude a complex verbal explanation. Even minimalist works, through their accretion of lines and marks, carry with them an elegant history of their process.
One of the most sophisticated collections of contemporary drawings in the United States today is that of Wynn Kramarsky. The collection is known, for its preponderance of abstract, geometric works by artists associated with minimalism and postminimalism and includes not only work by the original artists of these movements like Eva Hesse, Sol LeWitt, Robert Mangold, Agnes Martin, and Brice Marden, but also work by younger artists who have picked up the baton and continued working in this tradition.

Participating Artists:
William Anastasi, Christine Blair, Suzanne Bocanegra, Mel Bochner, Astrid Bowlby, Brad Brown, Annette Cone - Skelton, Elena Del Rivero, Jacob El Hanani, Deborah Gottheil, Eva Hesse, Christine Hiebert, Mary Ijichi, Amy Kaufman, Ellsworth Kelly, Barry La Va, Ann Ledy, Sol LeWitt, Linda Lynch, Robert Mangold, Brice Marden, Agnes Martin, John Morris
Nehmad, Nicole Phungrasamee Fein, Larry Poons, Robert Rauschenberg, Joel Shapiro, Robert Smithson, Michelle Stuart, Richard Tuttle, C. Wilmarth, Joan Witek, and Lynne Woods Turner.
Lynne Woods Turner at Gallery Joe
"Drawings" March 15 through April 19, 2003
Gallery Joe, Philadelphia

Turner works on translucent paper with pencil and gouache, often drawing on both sides. All of the drawings in this show are in a square format, either 11 x 11 or 13 x 13 inches. Turner's forms are deceptively simple, taking shape by the accretion of lines or forms laid down with exquisite control. Circles form into rosettes suggesting molecular, botanical, or mystical diagrams. Often it is the negative space between the lines that competes for perfect balance. The purity of Turner's drawings suggest universal foundations and elemental building blocks.

Turner received her BFA, '76 and MFA, '77 from the University of Iowa in Iowa City. Since the late seventies she has lived and worked in Portland, Oregon. "Drawings" is Turner's second solo show with Gallery Joe. Other recent exhibitions include: "Recent Drawings" at Michael Kohn Gallery, Los Angeles, CA, "Components" at Elizabeth Leach Gallery, Portland, OR and "Works on paper," opening in April, at Greg Kucera Gallery, Seattle, WA. Her works were first exhibited in New York at The Drawing Center in "Summer Selections, 1996."

Turner's drawings are in numerous public and private collections including: Fogg Art Museum, Harvard University, Cambridge, MA; Bank of America World Headquarters Galleries, San Francisco; Yale University Museum, New Haven, CT; University of Iowa Art Museum, Iowa City.