Recently in The Seattle Times
Jeffrey Simmons' fastidious geometries in watercolor
January 17, 2013
Seattle artist Jeffrey Simmons puts watercolors to meticulously geometric purposes in his show at Greg Kucera Gallery, where local painter Susan Skilling also has new work up. Both run through Feb. 16, 2013.
by Michael Upchurch

Recently in Vanguard Seattle Blog
Susan Skilling at Greg Kucera
by Claire Reiner
A Careful Observer's Meditative Impressionism
by Sheila Farr, Seattle Times
Friday, December 10, 2004

At Greg Kucera Gallery, Susan Skilling's delicate gouache paintings, most on handmade Thai mulberry paper, reflect on the cosmos. They aren't abstractions but contemplations on the way moonlight filters through the night sky or waves on the surface of water. Skilling balances the visual affirmations and choppy brushstrokes of Impressionism with the quiet meditations of Zen Buddhism.

Even though she earned her master of fine arts degree at the University of Washington back in 1974, Skilling's resume still looks as spare as the imagery in her paintings. She hooked up with Foster/White Gallery in 1977 and exhibited there every two or three years until 2002, when Don Foster sold the gallery and Skilling moved on to Greg Kucera. She has work in a few major collections: Microsoft, Boeing, City of Seattle, the former Rainier Bank. But mostly, it seems, Skilling has focused her ambitions on looking closely and painting succinctly, rather than marketing herself or her work. Nevertheless, she has developed a circle of admirers.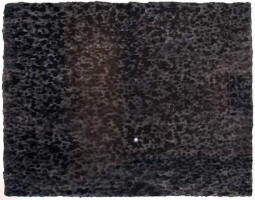 Susan Skilling's "Wandering Moon," 2004,
gouache on handmade Thai mulberry paper.

Like Tania Kitchell at James Harris, Skilling observes carefully. I can't say whether she paints exactly the way the sky or water surface appear to her, as the Impressionists did, or whether she modifies her imagery to suit some inner vision. But each image holds a kind of directness that makes it seem like the artist is putting down the truth as she sees it.

The back gallery at Kucera holds a show of small, almost unbelievably obsessive drawings by Lynne Woods Turner. The scarcely visible grids of tiny circles, circles within circles, and wavery designs (executed in pencil with occasional whispers of color) require an act of fervent viewer participation to see and appreciate.

While you are back there, peek into the work-in-progress that is soon to be a big new addition to the gallery. Greg Kucera purchased the space next door, has torn out a wall and is making a flexible room that can hold multimedia installations and/or video works, opening in February.
Sheila Farr: sfarr@seattletimes.com
Copyright 2004 The Seattle Times Company

A Classic Northwest Celebration of the 'Lovely Muck'
by Regina Hackett
The Seattle Post-Intelligencer: Visual Arts

Friday, December 10, 2004

What could be the anthem of the Northwest School came from London poet A.E. Housman: "And down in lovely muck I've lain, happy till I rose again."

Susan Skilling was raised on the lovely muck of the Northwest School's color palette, those muted grounds seeded with light.

Skilling isn't a name that leaps to mind when talking about the region's prominent artists. For decades she has labored in semi-obscurity, praised when she exhibits but prone to drop out of sight for years on end before surfacing again to startle those who see her work.

It's classically Northwest in tonality and aspiration, using mud to seek celestial things in gouache or opaque watercolor on paper.

"Path" is a long horizontal field cut by a horizon line. The authority comes from the subtle inflections in the field, as if she seeded the ground with oxygen.

"Leaf in a Stream" (detail shown at left) is just that. Where another painter might clarify the stream to evoke cool depths, she kept hers resolutely muddy and flat on the picture plane. Forward momentum comes from pulses of purely abstract form, small shapes aspiring to be squares but distorted by the rhythm of the piece into more fluid configurations.

There's no verisimilitude, except for the leaf. Made of the same dull tone as the stream, it's perfectly articulated, a Hans Holbein exactitude floating in an abstract field, each somehow authenticating the other.
Copyright 2004 The Seattle Post-Intelligencer

SUSAN SKILLING AND LYNNE WOODS TURNER
by Andrew Engelson, Seattle Weekly Visual Arts
December 1 - 7, 2004

Minimalism is usually a cold, calculating brand of visual art. But Seattle's Skilling and Portland's Turner manage to inject a hefty dose of emotion into simple, austere forms. Skilling's recent paintings (including Moon Flower, pictured) offer passionate glimpses into the heavens?a place of frosty moonlight and orblike objects that recall the intense spiritual iconography of Morris Graves. Turner's drawings create a captivating place of concentric rings and faint dots, all sketched so lightly as to be nearly invisible. There's no need to revive the tired "Northwest Mystics" label, but these two artists definitely deliver a quiet, meditative art that's a refreshing blend of complexity and subtlety.