In a group of 30 paintings, Roger Shimomura's exhibition, "Minidoka on My Mind," will explore the artist's family's internment during World War II, including some works suggesting his personal memories. The show's title refers to Camp Minidoka in Hunt, Idaho where he and his family were detained from the spring of 1942 until the summer of 1944. Previous work by Shimomura, has examined the relationship of Japanese Americans to the larger cultural context of the United States. In particular, here, Shimomura explores the racial conflicts of the 1940s war years and the unjust imprisonment of approximately 120,000 Japanese Americans, 60% of whom were U.S. citizens. He says that these "images are scraped from the linings of my mind—not necessarily what I remembered specifically, but what I respond with when I think of Camp Minidoka..."


AMERICAN ALIEN #4, 2006
Acrylic on canvas, 36 x 24 inches
Collection of Los Angeles County Museum of Art




CAMP TIME, 2011
Acrylic on canvas
24 x 24 inches
$8,000



JAPS GALORE, 2008
Acrylic on canvas
36 x 45 inches
$17,000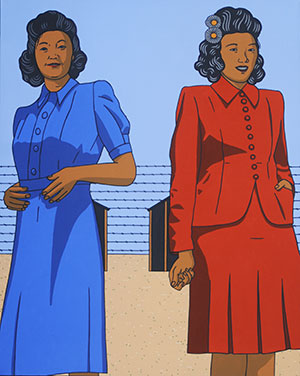 LUSH LIFE #2, 2011
Acrylic on canvas
45 x 36 inches
$17,000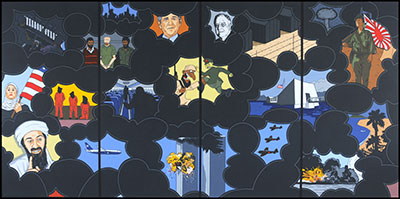 NOT PEARL HARBOR, 2012
Acrylic on canvas, triptych
72 x 144 inches
Collection of Baltimore Art Museum

NIGHT WATCH #8, 2011
Acrylic on canvas
36 x 45 inches
$17,000



CLASSMATES #3, 2007
Acrylic on canvas
24 x 36 inches
$10,500


---
Two very large paintings will anchor the show. AMERICAN INFAMY #2 (6 feet by 10 feet) illustrates the layout of the camp, with an armed guard watching over the barracks and the citizens going about their daily routines. Children are playful, young lovers walk arm in arm, women and men talk in groups but there are also several figures in complete despair—an elderly woman seated with her head down, other figures looking dejectedly outward through the barbed wire, or pacing in a depressed stance. The format for this work, derived from 14th to 15th century Muromachi era byobu screen painting, depicts the action on the ground within the layout of this small city through layers of clouds and a foreshortened perspective.

AMERICAN INFAMY #2, 2006
Acrylic on canvas, 4 panels, 72 x 30 each panel, 72 x 120 overall inches
Purchased for the Permanent Collection of Boise Art Museum




AMERICAN ALIEN #1, 2006
Acrylic on canvas, 36 x 24 inches
$10,500

"This exhibition marks for me the fourth major painting series on the World War II internment experience. It is the culmination of many years of my perusing images culled from books, magazines, government publications, personal recollections, and the internet. The result of this search has been a visual distillation of this experience into tar papered barracks, barbed wire, and desolate landscapes, which are inhabited by muted occupants standing in line to eat, clean, quietly converse, contemplate their fate, and to wait. They appear almost as actors placed within stage sets to live in eternal ennui, or as my grandmother described in one of her wartime diary entries:

October 16, 1942:
"How monotonous life is here. Again, another day passed wastefully doing laundry and miscellaneous things.
I wondered how anyone in this camp could live here without a deep sense of boredom."

Some former internees who see this exhibition may find new meaning as their memories are jarred and others may be able to call up memories on the cusp of obscurity, but for most viewers, I offer this exhibition as a metaphor for the impending threat posed by current times, and as a warning and reminder that during international crises our government seems to consistently lose its memory regarding past mistakes."
—Roger Shimomura


The architectural aspects of the simply built barracks play a large role in these paintings. Shimomura shows these rude accommodations with their bare wooden floors and tar papered walls, situated within barbed wire enclosures amid the sandy Idaho terrain. As with other recent work by the artist, the architecture appears, layer upon layer, one material juxtaposed against another, receding into the distance.

I AM CHINESE, 2007
Acrylic on canvas, 24 x 30 inches
$9,000





GLOBAL MUTATIONS #5, 2005
Acrylic on canvas
60 x 24 inches
$15,000


In KEEP ON TALKIN' MICHELLE MALKIN, the American activist who has tried to minimize the concerns of Japanese Americans about the internment, is shown placed inside a camp building, her mouth open in protest.

KEEP ON TALKIN', MICHELLE MALKIN, 2006
Acrylic on canvas, 36 x 24 inches
$10,500



A few paintings illustrate the fashions of the time, while others show the attempts by these captured Japanese Americans to make themselves comfortable within the bleak, arid landscape. Views of a garden built on the site, or of the decoratively curtained windows are poignant reminders that these fellow Americans, uprooted from their own homes, were making every attempt to create comfort in a comfortless environment.

PORTRAIT OF A BARRACK, 2006
Acrylic on canvas, 20 x 24 inches
$7,200




SHADOW OF THE ENEMY, 2007
Acrylic on canvas, 45 x 36 inches
$17,000




MR. WONG'S THEATRE COMPANY , 2001
Acrylic paint on canvas, 60 x 72 inches
$26,000.