Mark Grotjahn at the Portland Art Museum and Michael Knutson at Blackfish
October 15, 2010 by John Motley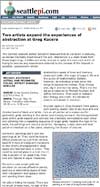 Two artists expand the experiences of abstraction at Greg Kucera
Thursday, April 17, 2008 by Regina Hackett/Post-Intelligencer



ENFOLDING FIELDS
Exhibition: September 2 - October 4, 2010

Review of the May 2006 exhibit by Elizabeth Pence

In Artweek, September 2006 issue

Michael Knutson at Greg Kucera Gallery

Painting's concrete presence and its modernist history are perhaps challenging to its continued credibility in contemporary terms, because it resists the shift that has occurred from the delimiting conditions of the medium to the boundaries of the medium. It's pure contradiction. However, plasticity is, and has been, its purest quality. In the ever-changing terms used by artists to conceptually generate their work, Michael Knutson draws myriad art historical references through his paintings, from Cycladic pottery to perspective schemes in renaissance painting and on through numerous twentieth-century abstractionists ranging from Piet Mondrian and Jackson Pollock, to Philip Guston, Alfred Jensen and Frank Stella.

Using abstraction as a strategy that yields a powerful experience of optical movement within the character of his painting, Knutson is "preoccupied with wedding structure and gesture through various permutations of geometric abstraction," using compositions which, "appear to be less like armatures than disturbances, or elusive gestures." The paintings aren't computer generated, or preceded by detailed drawings, and much of the composition is worked out directly on each painting (a very risky endeavor, as these are heroic, labor-intensive works). It's assumed that the paintings are based on complex mathematics or theoretical physics, but are actually composed of a simple geometry. Initially, Knutson relied on cubes and spheres that grappled in an expressionist space, then the cubes warped, expanded and contracted, and formed eccentric, interlaced lattices. Eight years ago, Knutson began draping the lattice over concentric circles, ovals and coils, and this visual structure underlies most of his current work. Where Jensen's paintings were, according to Donald Judd, perceived as having a "radical flatness," a tension exists in Knutson's paintings in the difference between looking into a pictorial space and looking at a surface. Despite the weight and lushness of Knutson's paint handling, a receding space is created by this perspectival compositional strategy, and, as the painter Bridget Riley notes, "The painting can be inhabited, so that the mind's eye can move about it credibly."

A painter for thirty years, the Portland-based Knutson writes, "I keep circling around trying to grasp something that I seem to need to see." The paintings are satisfying as a material, visual field: Each shape is unique, because the impasted quality of the paint application agitates and frees the line. Hues are reiterated in the composition; each color exists as a group of shapes generating energy. Where Knutson's more monochromatic works, such as Convoluted Coil III, use a palette of analogous color favoring red, presenting a more frontally placed field, a feature of Crossing Oval Coils V is that there are evenly placed points of contrast which maintain a viewer's peripheral vision. Monochrome would seem antithetical to Knutson's dazzle, yet in refining his palette toward monochrome, he shows he is able to work with his compositional strategy without relying on contrast. Knutson's painting reiterates the edge in the way that Frank Stella's black paintings do. The relationship to the frame is an interesting way into the work, because this relationship seems paradoxical. Generated in reference to the edge, the composition evolves precisely in response to it. Yet its opticality and centrifugal energies seem to extend far beyond the image edge and imply infinity. And yet the paintings don't seem to be "wallpaper," where the image endlessly repeats itself and there's no particular logic as to why the image ends where it does. Color is edited through shape, and shape is durational in these paintings, dependent on size. In joining multiple orders of spatial rendition, the figure/ground relationships are interpenetrating. The space is defined by the size and relationships of the colored forms in the way that the work's painterly shapes open onto infinite architectures even as they snap back into materiality.

Abstraction doesn't defeat forms of narrative and fantasy; painting's possibilities are powerfully enabled by it, understood in the intervening years since photography's inception. Perhaps there is an inherent romanticism in Knutson's endeavor, and in painting in general: "Close your eyes," Caspar David Friedrich instructed students, "so that your picture will first appear before your mind's eye. Then bring to the light of day what you first saw in the inner darkness, and let it be reflected back into the minds of others." -Elizabeth Pence

Michael Knutson: Paintings and Watercolors closed in July at Greg Kucera Gallery, Seattle

Elizabeth Pence is a freelance writer based in Eastsound
Friday, May 26, 2006
Michael Knutson's logical, geometric patterns have a living, free-flowing quality
By REGINA HACKETT
P-I ART CRITIC

Michael Knutson's paintings are full of experience. He plays with the interior logic of their rigorous construction, achieving an abstraction that exudes a brilliantly scrappy energy.

His kind of grizzled intensity is rarely achievable in youth. He's a pattern painter operating within a grid of triangulated geometries, but the effect is completely free, as if his colored complications were spider webs spun in the air. Like Alfred Jensen's, Knutson's structures have gestural grace.

If there were a prize for the best West Coast painter who's nearly unknown, Knutson, 55, would be a contender. The owner of a master's of fine arts degree from Yale, he teaches painting at Reed College and has shown for 20 years in Portland at the Blackfish Gallery, which is an artist cooperative, the equivalent of Seattle's Soil.

This is his first exhibit at the Greg Kucera Gallery and his first major gallery show.

"I like to have a key to the front door of a gallery," he said of Blackfish, "as opposed to walking with my tail tucked between my legs, wondering if the staff is thinking, 'What a pest. What does he want now?' In a cooperative, I don't have to feel guilty if my work doesn't sell."

Why is he at Kucera's? "Greg talked me into it," he said, a little sheepishly.

Born in Everett, Knutson was 19, enrolled at the University of Washington and doing summer farm work when a grain thresher he was cleaning grabbed his left hand and chewed as it pulled.

If he hadn't been wearing a sweat shirt, he probably would have bled out. The shirt twisted in the machinery to form a tourniquet just under his shoulder, leaving him dangling. Help arrived 20 minutes later. He did not lose consciousness.

The accident helped him focus, he said. "I was vague about what I wanted to do. After that, I knew I wanted to paint." Fortunately, he's right-handed.

Later this year, a 25-year retrospective of his work will be held in two locations: the Art Gym at Marylhurst University and the Hoffman Gallery at Lewis & Clark College.

Early work is missing for a reason. Before going to Yale, he stored nearly all of it in a relative's barn. By the time he was ready to reclaim it, goats had eaten through the canvases, and the stretcher bars were being used as dividers for animal pens.

"My first reaction was relief," he said. "I was worried the paintings might have become moldy. Since they no longer existed, there was nothing left for me to do.

Except continue painting. He tends to start in his congested centers, using pencil to figure out how his spirals will operate. The honeycombed grids within grids expand and contract like a bellows, connected to each other and cohering into a larger grids colored in oil paint in repeating sequences.

Despite their logic, his paintings look lustily eccentric. Hexagons, cubes, stars and stairs interlock flat on the canvas but retain the ghost of spatial dimension.

He thinks of his paintings as conversations with other art, including the patterning on pre-Columbian pottery, Australian "dreaming" landscapes, early Christian mosaics and the modernists, especially Mondrian, Hartley, Pollock, Guston, Held and Jensen.

His tonal range tends toward the brightly sour, with color repetitions coded into sequences. The order he establishes is impressive, but he undermines it with the slippery authority of his delivery. He has invented his own kind of painterly push and pull, the effort concealed within the fluid inevitability of its conclusions.

What is his painting good for? The deep and abiding pleasure it offers to those who are willing to seek it out.