May 21 — June 27
Opening: Thursday, June 4, 6:00 — 8:00 p.m.
Please join the us for the opening reception.
Panel Discussions:


• Wednesday, June 10 at 7:00 PM
"Local Is the New Conceptual": Seattle Art in the Public Sphere,
moderated by Jen Graves, Art Critic, The Stranger

Panelists are:
Ken Allan, Professor of Art History, Seattle University
Stephen Lyons, Platform Gallery
Dan Webb, Artist





• Wednesday, June 17 at 7:00 PM
Blowing Up Demographics,
moderated by Mary Ann Peters, Artist

Panelists are:
Ki Gottberg, Drama Professor and Playwright
John Feodorov, Art Professor and Artist
Margot Quan Knight, Artist

I.D.: Individual Demographics
Artists deal with identity in a myriad of intriguing ways. This show examines identity in terms of the individual (self or self-portrait) versus the group (demographics and ideologies), and addresses complex contemporary issues ranging from anonymity (lack of self) to aspects of fantasy (desired self) or surrogacy (symbolic self.)



Installation View 1




Installation View 2




| | | |
| --- | --- | --- |
| | | |
| Installation View 3 | | Installation View 4 |

Click to enlarge any image:




NOLA AVIENNE
Installation view of:
THE DONOR WALL PROJECT, 2009
Blood on paper
Variable dimensions (grid of 72 — 3 x 3 inch panels)
$350 each

Detail of THE DONOR WALL PROJECT
Nola Avienne
"For the last three years I have been working predominantly with magnets. This led me to investigate the magnetic properties of my own blood. I returned to school and received my certificate in phlebotomy to facilitate this body of work.

The Donor Wall Project investigates the artist as commodity. An unfortunate trend in the art market is the purchasing of work as an investment, not out of love for the work, but because collectors want to buy a name. If the artist has become a commodity why not circumvent the art altogether and literally own a piece of the artist?

I asked members of the art community for volunteers to allow me to draw a small sample of their blood. 72 artists have generously donated their blood to create individual biological portraits. Each artistís blood is painted on a 3"x 3" square of paper, framed and hung in a grid.

The intention of this project is that if someone wants to own a piece from the series they will have to choose it based solely on their aesthetic decision. The list of donors is made public in the installation but the buyer will not know which artist is the donor until the sample has been purchased."

10% of the proceeds will be donated to the Puget Sound Blood Center.

— Nola Avienne

Artists whose blood swatches are offered for sale are:

Rick Araluce, Nola Avienne, Linda Beaumont , Gala Bent , Zack Bent, Ben Beres , Matt Browning, Lisa Buchanan, Buddy Bunting, Elizabeth Buschmann, Dan Carrillo, Jaq Chartier, Diem Chau, Celeste Cooning, Chris Crites, Tim Cross, Rebecca Cummins, Julie Custer, Marc Dombrosky, Eric Elliott, Molly Epstein, Diana Falchuk, Andy Fallat, Maija Fiebig, Julia Freeman, Ellen Garvens, Justin Gibbens, Mandy Greer, Cable Griffith, Gail Grinnell, Lauren Grossman, Ben Hirschkoff, Sarah Hood, Etsuko Ichikawa, Elizabeth Jameson, Derrick Jefferies, Amy Johnson, Claire Johnson, Shaun Kardinal, Pamela Keeley, Amanda Knowles, Kirk Lang, Isaac Layman, Margie Livingston, Kiki MacInnis, Mike Magrath, Allison Manch, John Martin, Jeff Mihalyo, Jennifer Mills, Saya Moriyasu, Brian Murphy, Jamie Potter, Kristen Ramirez, Tesesa Redden, Keeara Rhoades, Tivon Rice, Paul Rucker, Ariana Page Russell, Adam Satushek, Samantha Scherer, Alex Schweder, Matt Sellars, Katy Stone, John Sutton, Whiting Tennis, Kari Thomas, W. Scott Trimble, Sylwia Tur, Laura Wright, Robert Yoder, and Ellen Ziegler

There's no statement I can make about WELCOME MAT. It will be all too obvious.

Generally, I'm interested in the symbolism, cultural significance, charge that objects can seem to deliver; seem to deliver, because any particular reading always comes from the viewer. The work's job is simply to evoke, something, anything. My reading of any particular work of mine should be left out of it.

— Jack Daws

ANTHONY GOICOLEA
GRAVE DIGGERS, 2005
Limited edition, casebound book with photograph
9 x 13 inches


Leigh Bowery, a native of Australia, became famous for his elaborately costumed performances in the early 1980s London club scene. Bowery describes this as a part of the New Romantics: "It was like Punk but maybe it wasn't so aggressive," he said. "It was completely theatrical in a way, the very opposite of what you were expected to look like on the street. It was confrontational, and there was this sort of gender blurring." In 1985, Bowery opened his own nightclub, "Taboo," and further invented what became known as "looks" which were alter-ego personalities, according to Karl-Peter Gottschalk: "To top off the 'look,' Bowery took to extremes of makeup, wigs and hats, from a curly yellow-blonde coiffure with face painted in huge red polka dots, to a tiny policeman's helmet perched above a face made up to resemble a herpes scab infestation. Making the most of his very oversize girth and height, Bowery then shaved his head, poured black molten wax over it, wore two-inch white false eyelashes, and painted his face and cheeks in grotesque imitation of a kewpie doll. He wore a succession of costumes, wigs and makeup effects, attempting to become woman, child, cat-like animal, blue-skinned Hindu god/goddess." Bowery came to the attention of the high art world through two means. His performances were shown at Anthony d'Offay's gallery in London. Through that performance he became a primary model for painter Lucian Freud, albeit completely naked of all the gender-bending, costumes of his performance work.
While most of Bowery's "looks" were about physical delicacy and exaggerated femininity, Freud's portraits show, he was nearly 7 feet tall, bald, with oversized features. Bowery died of AIDS on the 31st of December 1994.
"In TABULA ROSA there is a double reference to identity. It is my body in the case of TABULA ROSA, but it is also my visual language that I am "wearing". The language reference is simple— I am wearing in the piece of art the language that I am using to make that art. The piece "FAMILY SECRET/SECRET FAMILY" uses butterflies to represent the identities of humans. Each half of this piece consists of a kind of family tree study of eye—color representing two families in which two parents of differing eye colors each have four children of their resulting eye color."

"In SPELLS AND INCANTATIONS there is a double reference to identity. It is my face, but it is also my visual language that I am "wearing". I wanted to use my images as a "picture language" — it is a kind of visual language—and so I wanted to make the parallels to Egyptian hieroglyphics. You can see that certain combinations of images are repeated, on the lower body, in the way that there are repeated aggregations in hieroglyphics."

— Jane Hammond


TIM HAWKINSON
HOMUNCULUS (Limited Edition Catalogue), 1997
Book, polymer resin
5.75 x 2.25 x .5 inches
Edition of 100
$2,000.


"Remember when you loved a pop star so much that you wanted to look like them, sing like them, be like them? That's what these self portraits are about."

— Glenn Ligon
I've never believed in marriage, which is ironic, since during the past fifteen years I have documented more than 300 weddings. In spite of my personal feelings, I find that marriage makes an excellent photographic subject. I particularly enjoy the moment when the champagne explodes at a wedding. For me itís a metaphor that represents the eruption of two separate emotions: the overflowing happiness of the lovers and also perhaps the tears flowing from the hearts of the lonely or disappointed.

—Hugo LudeŮa
| | | |
| --- | --- | --- |
| | | |
| | | |
"I use historical references and images of dolls to explore issues of propaganda, will, and identity. In the early 18th century, at the time of the King Phillips wars in the US (King Phillip being a rebellious native chief) there existed relationships between white women and native men as well as native women and white men. In order to discourage these popular liaisons the government came out with what is known as "captivity literature." Captivity literature is a genre which contains inflamed descriptions about the degradation of white women by native men. The purpose of these accounts was to create fear against the native people which helped fuel the wars. Here, the white woman and native man (or dolls) make a choice to defy these influences and stay together."

"I use historical references and dolls to explore issues of propaganda, will, and identity.

The only known portrait of Pocahontas is a print showing her dressed in an English outfit for presentation to the court of England. Pocahontas died shortly thereafter, perhaps because of a lack of immunity to white man's diseases. I use the iconic image (doll) to represent the idea of making someone into someone they are not, only to suffer death. With the use of dolls, I hope to disarm the viewer by giving life to what is normally lifeless."

— Sherry Markovitz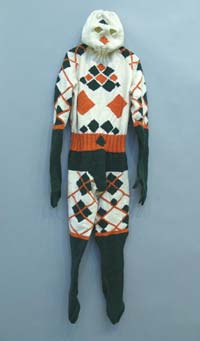 MARK NEWPORT
ARGYLEMAN, 2007
Hand knit acrylic and buttons
80 x 23 x 6 inches
$7,000



"ARGYLEMAN is one of a series of hand knit superhero costumes whose identity is based on knitting traditions. These invented heroes combine the process of knitting and its traditions, generally associated with women, with the hyper—masculine world of the comic book superhero. Argyle in these colors reminds me of my preppy high school years in western Massachusetts. So ARGYLEMAN could be the embodiment of my outsider intellectual past made into a macho superhero costume through the dynamic process of hand knitting. He also explores my current role as a father in response to my childrenís developing independence and the dangers posed by bullies, pedophiles, terrorists, and fanatical messianic characters."

— Mark Newport

MARC QUINN
SELF (red), 2006
Hand—colored pigment print on gessoed aluminum panel
10.25 x 7.75
Edition of 10
$15,000
The work that brought Marc Quinn into the larger public consciousness was SELF, 1991, a cast of the artistís head made from 4.5 litres of his own blood. The blood was taken over a period of 5 months, poured into a mold and frozen. With its eyes closed and expressionless face, the piece appears like a death mask of the artist. It is displayed on a refrigerated stand and as it ages it shows minor surface changes, prompting the viewer to contemplate their own mortality. SELF is reconfigured here as a print, hand painted in deep, bloody reds.

DARIO ROBLETO
SOMETIMES BILLIE IS ALL THAT HOLDS ME TOGETHER, 2000
Button crafted from melted Billie Holiday vinyl records, various clothing, acrylic, spray paint
10.625 x 9.625 x 1.25 inches
Collection of Greg Kucera and Larry Yocom


Robleto gives a new identity to something so simple as an old button.

In this body of work he would typically find an item of clothing or buy it from a thrift store from which a button was missing. He would remove another button, create a mold from it, recreate it from vinyl from melted records, and then sew the buttons (one actual, one remade) back on the item and return it to where he found it. Because Robleto strongly identifies with singers such as Patsy Cline or Billie Holiday, he would often pay tribute to them by using their recordings to melt down or carve in this work. He would also fashion a second button to become part of the larger group of facsimile buttons that was the fuller artwork titled "Sometimes Billie Is All That Holds Me Together."

"Identity is a multilayered idea. It is the way we see ourselves, which is shaped by our experiences and memories, and also how others see us. In my art, I use identity to maneuver between people in my life, (my grandfather, father, son and myself), travel in and out of stories and to pass through time. It also allows me to connect with sensations of past memories and life experiences for the viewer to interpret. Most importantly, using identity as a central theme in my work allows me to express pressures of everyday life into my art, just as other people may use therapy or exercise. It allows me to explore my own alter ego, fears, and feelings from an objective standpoint. Finally, I believe that using identity in my work shows vulnerability to the audience, which in my mind equates to honesty."

— Tim Roda
Throughout my life people have said to me:
"What country are you from?"
"What kind of food do you eat?"
"Where were you born?"
"How long have you been in this country?"
"You were in the Army? Which one?"
"How have you come to speaking the language so well?"
"You must be a Buddhist."
"You are tall for a Japanese."
"My cousin is married to one."
"I once knew a man from Japan. I wonder if you know him?"
"You must be from from Hawaii?"
"You're Japanese? Are you going to Beijing for the Olympics?"
So these paintings are my answers.

— Roger Shimomura

MICKALENE THOMAS
MICHELLE O, 2008
Screenprint
25 x 19.5 inches
Edition of 40
SOLD

On African—American female icons: "Iím really interested in women, particularly the kind of black woman who has overcome obstacles in her life and transformed." On girly women: "Thatís why I have an understanding of these women," she said. "Because I was one of them myself."

— Mickalene Thomas
In the 1960s through the 1980s, Tom of Finland produced spectacular drawings of gay men with idealized (some might say exaggerated!) physiques engaging in an amazing array of semiotically encoded sex roles from romantic to kinky and everything in between. These drawings catalyzed a profound change in the way gay men perceived themselves and approached their sexuality during this nascent period of the the gay rights movement. This invention of an idealized gay male persona continues to have an effect on today's male realities and, indeed, has broadened historical stereotypes of gay men as weak or effeminate to include a hyper—masculine stereotype as well. In a very short period of time, Tom of Finlandís drawings developed from Tomís personal fantasies into sexual archetypes that have now become cultural stereotypes.


JOHN WATERS
FARRAH, 2000
8 chromogenic prints, collage
16.25 x 96.25 inches
Edition of 8
$9,000.



DAN WEBB
THE NEW YOU MACHINE, 2009
Sculpey, plywood and metal
23 x 15 x 18 inches
SOLD


"Description: By spinning the plywood wheel in the front, the 14 heads on top spin around, each taking a turn as the head for the lumpy form below. This piece, like many others I have made, is interested in the exterior solutions we come up with for our interior dilemmas. Self—invention is an American obsession, the results of which are evident in things like body—building, fashion, tattooing and piercing, plastic surgery, etc. How the manipulation of the exterior reflects the interior remains endlessly fascinating to me."

— Dan Webb


ALICE WHEELER
KATHLEEN HANNA AT HOME, OLYMPIA, 1993
Chromogenic prints
40.5 x 27 inches
Edition of 3
$2,000

Wheelerís series "Women Are Beautiful" is both a reference to Gary Winograndís famous series by the same title and a statement that embraces a broad range of female types and feminine identities. In the work shown here Wheeler reveals an intimate understanding of a teenagerís search for identity, those crucial moments of adolescence that lead to oneís self as an adult.
PASTORAL, 1998
Wall painting in black 72 x 80 inches
Limited to 15 installations, with a signed and numbered certificate
POR

"The silhouette says a lot with very little information, but that's also what the stereotype does. So I saw the silhouette and the stereotype as linked. Of course, while the stereotype, or the emblem, can communicate with a lot of people, and a lot of people can understand it, the other side is that it also reduces differences, reduces diversity to that stereotype."

— Kara Walker

EDWARD WICKLANDER
BAG TOTEM, 2008
Carved old—growth Douglas Fir and steel
77 x 22 x 22 inches
SOLD

"THE WHITE MANíS TOTEM is my reinterpretation of the Native American totem pole using empty paper bags as symbols of current American culture. The Native American totem poles display mythic origins and lineage of ancestors reflecting their cultureís history and legends. THE WHITE MANíS TOTEM is a sad tribute to our countryís excessive consumerism and capitalism as a means to an end. Spawned by the white culture of which I am both an avid observer and a reluctant participant."

— Ed Wicklander
"Basically they are snapshots taken in Tokyo parks at night using a 35—millimeter camera, infrared film and flash to document the people gathered for amorous trysts, as well as —— and this is the bizarre part —— the hordes of spectators hiding in the bushes who watched, and sometimes even participated in the action.

— Benjamin Genocchio ,The New York Times

"Viewing his pictures means that you too are looking at activities not meant to be seen. We line up right behind the photographer, surreptitiously watching the peeping toms who are secretly watching the couples. Voyeurism is us."

— Philip Gefter, The New York Times

" I think, in a way. the act of taking photographs itself is voyeuristic somehow. So I may be voyeur, because I am a photographer."

— Kohei Yoshiyuki (a pseudonym, his real name is unknown)