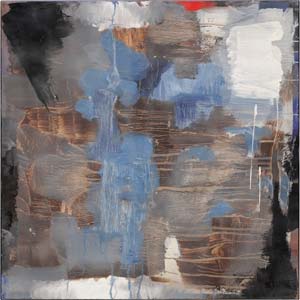 SLACK WATER, 2010
Encaustic on linen over wood panel
36 x 36 inches
$11,000

FIRST SNOW, 2010
Encaustic on linen over wood panel
40 x 36 inches
$12,000


SKETCH, 2011
Encaustic on linen over wood panel
30 x 33 inches
$10,000

Goldberg had traveled in England in 1978, staying for a month in an Elizabethan country home near Sussex, visiting ancient Roman ruins and Greek revival manors. He would later travel extensively in the western regions of the U.S., particularly the Southwest where the artist visited Zuni and Navajo reservations, Anasazi ruins and Hopi pueblos.

In 1980, Matthew Kangas said of Goldberg, "His true significance lies in the fact that he turned his back on 'mysticism' in art and squarely faced the more rewarding challenges of 20th century painting (cubism, neo-plasticism, abstract expressionism, color field painting), as routes to personal expression."

Much of Goldberg's work seems relative to architecture. Suggestions of archeological relics, mosaic panels, floor plans, doors, tunnels, arches, windows and columns, have figured in nearly every body of work.

His earlier work follow a few parallel paths. He continues to mine his fascination with abstractions of the rural landscape. Concurrently, he investigates a severely reduced composition, field of richly nuanced whitish grey edged with small bands and rectangles of high key color intruding ever so slightly into it.

Without being in any way derivative, these are mindful of the late Mondrian works but also of Motherwell's ongoing Open Series in which he would create a painted space suggestive of the openness of doors or windows without being at all representational.