Click to enlarge any image below:



BLACK TUESDAY, 1993
Woodcut
22.5 x 30 inches
Edition of 20




ANOTHER HEADLESS HORSEMAN, 1983
Woodcut, 13 x 23 inches, Edition of 12
$500.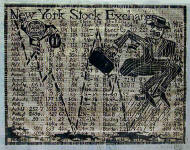 NYSE, 1983
Woodcut, 15.75 x 20 inches, Edition of 10
$600.

---
Beecher's prints are impressions taken from the artist's paintings on wood. She carves the wood block and then paints the image with enamel paint. With an image she particularly likes, Beecher will make state impressions when the blocks are carved but not painted. She generally will make these impressions as a way of cataloguing the image. Occasionally she will pull an edition, but usually these impressions are not editioned.