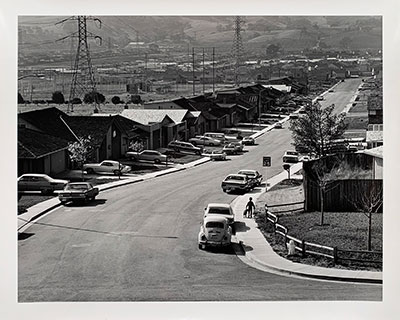 UNTITLED (street with boy and dog), 1999
Photograph
$4,000


TUPPERWARE PARTY
Digital print from black and white photograph, unique
19.5 x 24 inches




WOMAN JUMPING OUT OF CAKE, 1970s
Photograph
8 x 11 inches



"This book (Suburbia) is about my friends and the world I live in. In the Fall of 1968, I began working as a photographer for the Livermore (California) INDEPENDENT. My daily routine took me into the homes of hundreds of families and into contact with the social life of three suburban communities.
The people I met enjoy the life-style of the suburbs. They have realized the American Dream. They are proud to be home owners and to have achieved material success.

To me, nothing seemed familiar, yet, everything was very, very familiar. At first I suffered from culture shock. I wanted to photograph everything, thousands of photographs. Then slowly I began to put my thoughts and feelings together and to document Americans in Suburbia. It took two years.
The photos in this book express the lives of the people I know. The comments on each photograph are what the people feel about themselves."


- Bill Owens, from Suburbia, Summer 1972

---
Bill Owens came to prominence in the early 1970s. After graduating from California State University at Chico (1963), he began to pursue photography while serving in the Peace Corps (1964-66). Later, when working as a newspaper photographer for the Independent News in Livermore, California (1968-78), a small city 33 miles east of San Francisco, Owens was assigned the daily beat of the suburban activities of his friends and neighbors.

Owens' first book Suburbia (Straight Arrow Books, 1972) was a fascinating catalog of many of the individuals that the artist met while his camera was trained on the various yard sales, PTA meetings, church socials, and other social phenomena of his neighborhood. In Suburbia, the artist paired photographs of these plain folks with short, descriptive statements in their own words or paraphrased from interviews. The photographs have a compelling presence by themselves, but the combination of word and image runs the gamut from amusing humor to touching pathos.

After considerable and immediate success from Suburbia, the second book, Our Kind of People (Straight Arrow Books, 1974) used many of the images that Owens had collected covering fraternal organizations such as the Elks, Eagles and Rotary Club, as well as youth activities (Cub Scouts and Indian Guides), church groups and other, often quite eccentric, groups. The "Avon Bottle Collector's Club" and "The Order of the Louse" are just a few of the more curious groups profiled.

Working (I do it for the money) was published in 1976 (Simon and Schuster) as the third in the series. Here, Owens combined working portraits and touching comments from workers at a variety of occupations ranging from teachers to car salesmen (illustrated below), executives to factory workers, and prostitutes to preachers. As with Studs Terkel's book by a similar title, the comments of the workers are moving, revealing their frustrations with their jobs just as easily as their delight or satisfaction.
With these books and numerous exhibitions behind him, Owens seemed destined for success. Although Owens sold relatively few photographs during this period, the books were all hugely successful for such documentary work. Diane Arbus died in 1971, and even she had not sold great quantities of her work during her lifetime. This was the beginning of a huge new wave of interest in photography, in both book and art print forms. Still, for Owens, it was not a living.

Although his career continued into the 1980s and 1990s with shows all over the U.S. and Europe, Owens himself withdrew from the public eye. His two children were born in 1968 and 1972 and he went through a difficult divorce from his first wife in the mid-1970s. He was feeling the pains of a career well begun but somewhat stalled at the starting gates. He continued to do freelance and contract work, even working on Newsweek's special bicentennial issue in 1976.

Bill Owens founded Buffalo Bill's Brewery in 1983, in Hayward, CA, which is where he now lives. For a while he even published two beer brewing magazines. Owens continues to take photographs. He exhibits with Howard Greenberg Gallery in New York and Robert Koch Gallery in San Francisco.

His work is included in the collections of MoMA, New York; San Francisco MoMA; Los Angeles County Museum of Art; National Museum of American Art, Washington D.C.; Bibliotheque Nationale de Paris; and MoMA, Stockholm, in addition to many others.
How the Suburbia series was made

"All the photographs in this book were taken with large format hand-held cameras; a Pentax 6x7, 2 1/4 x 2 3/4, with three focal length lenses- 55mm, 105mm and 200mm, and a Brooks Veriwide 2 1/4 x 3 1/4 which was used for most of the indoor shots. It is a super wide-angle camera.

All indoor photos were taken with a fill-in flash. Sometimes I used a regular flash unit and bounced the light off the ceiling for soft-light effect. The strobe used was a Speed Graflex bare tube. The bare tube gives a very soft, natural light effect.

The film was Tri-X, 220, rated at ASA 800. It was developed in Edwal FG-7 for around ten minutes.

- Bill Owens