BAG TOTEM WITH RED STRIPE, 2011
Carved wood and cast concrete
67 x 7.5 x 6.5 inches
$15,000



STEEL HEAD, 2010
Welded steel
62 x 12 x 12 inches
$5,000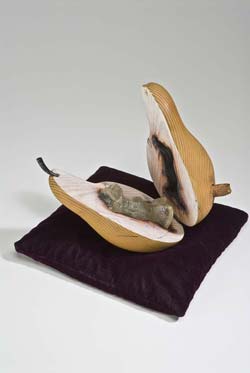 CRYSTAL CORE, 2007
Carved and painted wood, cast resin, velvet pillow and steel
9 x 8 x 8 inches
$4,000



ALPHA CAT, 2007
Carved and painted wood
19 x 19 x 8 inches
$5,000.




HINDSIGHT (Orange Woolly), 2010
Carved fir and enamel paint
21 x 21 x 7.5 inches
SOLD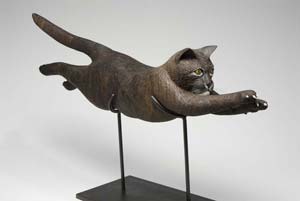 WALNUT TABBY (GIRL), 2008
Carved walnut, horse tail hair, ivory nut, enamel paint and steel base
26 x 33 x 8 inches
$10,000


Detail:


LIFELINE (sconce), 2009
Blown glass, stitched rawhide, welded steel, rubber and antifreeze
11 x 9 x 9 inches
$3,000



LIFELINE #1, 2007
Blown glass, juniper, stitched rawhide, welded steel, rubber and antifreeze
11 x 22 x 6 inches
$6,000


Seattle artist Edward Wicklander's recent body of work showcases the artist's ability as a woodcarver as well as his unique brand of humorous narrative. His intricately carved surfaces reveal a deep reverence for materials, while his subject matter stimulates the imagination, as his eccentric storytelling eludes concrete meaning.

Wicklander is a craftsman of diverse talents. His work involves many different techniques including wood carving, blown and cast glass, metalsmithing and welding, bronze casting, and an intriguing combination of materials. He sees his forte as his "ability to use very different materials to their greatest advantage." As with many of Wicklander's intricate sculptures, there are clever surprises to be found if you look closely enough.