Frank Okada Retrospective at the Museum of Northwest Art
10/08/2005 - 01/08/2006

A lifelong resident of the Pacific Northwest until his untimely death in 2000 at the age of 69, Okada played a significant role in its art history. Born in 1931 to immigrant parents in Seattle's International District, Okada went on to a career as professor of art at the University of Oregon. This exhibit will be the first survey of his work that is accompanied by a comprehensive catalog written by Northwest art historian Kazuko Nakane who will co-curate the exhibition.
An Appreciation:
As a painter, Frank Okada imbued his work with the grace of the vast historic precedent of a highly refined Japanese aesthetic. His brushstrokes could sing of thousands of years of art and still speak the language of the recent 20th century's art history. A painterly intelligence informed his delicately balanced compositions just as surely as a haiku is ordered by a rigorous discipline and keen observation.

As a man, even in the most casual of meeting, those same qualities of grace, intelligence, and discipline were readily apparent. Upon knowing Frank more deeply, one became aware that an extreme sense of personal modesty was among his most charming personal traits. He will be missed greatly by his colleagues, peers and students in the art world.

- Greg Kucera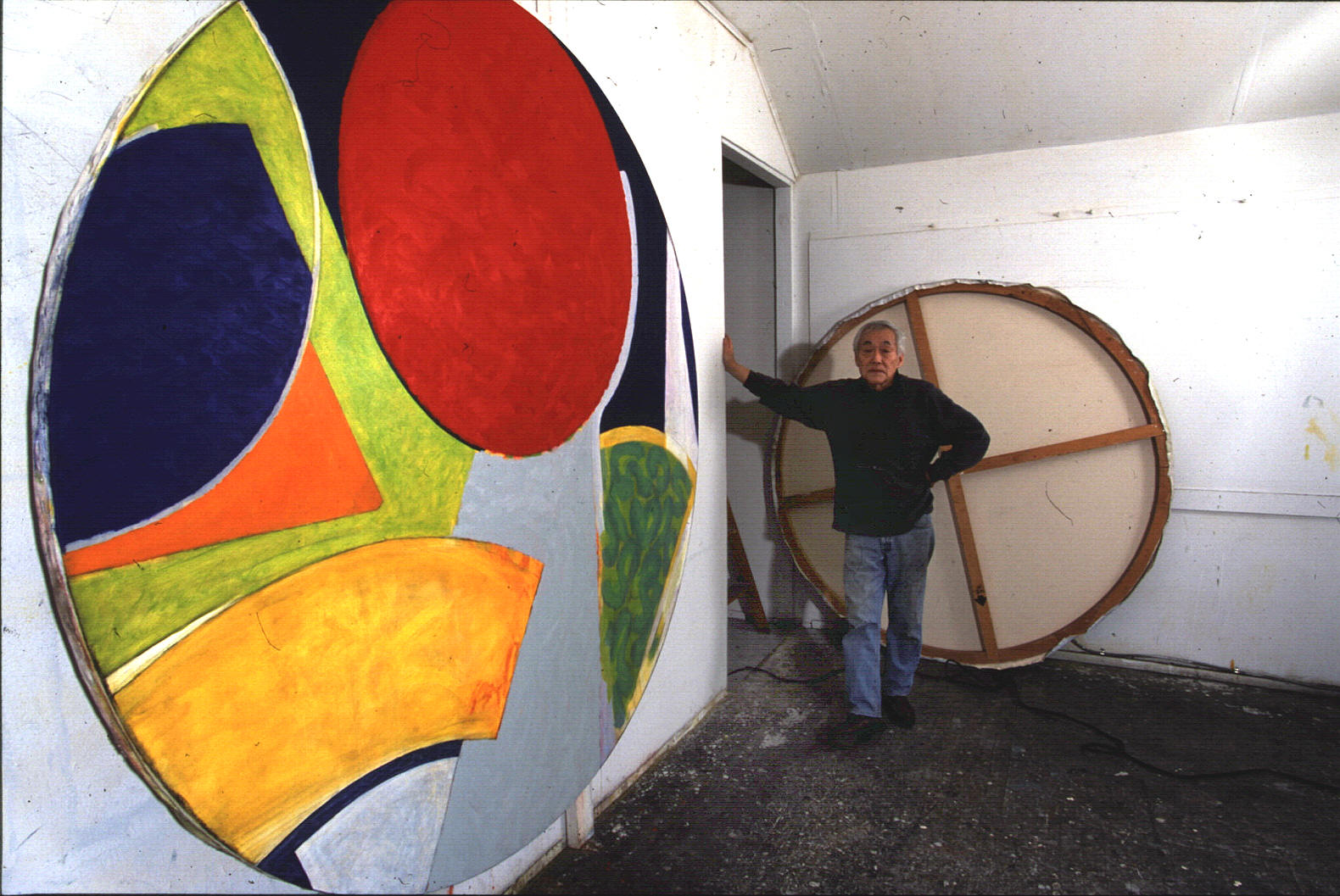 The artist had said of these paintings:
"In my oral documentation to the Smithsonian Institute, I alluded to my work as being dedicatory in nature. My parents, through good and bad times, always placed the first portion of newly cooked rice before their modest Buddhist shrine, dedicating that portion to the memory of those past and as an abiding affirmation of their faith. Occasionally, in thoughts conjured in my studio reflections, I sense my work as being metaphorically that daily first portion of rice. It is the remembrance of the anguish and subsequently the stoicism of my parents' generation, as a consequence of their internment during the Second World War, which evokes a mesmerizing melancholy and sadness."

Frank Okada (1931 - 2000) paintings from the estate
Focusing on his late paintings, below is work that remains in Frank Okada's estate when he died a few years ago at the age of 69. There are fewer than 40 finished works in the artist's estate which cover the period from the late 1970s until his death from cancer in October 2000. While most of the works are of a moderate scale for private collectors, some of them are as large as 6 x 10 feet.

While the nature of color in Frank Okada's work changed slowly over the last 30 years of his life, shifting subtly from a broad range of color to intensely monochromatic themes, he long ago arrived at a mature style of reductive compositions. Okada's geometrically structured color fields have often been loose translations of landscapes or abstractions of objects that had been familiar to the artist.

Installation view of M - III, WANDERING POLE, AND C-I-OO

Earlier Work
In Okada's early paintings, each was carefully controlled in both composition and color, alternating as they did between symmetry and implied symmetry and between monochrome and subtly manipulated monochrome. The painted fields of some works become a delicate surface of exquisitely rendered brush strokes, with all of the shimmering complexity of a silk tapestry. In other paintings, the overall color field will be derived from many different tones of that color, perhaps laid over a backdrop of dissimilar hues. In a field of brilliant red the viewer may be startled to catch a glimmer of yellow or to find that the slivers of other colors at the edges repeat themselves in whispers in the under painting within the larger field.
Paintings, 1996-2000
Most clearly, Okada's last series of paintings suggest a great variety of formal influences, including fan, urn and kimono shapes relating to his ancestral Japanese culture. With continued examination, Okada's refined painterly surfaces and highly developed sense of color also become apparent. The expansive paint surface is built of thousands of shimmering brush strokes laid one atop another with small brushes, acquiring an appearance similar to silk brocade.

In this work, familiar shapes once confined to the margins of the canvas have begun to migrate towards the middle of the work and play a more active role as formal elements of the painting. Furthermore, where random chaos once flourished in his vast expanses of color, subtle striations and patterns have appeared in some works, creating a gentle movement from shape to shape. His subtly manipulated fields of color most often come in the form of bright marine blues, crisp whites, golden yellows, and vivid reds. This marked a return to Okada's work of a dynamic, graphic sense of color and shape.

Personal History
Frank Okada was born in Seattle in 1931. He taught painting at the University of Oregon, retiring in 1999. Okada received his B.F.A. from Cranbrook Academy in 1957. He lived and worked in Eugene, Oregon until his death in October, 2000.
Commissions, Honors and Awards

Okada was awarded a Guggenheim Fellowship in 1967, a Fulbright Fellowship in 1959 and a Whitney Fellowship in 1957. He had several one-person exhibitions at regional institutions, including: The Whatcom County Museum of Art, Bellingham, WA (1997), Portland Art Museum, Oregon (1972) and Tacoma Art Museum, Washington (1970). In addition, Okada's work had been exhibited in group exhibitions including Asian Tradition, Modern Expression, Jane Voorhees Zimmerli Museum, Rutgers University, NJ (1997); Light, Shadow and Gesture: By Northwest Artists, Seattle Art Museum (1997); Washington: 100 Years, 100 Paintings, Bellevue Art Museum, Bellevue, WA (1995); ART/LA 90, Los Angeles, CA (1991) and Japan and the Northwest, The National Museum of Art, Osaka, Japan (1982). His work had been shown at the Laura Russo Gallery, Portland, Oregon and Foster/White Gallery, Seattle. Okada exhibited with the Greg Kucera Gallery beginning in 1988 and continuing up to his death in 2000.

Works by the artist are included in the collections of: Philbrook Museum, Museum of Northwestern Art, Microsoft Corporation, Redmond, WA; Portland Art Museum; SAFECO Insurance Company, Seattle; Seattle Art Museum; Swedish Hospital, Seattle; Tacoma Art Museum, WA; University of Oregon Museum, Eugene; Whatcom Museum of History and Art, Bellingham, WA.