Alden Mason
The 1970s
February 23 - April 1, 2017

We are actively seeking Alden Mason "Burpee Garden Series" paintings from early to mid 1970s.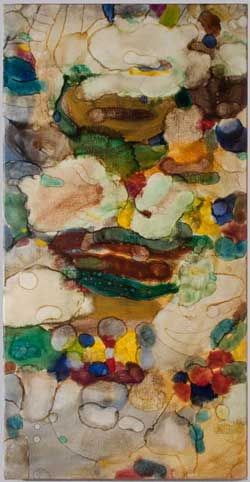 VERTICAL GARDEN, 1974
Oil on canvas
32 x 16 inchess
$14,000




UNTITLED (green center), ca. 1973-76
Oil on canvas
40 x 26 inches
$16,000





BUTTERFLY DAY, 1973
Watercolor on paper
22 x 26 inches
$7,000





UNTITLED (ROCKY BEACH), 1950
Watercolor on paper
15.5 x 12.5 inches
$2,800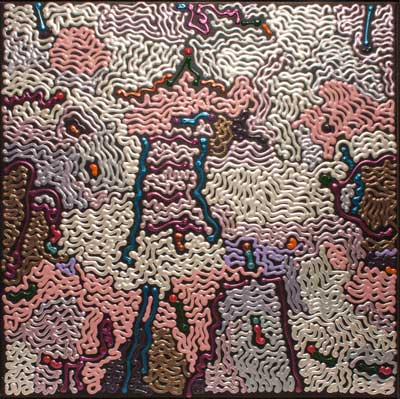 NUPTIAL DIALOGUE, 1981
Acrylic on canvas
28 x 28 inches
$4,000




DECEPTION PASS, 1966
Watercolor on paper
18.5 x 21.75 inches
SOLD




SOFT APRIL, 1978
Oil on canvas
39.5 x 84.5 inches
$30,000





Waltzing Matilda Goodbye, 1987
Acrylic on canvas
70 x 82 inches
$28,000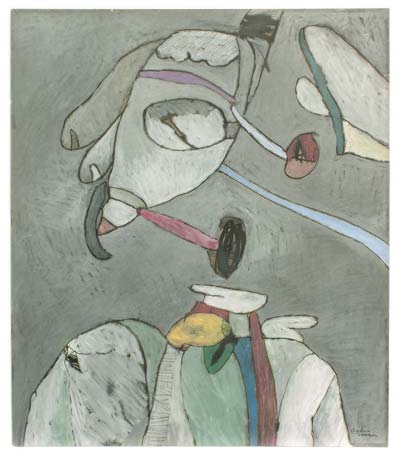 GREY LANDSCAPE, circa 1974-76
Oil pastel on paper
21 x 18 inches
$4,500 framed


PRICKLY PEAR, 1976
Oil pastel on paper
30 x 36 inches
$8,000


UNTITLED, circa 1970-72
Ink on paper
18 x 23 inches
$1,800


UNTITLED, circa 1970-72
Charcoal on paper
22 x 18 inches
$1,800


GOLDEN BURPEE (BURPEE GARDEN SERIES), 1973
Oil on canvas
70 x 85 inches
SOLD


RAINBOW ROCKER (BURPEE GARDEN SERIES), 1973
Oil on canvas
80 x 90 inches
SOLD


BURPEE SURPRISE PACKAGE, 1972
Oil on canvas
70 x 85 inches
SOLD


LANDSCAPE FOR A BLUE JAY, 1972
Oil on canvas
26 x 36 inches
SOLD


BLUE AND RED COLLISION, 1972
Oil on canvas
56 x 74 inches
SOLD

BURPEE GARDEN REVISITED
exhibition at Greg Kucera Gallery

March 6 - March 28, 2008



Description of 2008 Greg Kucera Gallery Exhibition
In 1973, following the spectacular success of his first exhibition of the Burpee Garden series of paintings at Seattle's Polly Friedlander Gallery, Alden Mason visited New York at the invitation of Chuck Close. Close, a former student of Mason, encouraged him to install a number of his Burpee Garden paintings in Close's SoHo studio in the hopes of finding a dealer in New York. Notably, Close arranged for the maverick art dealer Allan Stone to view Mason's work.

Seeing the paintings Mason installed in Close's studio, Stone agreed to buy all of them and to represent Mason's work in New York. Two of the paintings illustrated here are among those works Stone acquired and held for the last thirty-five years. We are pleased to present them for the first time in Seattle. In addition, we will show several Burpee Garden paintings and watercolors for resale from local private collections.

Allan Stone showed Mason's paintings through the late 1970s, finding an international market for the work. Some of the Burpee Garden paintings were also shown to great acclaim at Ruth Schaffner Gallery in Los Angeles and were acquired by museums and important collectors. Burpee Garden paintings are represented in the collections of San Francisco Museum of Modern Art, Denver Art Museum, Portland Art Museum, Seattle Art Museum, Tacoma Art Museum, Museum of Northwest Art in La Conner, WA and corporate and private collections.

The Burpee Garden series, named after the Burpee Seed Company catalog which Mason remembered from his early years growing up on a farm in the Skagit Valley, were the first of many triumphant innovations as Mason's career progressed. With their audacious color, surprising scale, and exuberant abstraction, they represent a break with the drably colored or poetic narratives that had typified painting here following the advent of the Northwest School. Mason's significance is obvious in the way the Burpee Garden paintings mark a distinct turn in that linear history. Along with other abstract artists working in Seattle such as Michael Dailey, Robert Jones, William Ivey, and Frank Okada, Mason influenced the development of many younger artists here. Despite his need to abandon oil painting because of its detrimental effect on his health, this short lived series of paintings remain the pinnacle of Mason's early success. In the paintings titled the "Burpee Garden" series Mason produced six by seven foot paintings in a color range not previously seen in the Northwest. Created from 1970 to 1976 this short period produced some of the most influential and groundbreaking works ever made in Seattle.

In Seattle, Mason was represented by Greg Kucera Gallery from 1983 to 1996. He is currently showing work made since the 1980s at Foster/White Gallery, where he has been represented since 2003. We are pleased to work along side Foster/White Gallery in presenting a broad range of Alden Mason's work from the last four decades in our two simultaneous exhibitions.


Alden Mason: In Memoriam 1919-2013
at the Wright Exhibition Space.

Greg Kucera's remembrance of Alden (a work in progress as more thoughts continue to come to mind).






Description of Wright Space Exhibition: The exhibition was designed to be a bit of a retrospective, with concentration on the major themes of his work. The exhibit contains a few of the large head drawings in oil pastel and acrylic on paper from the 1970s; the Burpee Garden oil paintings from the early to mid-1970s; the patterned paintings in acrylic from the early 1980s; the figural paintings from the late 1980s and through the 1990s; the abstract work in acrylic on canvas from the late 1990s and into this century; and the late watercolor and oil stick works Alden was working on in the last few years of his life.






The Seattle Times
A museum-worthy Alden Mason retrospective at Wright Space Wright Exhibtion Space assembles a glowing Alden Mason retrospective, with almost three dozen paintings and with fond, insightful reminiscences by 15 Seattle art-world figures. Through June 30, 2013.
By Michael Upchurch

Seattle Met
Art Review
A Knockout Tribute to Alden Mason at Wright Exhibition Space New exhibit Alden Mason: In Memoriam 1919-2013 hits the high points of the artist's work from 1970 on.
By Sheila Farr

The Seattle Times:
Obituary: Alden Mason, 93, lived, painted with a flourish
By Lynda V. Mapes

Seattle Metropolitan Magazine:
RIP Remembering Alden Mason (1919-2013) The prolific Washington artist, who painted well into his 90s, passed away today.
Published Feb 6, 2013, 2:14pm By Sheila Farr

Seattle Post Intelligencer:
At 88, painter still surprises himself
By REGINA HACKETT, P-I ART CRITIC
Published, Wednesday, March 5, 2008
(Download pdf of article)




EDUCATION
1947 Received M.F.A. from University of Washington and joined faculty
1981 Retired from teaching to paint full-time

SELECTED PUBLIC COLLECTIONS
Archer M. Huntington Gallery, University of Texas, Austin
Bellevue Art Museum, WA
Boise Art Museum
Charles B. Goddard Center for the Arts, Ardmore, OK
Denver Art Museum
Evergreen State College, Olympia, WA
Harborview Hospital, Seattle
Henry Art Gallery, University of Washington, Seattle
Meany Hall, University of Washington, Seattle
Milwaukee Art Museum, Wisconsin
Newport Harbor Art Museum, Newport Beach, CA
Oregon Art Institute, Portland
Palm Springs Desert Museum
Renton City Art Collection, WA
San Francisco Museum of Art
Seattle Art Museum
Seattle Arts Commission
Spokane City Art Collection, WA
Tacoma Art Museum, WA
University of Oregon Museum of Art
Washington State Arts Commission
Washington State University Art Museum, Pullman
Whatcom Museum, Bellingham, WA

SELECTED CORPORATE COLLECTIONS
Alaska Airlines Corporation, Seattle
Alexis Hotel, Portland
Atlantic Richfield Corporation, Los Angeles
Axelrod Investment, Seattle
Betts, Patterson and Mines Law Firm, Seattle
Bogle and Gates, Seattle
Cairncross, Ragen & Hempelmann Law Firm, Seattle
Cornerstone Development Company, Seattle
Cromwell, Mendoza Law Firm, Seattle
Dain Bosworth, Minneapolis
Davis, Wright and Jones Law Firm, Seattle
Data & Staff Service Company, Seattle
Federal Reserve Bank, San Francisco
Hillis, Cairncross Law Firm, Seattle
Idaho First National Bank, Boise
KING Broadcasting Company, Seattle
KMS Financial Services, Seattle
Mercantile Bank of Canada, Vancouver
Microsoft Corporation, Redmond, WA
Miller and Young Law Firm, Washington D.C.
Nordstrom, San Francisco
Oaks Landing Investment Firm, Portland
Pease & Doces Law Firm, Seattle
Perkins, Coie, Seattle
Physio-Control Corporation, Redmond, WA
Piper, Jaffray and Hopwood, Minneapolis
Polyclinic, Seattle
Preston, Thorgrimson, Shidler, Gates & Ellis, Seattle
Prudential Insurance Company of America, Los Angeles
Security Pacific Bank, Seattle
Rainier Club, Seattle
Reed, McClure, Moceri, Thonn, Seattle
Riddell, Williams, Bullitt and Walkinshaw, Seattle
SAFECO Insurance Company, Seattle
Seafirst Corporation, Seattle
Seattle-Tacoma International Airport
Sheraton Hotel, Seattle
Sheraton Hotel, Tacoma, WA
Steve Chase Associates, New York
Stoel, Rives, Boley, Jones and Grey, Seattle
Swedish Hospital, Seattle
Taco Bell Corporation, Irvine, CA
U.S. West Communications, Seattle
Warner Brothers Records, Burbank, CA
Washington Mutual Savings Bank, Seattle
West One Bank, Boise, ID
Williams, Lanza, Kastner and Gibbs, Seattle