June 1 - July 15, 2017
Alden Mason
The 1970s - A Time of Change

We are actively seeking Alden Mason "Burpee Garden Series" paintings from early to mid 1970s.

Press release

For Alden Mason, the 1960s had been a decade of searching for himself, working through nature and landscape paintings, then some hard edged, flat colored paintings styled after a Pop Art sensibility, and ending with more gestural works harkening back to deKooning and other abstract painters.

If the 1960s were about searching, the 1970s proved to be a decade of finding himself, as Mason produced some of his most memorable and groundbreaking work.

The "Burpee Garden" series dates from 1972-73 specifically but, in sensibility, goes on to include all five years or so of these oil paintings until 1977. The series title derives from the Burpee Seed Company catalog which Mason remembered from his early years growing up on a farm in the Skagit Valley. These large and sumptuous works were widely viewed as triumphant innovations as Mason's career progressed. With their audacious color, surprising scale, and exuberant abstraction, they represent a break with the somberly colored poetic narratives that had typified painting here following the advent of the Northwest School, and artists such as Guy Anderson, Kenneth Callahan, Morris Graves and Mark Tobey. Mason's significance is obvious in the way the "Burpee Garden" paintings mark a distinct turn toward in that linear history. Along with other abstract artists working in Seattle such as Francis Celentano, Michael Dailey, Robert Jones, William Ivey, Frank Okada, Michael Spafford, and Margaret Tompkins, Mason influenced the development of many younger artists here.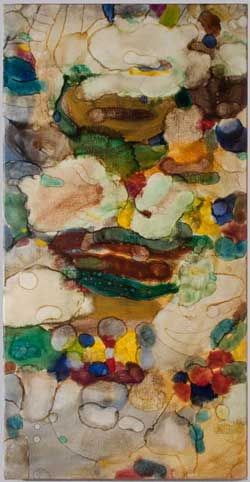 VERTICAL GARDEN, 1974
Oil on canvas
32 x 16 inches
SOLD


The special quality of these "Burpee Garden" works is understood in their lack of predictability. They are painted on a heavily gessoed canvas ground that has been sanded to a tooth similar to watercolor paper. The color is pooled and poured on, then dragged, pushed and pulled around by house painting brushes, rags, and even brooms. Positioning himself on trestles spanning the width of the sheet of canvas, the artist hovered over his paint surface, often kneeling a few inches above the surface. With this method, which belies a look of great spontaneity, Mason had surprisingly great control of his gesture and imagery, rarely showing an actual brush stroke. His brilliant, jewel-like color itself came from fine quality oil paint, thinned down with all manner of thinners, varnishes and driers. In this liquid state, the paint had become akin to watercolor and Mason dealt with it similarly- but now on a heroic scale, often about 70 x 80 inches to 80 x 90 inches. The paintings could take days to dry and he could correct a work while it was still wet by wiping it clean down to the gesso but, once dry, he didn't make correction. There are some small works as well, but most often they are edited from larger works Mason rejected as a whole painting, while saving the "good parts" from them as separate, smaller "cut-down" works.

While many artists from Guy Anderson to Frank Stella used house painting brushes in their work, none of their work looked like Alden's. Similarly, Jackson Pollock and others spilled, poured, flung and dripped paint, but their works are more performative than Mason's. While painted and poured horizontally on the floor, like Helen Frankenthaler's work, they are not stains on raw canvas like hers, though he, too, embraced the "happy accident" that came with this kind of spontaneous gesture. The paintings and drawings of this period resemble most the works of artists like Arshille Gorky, or the Los Angeles painter, John Altoon.

By Mason's estimation, there were only about 70 - 80 of these large oil paintings painted between 1971 and 1977. As time goes by more and more of the major works are in museum collections, making them rare in the market place. In some of the later oil paintings one can detect loosely realized figures among the pools of color but the paintings largely remained at odds with the drawings during this period. In 1973, following the spectacular success of his first exhibition of the "Burpee Garden" series of paintings at Seattle's Polly Friedlander Gallery, Alden Mason visited New York at the invitation of his friend and former student Chuck Close. Close encouraged him to install a number of his "Burpee Garden" paintings in Close's SoHo studio in the hopes of finding a dealer in New York. Notably, Close arranged for the maverick art dealer Allan Stone to view Mason's work.

"Burpee Garden" paintings are represented in the collections of San Francisco Museum of Modern Art, Denver Art Museum, Portland Art Museum, Seattle Art Museum, Tacoma Art Museum, Museum of Northwest Art in La Conner, Whatcom County Museum of Art, among others, as well as corporate and private collections all across the country.



BUTTERFLY DAY, 1973
Watercolor on paper
22 x 26 inches
SOLD


Mason was very involved with taking his natural inclination for watercolor to a new scale of abstract work, usually at least 30 x 40 inches in size. The watercolor works challenged the polite scale and subjects of his landscape and seashore paintings with their boldness, abstraction and scale. The rich, earthy quality of these watercolors contained large ovoid pod shapes, seemingly both grounded and buoyant. The paint both swirled around the pods and dripped into the grounding of them. While the overall palette was subdued, brilliantly colored details feature in many of them.

UNTITLED (ROCKY BEACH), 1950
Watercolor on paper
15.5 x 12.5 inches
SOLD



BLUE EYES, 1972
Oil pastel on paper
50 x 40 inches
$12,000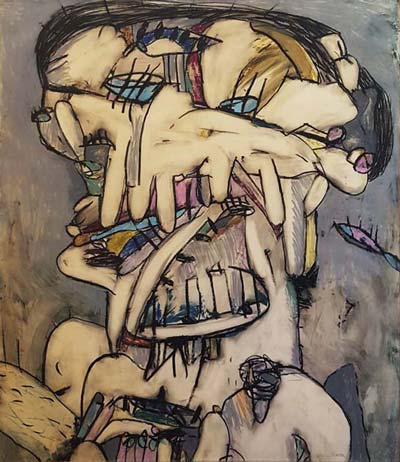 MASK WITH BLUE EYES, 1972
Oil pastel on paper
48 x 40 inches
$12,000

His drawings during this period were similarly large works, often 50 x 40 inches, using oil pastels rubbed with thinners and, while figural in nature, contained some of the same aqueous nature of the watercolor paintings. These drawings ranged from landscapes to figure drawings, often completely overwhelmed with sexual energy and innuendo. Rock formations, seen during trips through the Southwest deserts and parks, became loopy phalluses and swollen breasts. Large head drawings suggested the notion of representation of personality and mindset but were entirely ungrounded in the specificity of portraiture.

DOUBLE BREASTED LANDSCAPE, 1973
Oil pastel on paper
39.25 x 45 inches
SOLD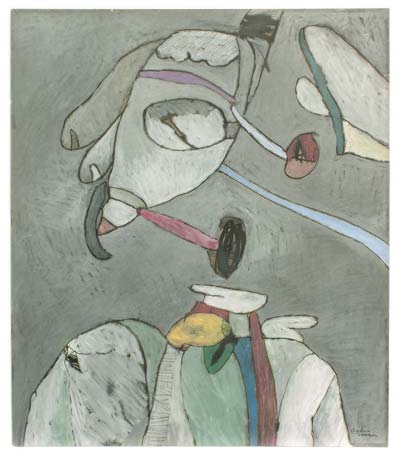 GREY LANDSCAPE, circa 1970s
Oil pastel on paper
21 x 18 inches
$4,500 framed


UNTITLED, circa early 1970s
Oil on board
18 x 24 inches
$5,500


UNTITLED, circa 1970-72
Ink on paper
18 x 23 inches
$1,800


PRICKLY PEAR, 1976
Oil pastel on paper
30 x 36 inches
$8,500

Despite his need to abandon oil painting because of its detrimental effect on his health, this short-lived series of paintings remain the pinnacle of Mason's early success. By 1977, the toxicity of the oil paintings had ravaged the mucous membranes in his sinuses and nasal passages. As he was literally positioned directly above the paint surface, he was breathing in large quantities of paint and thinner vapors. He became prone to horrific headaches and was warned by his doctors to leave this dangerous, though lovely, medium behind.

Acrylic paints were the obvious choice with which to work as many other artists had embraced them over the toxic qualities inherent in oil paints. His hope has been to continue the "Burpee" paintings in washes of acrylic paint. He began by experimenting with thin washes of acrylic over the white surface similar to how he had used oil paint. Mason was working with very broad gestures and brushstrokes that mimicked, but weren't convincing, as a furtherance of the "Burpee" series. He was dissatisfied with the pastel range of color. Mason began to experiment with a black painted background. This allowed the acrylic to sit on top of the black and lose its soft, candy-like, color. He showed these dramatic works on canvas and paper in his first show with Diane Gilson's gallery in Pioneer Square.

They were accompanied by works on paper that were more like drawings than paintings, made by dropping gobs of only slightly thinned acrylic paint onto a paper surface, again painted black, sometimes with washes of even thinner paint over them. He would drag the paint around with chopsticks into delicate trails of paint connecting one glob to another, often fashioning faces and heads from the white lines and colored puddles.

Perhaps, this attention to the linear aspects, along with the use of ketchup or mustard type squeeze bottles, made him realize that the acrylic paint could do something he hadn't done with oil paint, namely make a raised line with it. He was thrilled to see a union between his paintings and drawings.

In 1980, his second show at Gilson's was titled the Celebration Series, as much for the breakthrough it heralded in his style, as for his new relationship to his girlfriend, Karen Stumpf, soon to become his second wife. The paintings were joyous and, again, entirely fresh looking, unlike what any other artist was making by using a raised line of acrylic paint as a middle ground between his painting and drawing. While many were as small as 20 x 20 inches, others were as large as 80 x 80 inches. The raised line was used to make dizzying patterns of a multitude of colors. Some resembled the microscopic life seen under a slide, others the fantastic patterns of Central American textiles such as molas. Some relied on symmetry and others seemed to have no organization to their whimsical patterns whatsoever.


Additional 1980s-1990s Acrylic Paintings available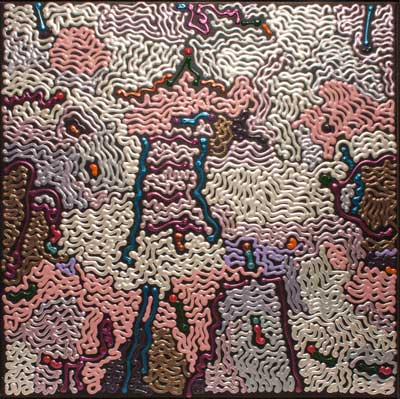 NUPTIAL DIALOGUE, 1981
Acrylic on canvas
28 x 28 inches
SOLD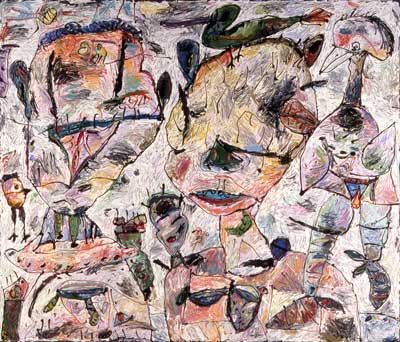 Waltzing Matilda Goodbye, 1987
Acrylic on canvas
70 x 82 inches
$28,000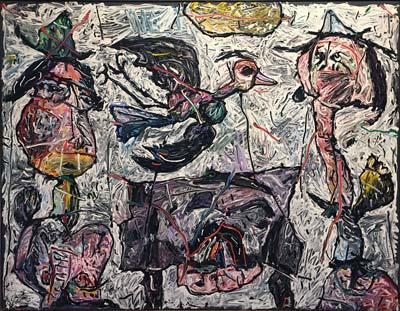 SPIRIT BIRD RETURNS, 1989
Acrylic on canvas
32 x 42 inches
$7,000



In 1990, the gallery published a catalog on his "Courtship Series" with essays by Gerald Nordland and Bruce Guenther. In the forward I wrote, "Each new body of work seeks to explore uncharted territory. Each new painting promises to better translate his observations into a painterly language. Being summoned to Alden's studio to view 'the most marvelous painting yet' has become a familiar and personal joke between us. Yet each time I hear excitement register in his voice over a new painting I am reminded that his lack of complacency keeps him vital."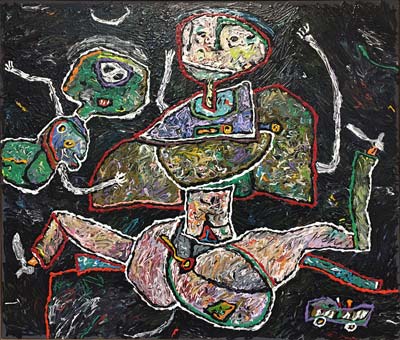 BOY WITH YELLOW PENIS, 1991
Acrylic on canvas
36 x 42 inches
$7,500




WHAT HAPPENED IN THE GARDEN OF EDEN, 1984
Pencil and pastel on paper
20 x 26 inches

$1,500