Archival pigment print with colored relief block printing, and hand coloring
Each 18 x 13 inches
Edition of 40
$11,500.
Available prints are listed below
$1,400 each unframed
$1,550. framed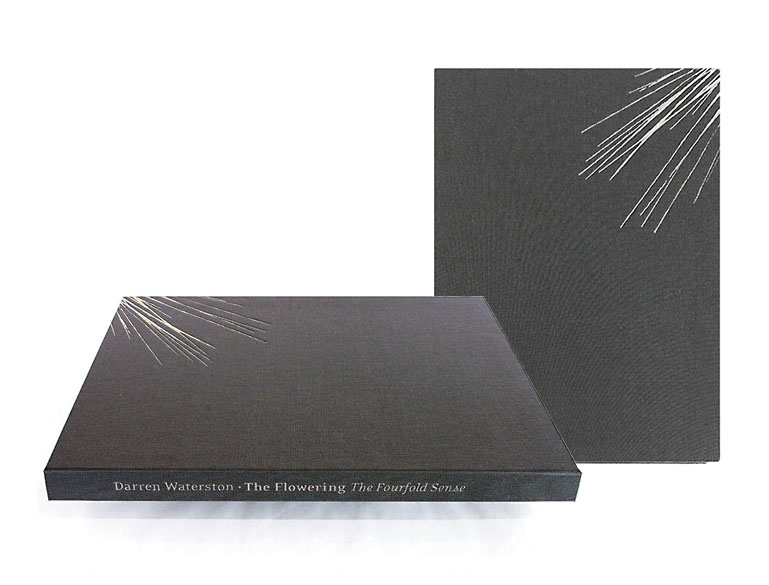 Darren Waterston, in collaboration with Gallery 16 Editions, has just published The Flowering (The Fourfold Sense), a portfolio of thirteen original prints by Waterston, (with original texts by Tyrus Miller), exploring the senses and bodily experiences of Saint Francis of Assisi. The colorful images employ traditional and contemporary print—forms including relief printing and digital pigment printing, as well as hand coloring by the artist.

The title of the portfolio, "The Flowering," alludes to the Fioretti, (little flowers), a medieval anthology of stories about Saint Francis of Assisi and his followers, which emphasizes the fantastic, the miraculous, and the sensational aspects of his popular legend. "The fourfold sense" refers both to the bodily senses of the saint and to the medieval practice of multilayered interpretation, which could elicit literal, historical, moral, and inner spiritual meanings from any passage of text, image, or event. Francis's spiritualized relation to the body—ranging from his appreciative sense of the lowly world of animals and of the poor and sick, to his extreme humiliation and chastening of the body—is a strange combination of attractions and repulsions for present—day sensibilities.
DOME



PASSAGE
(available singly)



LEPER'S CONVERSION
(available singly)



MT. VERNA



Among the images in the suite are both fully figural and anthropomorphic treatments of bodily organs and functions. Some of the images are floral, but veer toward the biomorphic. Certainly, no flora or fauna can be called by Latin name in Waterston's renditions. No horizon line cues us to recognize landscape or seascape from a roiling atmosphere. No sense of scale is offered as an absolute reference point of size or depth in these gestures, spatters, wisps and drips. As is commonly understood with Waterston's imagery, the viewer is left without a specific placement reference on nearly every conceivable point of pinning him down.

A skull seems equally made of bone as spectral light. Bubbles and skeins of webbing float freely. Petals and feathers are scattered by an unseen breeze. Birds meld into a fetid swarm. Drops of blood are drawn into slithering trails. A whole world of chance and control unfolds in these varied painterly gestures.

SERAPH



RECEIVING
(available singly)



RED CLOUD




UMBRIA
(available singly)



BODY
(available singly)



EYE AS MOON
(available singly)



WEEPER
(available singly)



WOUNDS




SHADOW
(available singly)








Additional print:




FUGUE, 2007
Pigment print on Innova
40.5 x 28.5 inches
Edition of 20
$4,500