Robert Rauschenberg is a living legend most renowned for his status as a great American Pop artists of the 1960s. In 1964 he became the first American to win the prestigious Venice Biennale Grand Prize. Significantly, given his use of print media imagery, he was also the first living American artist to be featured by Time magazine on its cover.

Rauschenberg's use of the disparate photographic images he has personally taken as he traveled the world continues to be the jumping-off point for his prints, paintings and sculptures. A large-scale commission of such imagery was completed and installed in the Benaroya Symphony Hall in downtown Seattle. It is titled "Echo" and measures 45 feet across. It is composed of vegetable dye transfers on nine large laminate sheets.
Ruminations, 2000
Rauschenberg has always provided a sense of his personal being through his work, but rarely has he been so direct as in this new series of prints. Although what the content implies is ambiguous, it is clear that these images are introspective representations of important figures and moments from the early periods of his life. He has returned to the more restrained gray palette used in prints from the 1960s and depicted scenes from his childhood including his mother and father Ernest and Dora, his sister Janet, his former wife Susan Weil and their son Christopher, Steven Paxton, Cy Twombly, John Cage, Jasper Johns, Tatyana Grosman, Leo Castelli and Illeana Sonnabend.

Prices are subject to change as editions sell out

ACE (Steven Paxton) from RUMINATIONS, 1999
Intaglio, 30.25 x 45.75 inches, Edition of 46, Published by ULAE
(only available with purchase of full set @ $60,000.)




BIG AND LITTLE BULLYS (Ernest and Dora Rauschenberg)
from RUMINATIONS, 1999
Intaglio, 45 x 57.5 inches, Edition of 46, Published by ULAE
$8,500.

Click to enlarge any image:





BUBBA'S SISTER (Rauschenberg's sister) from RUMINATIONS, 1999
Intaglio, 23 x 31.5 inches, Edition of 46
$4,500.




JAP (Jasper Johns) from RUMINATIONS, 1999
Intaglio, 19.75 x 26 inches, Edition of 46, Published by ULAE
(only available with purchase of full set @ $60,000.)



Ground Rules, 1997-98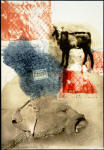 Rauschenberg's introduction to the print studio ULAE began in 1962 under the guidance of its founder Tatyana Grosman, and has developed since then into a close, personal, and fruitful relationship. Over the years, the artist has worked with ULAE's Master Printers and staff to develop new printmaking techniques and to create over 100 printed editions. In 1997, Rauschenberg completed this group of intaglio etchings, which began with an inventive new photogravure technique that would allow the artist to simulate the vegetable dye transfers with which he had recently experimented in his unique work. By applying existing photo-developing processes to intaglio printmaking a technique was developed whereby photo developer could be brushed directly onto plates containing previously exposed photographic negatives. Certain images would appear on the plates to a greater or lesser degree according to the amount of developer brushed on and the time it was allowed to react, and a washy, painted effect could be achieved. In this way, the unpredictability and spontaneity of painting could be combined with Rauschenberg's use of photographic images. As Rauschenberg has said of this technique, he was "more or less painting with light," creating entire pictures with one motion of a brush over a latent image. The chosen images were transferred by photoengraving to more traditional aquatinted copper plates where they could be further altered by the artist's hand through scraping, burnishing, and polishing before printing the editions. Illustrated above are "Leasee" and "Epic."

PLEASE NOTE THAT PRICING AND AVAILABILITY ARE SUBJECT TO CHANGE - please call for current pricing on editions not yet sold out or items noted "POR"




From Ground Rules series, left to right:
Waiver, 55 x 40.75 inches
Back Up, 57.5 x 49.75 inches
Collateral, 38.25 x 26 inches
The unique methods employed in Ground Rules are immediately evident. Using between three and six plates per print, Rauschenberg has cropped and blended these images in a manner previously unseen in his printed work. Subtle tonal and textural variations can be achieved, forms fading in and out of focus, sometimes imperceptibly merging into neighboring images. Colors, too, blend subtly into one another, allowing for a complex range of translucency and opacity as the white of the paper interacts with the vividly colored inks. Rauschenberg's images are set up on a loose grid, and the organization of forms becomes literal in some prints in the shape of a ladder, the links of a fence or the grid of a bicycle rack. Common scenes from Rauschenberg's international travels are juxtaposed with still-lives, animals, industrial elements and more abstract textures and patterns to create a complex and enigmatic message.
Several prints from the Ground Rules series remain available and range in size from 38 x 26 inches to 57 x 50 inches. Each print, all in editions of 44, was printed in between three and six colors.
Please call for current pricing and availability status.

Street Sounds, 1992-1995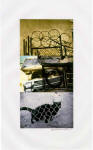 STREET SOUNDS EAST, 1995
Photogravure, 46.75 x 28.75 inches, Edition of 41, Published by ULAE
$7,000.

The Street Sounds series exemplified Rauschenberg's long held belief that, "if you can think of it, you can do it." As photography became the primary focus of the artist's mixed media and editioned work, ULAE worked to create new techniques which could achieve the visual effects Rauschenberg desired. In this series, the staff at ULAE worked with the artist to develop color photogravures, which had never been attempted before. After collaging together color transparencies of his images Rauschenberg sent the maquettes to ULAE, where the printers transformed them into photogravure color separations, a process which took almost a year. This process would eventually inspire further technical advances in photogravure in his Ground Rules series.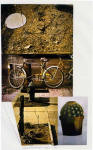 STREET SOUNDS WEST, 1993
Photogravure, 56.5 x 34.75 inches, Edition of 37, Published by ULAE
$8,500.

Personal History
Rauschenberg was born in Pt. Authur, Texas in 1925. He has long been considered one of the most important and influential artists of our time. His work first came to the attention of the American public in the late 1950's, and Rauschenberg has been an influence on the modern and contemporary art scene ever since. He studied at the Academie Julian in Paris and in the late 1940's at Black Mountain College in North Carolina with Josef Albers. Rauschenberg considers Albers the most important teacher he ever had, but the composer, John Cage who was also at Black Mountain College, was his greatest influence.