UNTITLED (WOMAN), 2010
Hardground etching
22.5 x 19 inches
Edition of 50
Price on request




UNTITLED (HANDSOME YOUNG MAN), 2010
Hardground etching
22.5 x 19 inches
Edition of 50
Price on request

Marshall's paintings often employ classical art themes and compositional references from art history. He received his BFA from Otis Art Institute in L.A. in 1978, having taken considerable course work in art history. Marshall has been included in prestigious exhibitions at the Chicago Cultural Center, High Museum of Art, and the Corcoran Gallery in Washington, D.C. He has been production designer for several films, including Daughters of the Dust.

In 1994, Cleveland Center for Contemporary Art, Ohio, organized an exhibition of his work entitled Telling Stories, Selected Paintings, which traveled to Gallery of Art, Johnson County Community College, Overland Park, Kansas; Gallery 210, University of Missouri, St. Louis; Pittsburgh Center for the Arts, Pennsylvania; and Southeastern Center for Contemporary Art, Winston-Salem, North Carolina.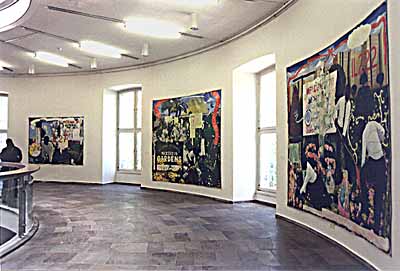 View of Marshall's past installation at Documenta X




NAT SHANGO
Nat-Shango (thunder), 1991
Acrylic on canvas
74 x 55
from the collection of Greg Kucera and Larry Yocom
In the "Nat Shango" painting, Marshall retells the story of Nat Turner and the infamous slave rebellion. Covers of dime store romance novels depicting young white women are collaged into the clouds above the moonlit landscape of the farm. They serve as a reminder of the forbidden objects of beauty which tormented him. Turner is depicted as Shango, the African God of thunder and warfare. In this narrative Marshall has replaced Shango's double edged ax with two hatchets. The freshly chopped stump of a tree in the foreground suggests the emasculation and thwarted desires created by racism.

Museum and Public Collections

Whitney Museum of Art, New York
Museum of Contemporary Art, Chicago
Studio Museum in Harlem, ny
Arkansas Art Center, Little Rock
Art Bank Santa Monica Arts Commission, CA
Loyola Law School, Los Angeles
Laguna Art Museum, CA
Wadsworth Atheneum, Boston
Los Angeles County Museum of Art, Los Angeles
Corcoran Gallery of Art, Washington, D.C.
Denver Art Museum
St. Louis Art Museum
Johnson County Community College, Overland Park, KS
University of Arizona Museum of Art, Tucson
Art Institute of Chicago
Legler Branch Chicago Public Library, Chicago
Selected Collections

Dain Bosworth Inc., Los Angeles
The Contemporary Museum, Honolulu
Peter & Eileen Norton Family Foundation, Santa Monica
The MacArthur Foundation, Chicago
Lewis Manilow Foundation, Chicago
Mc3D, Chicago
Principal Financial Group, Des Moines
Progressive Corporation, Cleveland
Seattle Art Museum
Sheldon Memorial Gallery, Lincoln, Nebraska
San Francisco Museum of Modern Art
Pearl C. Woods Gallery, Los Angeles


Marshall lives in Chicago, where he is professor of art at University of Illinois and makes his home with his wife Cheryl.


"I persist, trying to make pictures that inscribe black existential realities without sacrificing a sense of majesty. I'm driven by a desire to meaningfully provoke others' curiosity, to paint without cynicism. I still believe in mastery; in the service of imagination it can exceed the limitations of circumstance."
— Kerry James Marshall