LISTEN, 2004
Lithograph 16 x 8 inches Edition of 140
Published for Madison Art Center
$800.




HEAD, 2003
Cast, die-cut pigmented abaca paper letters with thread
6 x 7 x 3 inches
Edition of 25
$4,500
Published by Dieu Donne
(piece doesn't include shelf)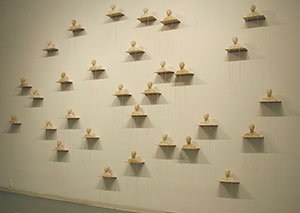 Installation view of the edition showing all 25 heads.
Published by Dieu Donné


With an obsessive fascination for the poetry of Emily Dickinson, New York artist Lesley Dill has been making exquisite paper sculptures for almost ten years. Festooned with Dickinson's words and phrases, these elegant and eloquent objects take the form of dresses, necklaces, and female figures.

The rice paper Dill generally uses looks and feels like a dressmaking pattern, but it is sewn like fabric, building volume and shape as it is puckered, tucked and baste stitched by hand. Using several kinds of lightweight, exotic papers, Dill lends an ethereal quality to these sculptures, the heartfelt quotes from Dickinson's poetry giving them a timeless, traditional aura. They seem airy and fragile, weighted only by the significant text which is often printed like veins or lifelines across their surfaces.

Like Jim Dine with his empty bathrobes and Kiki Smith with her flayed bodies made of paper or bronze, Lesley Dill has produced an identifiable vocabulary of signature images early in her career. She has shown widely across the country in major museums and galleries, including George Adams Gallery in New York.
SELECTED SOLO EXHIBITIONS
2004
Arthur Roger Gallery, New Orleans, LA
Skin and Structure: Lesley Dill and Chris Brunch, Center for Book and Paper Arts, Columbia College, Chicago, IL
Lesley Dill: Multiple Impressions, Print Center, Philadelphia, PA
Huntington Museum of Art, Huntington, WV

2003
George Adams Gallery, New York, NY
Lesley Dill: Heads, an installation, Dieu Donne Papermill, New York, NY
Lesley Dill: I Heard a Voice, Evergreen Cultural Centre, Coquitlam, British Columbia, Canada
Lesley Dill: Voice, Dwight Hackett Projects, Santa Fe, NM
A Word Made Flesh, Vanderbilt University, Nashville, TN
Tongues on Fire: Visions and Ecstasy, Interfaith Center of New York, NY

2002-03
Lesley Dill: A Ten Year Survey, organized by the Dorsky Museum, SUNY, New Paltz and traveling to the CU Art Galleries, University of Colorado, Boulder; Chicago Cultural Center, Chicago; Contemporary Museum, Honolulu; Scottsdale Center for Contemporary Art; National Museum of Women in the Arts, Washington, DC

2002
Tongues on Fire: Visions and Ecstasy, Longwood Center for Visual Arts, Farmville, VA
Lesley Dill, Byron Cohen Gallery for Contemporary Art, Kansas City, MO

2001
Tongues on Fire: Visions and Ecstasy, SECCA, Winston-Salem, NC

2000
Lesley Dill, Harrisburg Area Community College Art Gallery, PA
Lesley Dill – New Sculpture, George Adams Gallery, New York, NY
Lesley Dill: Word and Image, Suzanne H. Arnold Art Gallery, Lebanon Valley College, Annville, PA
Tilt, Arthur Roger Gallery, New Orleans, LA
These Saw Visions: Billboards by Lesley Dill, organized by Presentation House Gallery, Vancouver, British Columbia, Canada (January-February)

1999
Bernard Toale Gallery, Boston
Weinstein Gallery, Minneapolis, MN
New Cast Works, Byron Cohen Gallery, Kansas City
Work in Progress: Lesley Dill, Mississippi Museum of Art, Jackson, MS

1998-99
Lesley Dill: The Poetics of Form, Widener Gallery, Trinity College, Hartford; Portland Art
Museum, Maine; List Gallery, Swarthmore College, Pennsylvania; Selby Gallery,
Ringling School of Art and Design, Sarasota (catalogue)

1998
Lesley Dill: A Secret Told…, George Adams Gallery, New York, NY
I Reach Along the Cord of Speech, Quartet Editions, New York, NY
These Saw Visions, University of West Florida Art Gallery, Pensacola, FL
Locus Gallery, St. Louis, MO

1997
Arthur Roger Gallery, New Orleans, LA
Memphis University Art Museum, Memphis, TN
Galeria Thomas Cohn, Sao Paulo (catalogue)
Language and Desire, Equinox Gallery, Vancouver, British Columbia, Canada
Lesley Dill: In Black and white, George Adams Gallery, New York, NY (catalogue)

1996
Banners and Figurative Sculpture, Susan Cummins Gallery, Mill Valley, CA
Installation and Performance, Creteil Maison des Arts
Voices in the Air, Cohen Berkowitz Gallery, Kansas City, MO
Lesley Dill: The Poetic Body, Orlando Museum of Art, Orlando, FL (catalogue)
Bernard Toale Gallery, Boston, MA

1995
Voices in My Head, George Adams Gallery, New York, NY
Lesley Dill: An Installation, Gallery at Dieu Donne Papermill, New York, NY
Clothe My Naked Body, Quartet Editions, New York, NY
Frumkin/Adams Gallery, New York, NY

1994
Arthur Roger Gallery, New Orleans, LA
Gracie Mansion Gallery, New York, NY

1993
Sandler-Hudson Gallery, Atlanta, GA

1992
Arthur Roger Gallery, New Orleans, LA
Sandler-Hudson Gallery, Atlanta, GA
Queens Museum, New York, NY

1991
Gracie Mansion Gallery, New York, NY

1989
Carlo Lamagna Gallery, New York, NY

1987
G.H. Dalsheimer Gallery, Baltimore, MD
Carlo Lamagna Gallery, New York, NY

1985
Galerie Taub, Philadelphia, PA

1983
55 Mercer Street Gallery, New York, NY
Lesley's Dill's images and constructions explore the nature of the body and its clothing. In particular, her work uses metaphoric imagery to explore the role of language in cloaking or revealing the human soul.
Born in Bronxville, New York, in 1950, Dill attended Skidmore College and Trinity College, Hartford, and earned a BA in English. Subsequently, she earned an MA in art education from Smith College and an MFA from the Maryland Institute, Baltimore. She began to work at Landfall Press in 1992, producing innovative editions which combine traditional techniques, such as lithography, silkscreen, and etching, with collaged elements.

- Landfall Press