Click to enlarge any image below:




THE KURSK, 2001
Carved and painted wood, found metal 31.5 x 68 inches $5,000.

Details of KURSK:


Ross Palmer Beecher creates work based on a personal lexicon of images that are highly symbolic and often mysterious. While her combination of materials can seem dizzying, she is nevertheless able to focus her work on compositional elements and political themes more than purely material concerns. The source for much of Beecher's imagery is easily identified in her New England upbringing and the inevitable exposure to American history, local folklore and traditional art forms which are so important to that region. These impressions of folk tales, patriotic history and early American art have merged with her more contemporary observations on the world. Living in the Northwest, as she has for the last 15 years, Beecher embodies an artistic vision which is quite different from her peers. With the exception of Native American arts and culture, there is no identifiable set of traditions to most of the artwork produced in Seattle. Beecher has been successful at staying true to her heritage.

Homage to T.S. Eliot, 1998
Mixed media and found objects 24 x 14.5 inches $2,000.


Animal Forms
Beginning in 1996, Beecher began an ongoing series of work employing different forms of animals as subjects and portraying our culture's various treatments of them as objects. Some of the works depict animals as figures of reverence, while others question industry's inhumane use of animals for lab testing or the commercial marketplace. In some works, lab rats take the form of Mickey Mouse and Mickey Rat while other pieces make use of bulls, dogs and wolves.

Oftentimes, animals are shown in skeletal form, their complex bone structures deftly reproduced in tin and wire. Beecher's mastery of both the media and the anatomy is immediately clear, while her respectful treatment of her subject matter is plainly evident.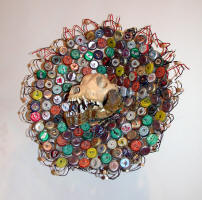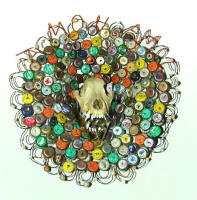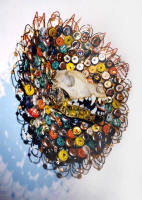 A Mon Ami, 1997
Bottle caps, beading, mixed media and found objects 19 x 18 x 10 inches, $2,000.
This sculpture was created for homage to her departed four-legged friend Nina. She utilized a collection of bottle caps and delicate beads which loop around the caps and central skull (this is not her dog's skull) to make a fancy "lace" edge, similar to vintage Victorian funereal wreaths.

STAG, 1994-96
Carved and painted wood with mixed media found objects 38 x 38 x 2 inches, $2,400.


Anatomy Studies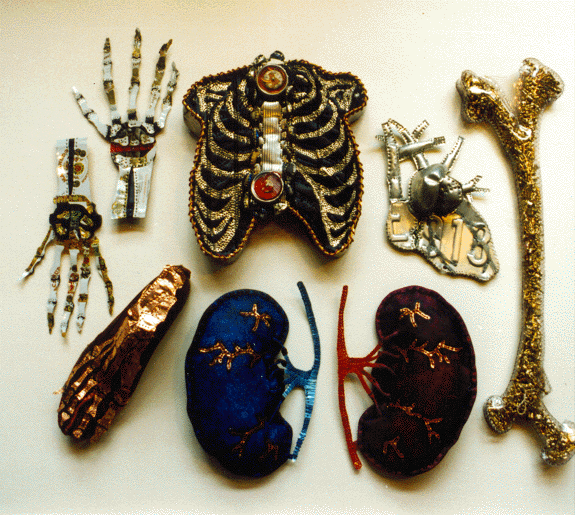 In this series of work, from 1994-95, Beecher sculpturally interprets many parts of the human anatomy, including organs, limbs, and bone configurations. Using her traditional working methods, Beecher has created a fanciful, though academically informed, compendium of the human body.

In pieces about the shape and function of human hands, for example, Beecher has delicately cut the decoratively printed tin from olive oil cans into the various bones of the hand. The finger's bones are thin and spindly, stitched together with wire at the joints. A femur bone is constructed from clear vinyl which has been quilted and stuffed with good luck charms of gold plastic and metal. A wooden shoetree becomes the form for a model of a human foot, onto which the sheet copper bones of the foot have been applied, seemingly turning the foot inside out.

Whether it be Sylvia Plath, Erik Satie or the baseball greats, Beecher often pays homage to those who have affected her life in some way. In respect for singer Kurt Cobain, Beecher created a fragile metal backbone affixed to the smooth hourglass shape of a guitar back, with a pelvis bone scrapped together from rubber and olive oil cans.

BROWN EYE, 1995
Metal, paint, aluminum, fabric and mixed media 18 x 29 x 2 inches, $1,400.

A pair of life-size leg models are again constructed of sheet metal, but are here festooned with reflector parts, black vinyl edging, and bottle caps. Two penises have been built from wire mesh and beer cans, both with rock testicles. A silver heart reveals itself to be cut from license plates, the ventricles made from metal painted in red and blue. A set of purple and blue kidneys is sewn from painted vinyl, with vessels made of colored tin, while a brain is fashioned from a collage of beer can flip top tabs which frame familiar cartoon characters drawn by Beecher. Another brain made from wire mesh has been emblazoned with small rocks encased in bottle caps, like lumpy nodes.
Beecher was born in Greenwich, Connecticut in 1957 and studied at the Rhode Island School of Design. She moved to Seattle in 1979 and has been represented by the Greg Kucera Gallery since 1984. Beecher has created public artworks for the Seattle-Tacoma International Airport, Vashon Island landfill and Harborview Medical Center in Seattle. She is also the recipient of a Seattle Arts Commission's Artist in the City Grant in 1995 and 1997. Beecher is the recipient of the Seattle Art Museum's 2002 Betty Bowen Artist Award. Her work was included in Hero/Anti-Hero at the Seattle Art Museum.