Monograph: Limited Edition (Box with Original Print)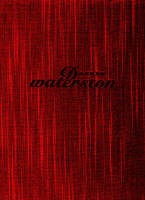 The limited edition is seen above showing the etching, print documentation and silk cover book and box.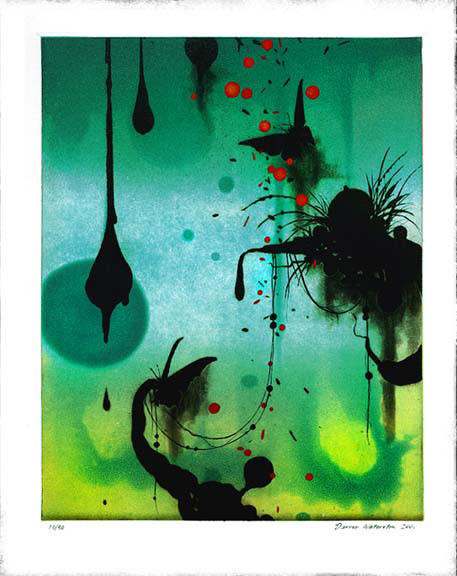 LOBE, 2001
Etching, hand colored with gouache paint by the artist
printed on 140 pound hot press water color paper
Sheet size: 11.5 x 9 inches Image size: 10 x 8 inches
Edition of 50
Printed at Experimental Workshop in Emeryville, CA
$1,200. for the print with the box set book

A limited Edition of 50 monographs are slip-cased in a very beautiful blood-red silk binding as a boxed set signed by the artist. The boxed set comes with "Lobe," a hand-colored etching, signed and numbered by the artist. The exotic imagery relates to Waterston's work of the last few years in its use of black silhouettes of moths, tufts of grass and various pendulous orbs and strands of beads hanging and floating in an aqueous atmosphere of blue and green.

The brilliant cadmium red dots, drips and splashes and black strings and beads are hand-painted over each etching by the artist. Each piece is unique in its distribution of these hand-painted highlights. The current price for the limited edition box set is $1,200.
We have only a few sets remaining.