Guy Anderson

GUY ANDERSON
ANCIENT FORMS, 1973
Oil on paper
81 x 41 inches
SOLD


This splendid Guy Anderson painting features his use of a kind of Modernist translation of motifs often seen in the masks, boxes and carvings of Northwest Native tribes. It was professionally mounted at the time of its original purchase and is excellent condition. The paint is direct, the brushy quality of gesture is plainly seen, and the composition is both delicate and monumental.

GUY ANDERSON
CONJUGAL VAJRA, 1979
Oil on paper
96 x 70 inches
$55,000



MAN READING WHILE IN FLIGHT, 1979
Oil on roofing paper
90.5 x 48 inches
SOLD



UNTITLED (clouds over horizon), 1976
Oil on roofing paper mounted on wood panel
40.25 x 85.5 inches
SOLD


William Cumming

WILLIAM CUMMING
EARLY MORNING ROUNDUP, 1977
Egg tempera on board
48 x 60 inches
SOLD


Michael Dailey

MICHAEL DAILEY
WESTERN BEACH, EVENING, circa 1970s
Oil on canvas
41 x 44 inches
$16,000




MICHAEL DAILEY
SEASCAPE, 1982
Acrylic on canvas
66.25 x 81.75 inches
$23,000


Though this Dailey is an acrylic painting on canvas, it behave like one of the oil paintings from this period. The mood of the picture is mysterious as if the artist has caught the sky at the liminal moment of turning from day to night. The deep blue captures the richness of sky paintings from the Hudson River School, like Church or Kensett.

MICHAEL DAILEY
CALIFORNIA COAST, DAWN, 1990
Acrylic on canvas
29.75 x 40.5 inches
$10,000


Combining the colors of the first moments of the day with information about the lands, sea and sky, this late work by Dailey provides a sumptuous description of time and place.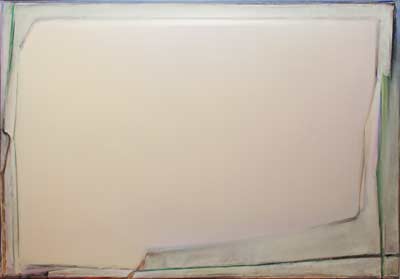 MICHAEL DAILEY
LONG BEACH, 1997
Acrylic on canvas
57.25 x 82.5 inches
$22,000



The foggy atmosphere is captured here in the shifting tones from warm to cool. Dailey rarely used iridescent paint but in this work he uses it in the slightest of ways to capture magically light in the surface.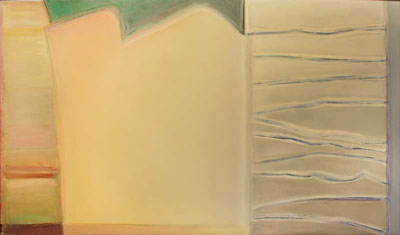 MICHAEL DAILEY
BY THE SILVER SEA, 1986
Acrylic on canvas
36.75 x 61.5 inches
$14,500


As with many of Dailey's works, the suggestion of place is indicated by its title and yet we know Dailey didn't travel to all of the places he names in titles. The Silver Sea must be lovely place to visit in one's mind.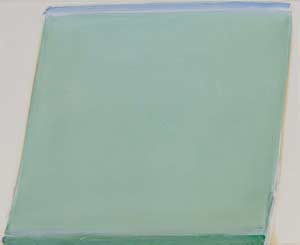 MICHAEL DAILEY
DUKE'S MEADOW LANDSCAPE, 1974
Oil and mixed media on paper
15 x 18.25 inches
$4,400



In the early to mid-1970s, Dailey constructed paintings with a striking diagonal motion to them. Duke's Meadow relates to a number of large canvas works the artist made after a trip to England on a teaching sabbatical. The gently leaning swath of pale green color seems to be held in place between the edges of the matting.

MICHAEL DAILEY
SAND DUNES, SUNSET, 1986
Pastel and acrylic on paper
7.25 x 15.5 inches
$1,600



MICHAEL DAILEY
RISING TIDE AND THE SPRING CHANNEL, date unknown
Oil and mixed media on paper
8.25 x 11 inches
$3,000



This work on paper has no recorded date but it's likely from 1966 when Dailey's brushwork was expressionistic but he was still working with abstractions of landscape rather than non-objective abstraction.

MICHAEL DAILEY
SUMMER LANDSCAPE, 1957
Oil on canvas
41 x 48 inches
$14,000


This is the earliest Dailey work we have had in the gallery. It predates his brushy, abstract expressionist work of the 1960s, and relates more to Dailey's interest in Chinese paintings with its very poetic translation of the landscape of fields and foothills in his native Iowa.
Eric Fischl

ERIC FISCHL
BEACH BALLS, 1982
Aquatint
52 x 38.5 inches
Edition of 40
$8,000


ERIC FISCHL
KIDS DIGGING, 1982
Aquatint
38.5 x 52 inches
Edition of 40
$8,000


ERIC FISCHL
UNTITLED (Dog) from FOUR PRINTS, 1989
Aquatint
36.5 x 54 inches
Edition of 100
$6,000


ERIC FISCHL
UNTITLED (Innertube) from FOUR PRINTS, 1989
Aquatint
36.5 x 54 inches
Edition of 100
$6,000

Gaylen Hansen

FISHERMAN AND FISH, 1992
Oil on canvas
76 x 61 inches
$25,000



Hansen, as his alter ego The Kernal, stands in hip waders at the shore of a river so teeming with fish that they jump out of the water as they arc over him. Is this the fisherman's wildest dreams or his worst nightmare?

RED DOG HEAD, 2002
Oil on canvas
60 x 72 inches
$25,000


Morris Graves

Morris Graves
UNTITLED (bird), unknown
Graphite on paper
8.5 x 11.5 inches
SOLD


Sometimes, in the field of modern art, certain artists come forward for their abilities with an exquisitely descriptive and deceptively simple use of line. Schiele, Klimt, Rodin, Picasso, and Warhol all come to mind. Graves, in this drawing of a bird, invokes the whiplash line of Art Nouveau in all its grace and style. He invokes not just the the bird but "bird-ness" since his animals are rarely taxonomic in nature.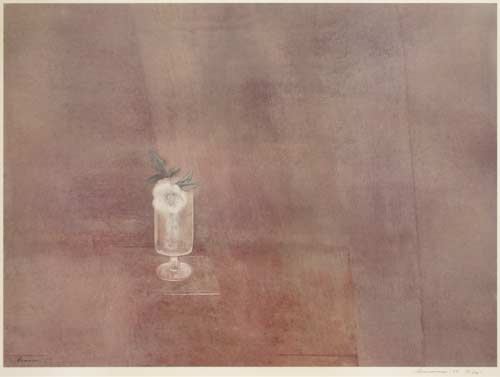 Morris Graves
WINTER BOUQUET, 1977
Lithograph
26 x 19 inches
Edition of 75
SOLD


For all its quietude, this simple, solitary blossom in a wine glass, manages to hold our attention in the abstract picture plane of a table and the emptiness of the room around it. This is Graves at his suggestive best, perhaps signaling his own feelings of solitude and hope.


Jacob Lawrence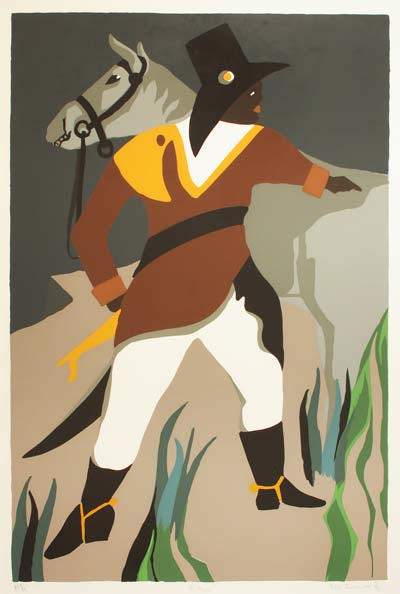 Jacob Lawrence
ST. MARC from "The Life of Toussaint L'Ouverture," 1994
Serigraph
32 x 22 inches
Edition of 120
$8,500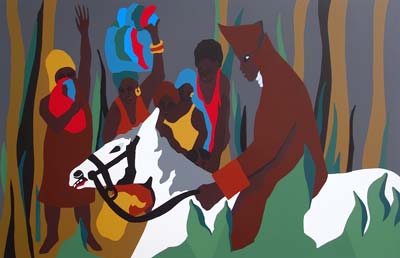 DONDON from "The Life of Toussaint L'Ouverture", 1992
Silk screen on paper
18.5 x 28.25 inches
Edition of 124
$8,500


Jacob Lawrence, arguably the greatest artist ever to have lived in the Northwest, was a master of silhouette, shape, and color. His "Toussaint" works feature some of his most complex and colorful compositions. The prints are more than 4 times the size of his original gouache works.


Jacob Lawrence
DECEPTION, 1997
Serigraph
22 x 32 inches
Edition of 125
$8,500




Jacob Lawrence
TO PRESERVE THEIR FREEDOM, 1988
Serigraph
22 x 32 inches
Edition of 99
$8,500




Jacob Lawrence
THE BURNING, 1997
Serigraph
22 x 32 inches
Edition of 125
$8,500




Jacob Lawrence
THE MARCH, 1995
Serigraph
22 x 32 inches
Edition of 120
$8,500



Norman Lundin

METAL DOOR #2, 1988
Oil on canvas
48 x 36 inches
$11,000



Here, the metal door of a safe or a bank vault exudes a dry, burnished toughness despite being only oil paint on canvas.

NORMAN LUNDIN
ELECTRICAL OUTLETS, 1985
Pastel on paper
28 x 44 inches
$6,000



Two wall outlets and a line of conduit draw our attention in an otherwise empty room.

NORMAN LUNDIN
STUDIO CORRIDOR: BARE BULBS, 1984
pastel on paper
23 x 31 inches
$4,500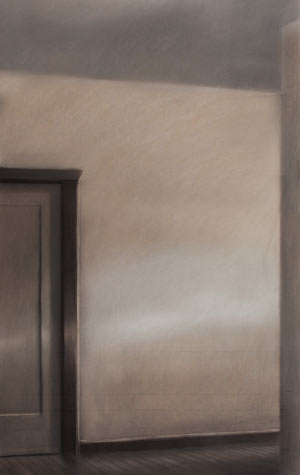 STUDIO HALLWAY, 1993
Pastel on paper
44 x 28 inches
$6,000


Sherry Markovitz

SHERRY MARKOVITZ
ENSA AND JAKEE, 1979
Gouache and acrylic paint on collaged papers with fabric overlay
Paper size: 70 x 72 inches; 79 3/8 x 79 3/8 inches framed in wood and Plexiglas
SOLD
Alden Mason

Alden Mason
BLUE EYES, 1972
Oil pastel on paper
50 x 40 inches
$12,000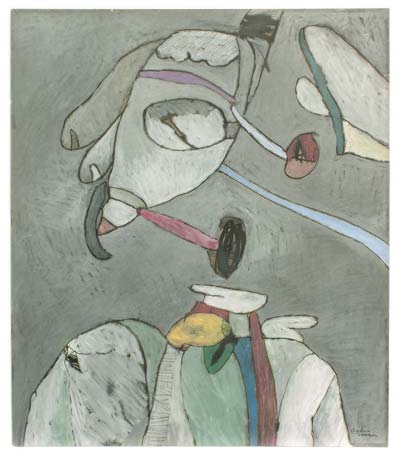 Alden Mason
GREY LANDSCAPE, circa 1970s
Oil pastel on paper
21 x 18 inches
$4,500 framed


Alden Mason
UNTITLED, circa early 1970s
Oil on board
18 x 24 inches
$5,500

Mason's sense of humor was a major component in much of his life's work. Here an abstract composition appears to be part starship, part sea creature, floating in a ground of grey brushwork. This work just predates his famous Burpee Garden Series.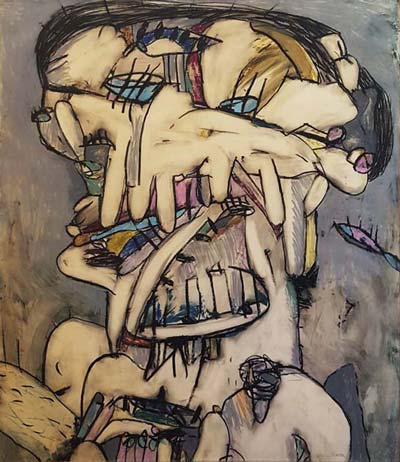 Alden Mason
MASK WITH BLUE EYES, 1972
Oil pastel on paper
48 x 40 inches
$12,000


Alden Mason
PRICKLY PEAR, 1976
Oil pastel on paper
30 x 36 inches
$8,500



Alden Mason
WHAT HAPPENED IN THE GARDEN OF EDEN, 1984
Pencil and pastel on paper
20 x 26 inches

$1,500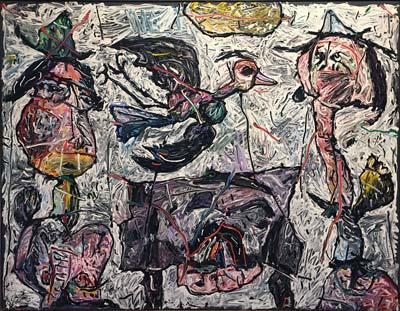 Alden Mason SPIRIT BIRD RETURNS, 1989
Acrylic on canvas
32 x 42 inches
$7,000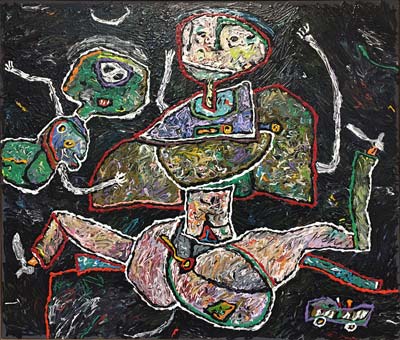 BOY WITH YELLOW PENIS, 1991
Acrylic on canvas
36 x 42 inches
$7,500



Peter Millett

Peter Millett
PERSIAN NIGHT TIME, Circa 1975
Mixed media on paper
17 x 22 inches
$1,800

Robert Motherwell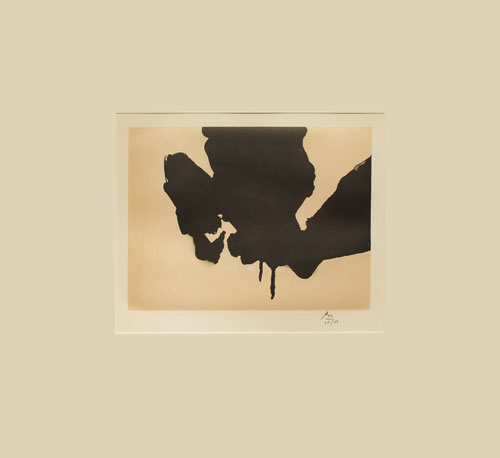 Robert Motherwell
UNTITLED (CR 437), 1988
Lithograph and chine applique
22.5 x 28.25
Edition of 50
$4,500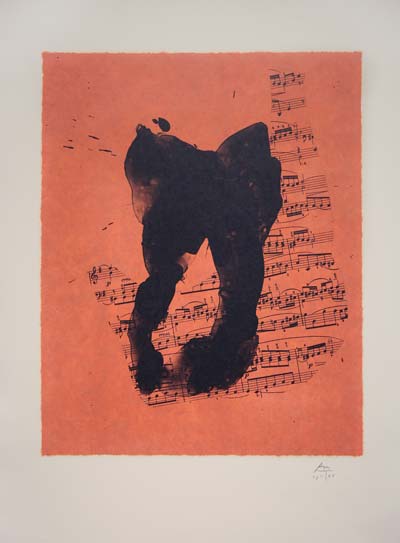 Robert Motherwell
MUSIC FOR J.S. BACH (CR 471), 1989
Lithograph with Chine colle
22 x 15 inches
$5,800





Robert Motherwell
RED WIND from the Octavio Paz Suite (CR 441), 1988
Lithograph, linoleum block print with chine appliqué
22.5 x 28.25 inches
Edition of 50
$6,000




Robert Motherwell
MUSIC FOR LONG POINT (CR 442), 1988
Lithograph with chine colle
22 x 15 inches
Edition HC
$3,000



Sean Scully

SEAN SCULLY
#11, 1981
Charcoal on paper
30.5 x 23.5 inches
Price on request
Roger Shimomura

Roger Shimomura
ORIENTAL MASTERPRINT #25, 1976
Silkscreen
23.75 x 23.75 inches
$1,000

Francois Stahly

Francois Stahly
UNTITLED COLUMN, unknown
Bronze
12.25 x 2.75 x 2.75 inches
$10,000


Francois Stahly
Another view of: UNTITLED COLUMN

Whiting Tennis

WHITING TENNIS
SWEEPER, 2006
Acrylic and collage on canvas
36 x 24 inches
$4,000
Mark Tobey

MARK TOBEY
UNTITLED, 1965
Gold ink
5.25 x 4.25 inches
SOLD
George Tsutakawa

GEORGE TSUTAKAWA
UNTITLED (Branches),
Gansai watercolor on paper
17 x 11 inches
SOLD
Tsutakawa's credentials as a Modernist are in full play here in this abstraction of branches and blossoms or berries. It's fresh and bright, a bit surprising for an artist associated with sumi ink and with bronze sculptures.

HOOD CANAL SUNSET, 1979
Sumi ink on paper
18 x 24 inches
SOLD


James Washington Jr.

James Washington Jr.
LIFE SURROUNDING THE ASTRAL ALTAR IN MATRIX, 1987
Carved granite on walnut pedestal
22 x 13 x 12 inches sculpture; 60 x 21 x 21 inches including pedestal
$40,000


Additional images of: James Washington Jr., LIFE SURROUNDING THE ASTRAL ALTAR IN MATRIX, 1987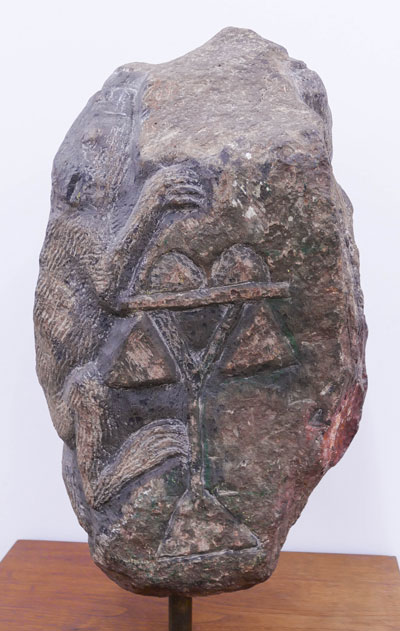 Washington is one of the finest of the self-taught artists of our region. He came to sculpture through a religiously inspired epiphany but went on to make some of the most original and widely heralded sculptural works in our region.

PHOENIX HATCHING, 1994
Carved stone
4.25 x 5.5 x 5 inches (sculpture)
2.25 x 7.5 x 4.5 inches (pedestal)
$8,000

View 2 of: PHOENIX HATCHING, 1994

Darren Waterston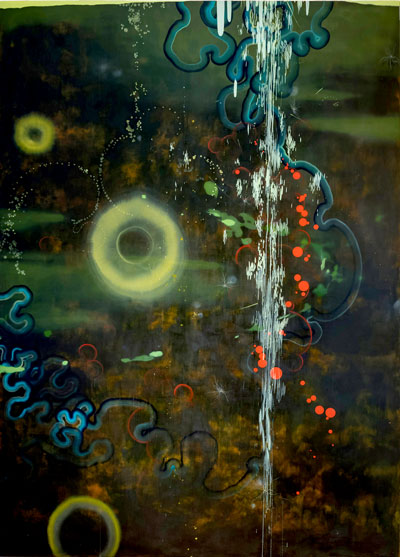 DARREN WATERSTON
SUBTLE BODY, 2001
Oil on panel
84 x 60
$38,000




DARREN WATERSTON
GREEN NOCTURNE (LANDSCAPE), 1993
Oil on panel
14 x 12 inches
$7,500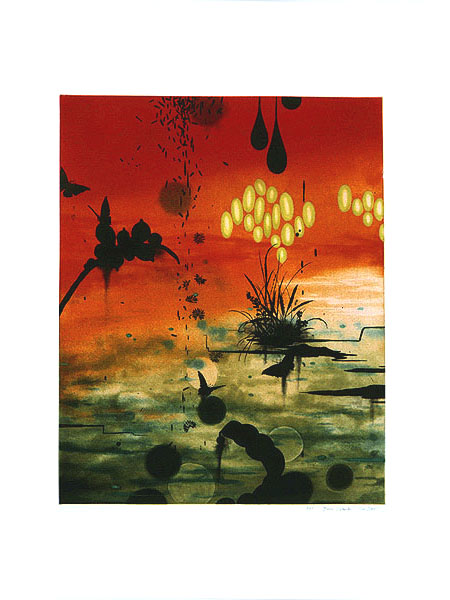 DARREN WATERSTON
HEDON, 2001
6-color etching
28 x 22.5 inches
Edition of 40
Price on request


DARREN WATERSTON
NIGHT-IN-GALE, 2001
6-color etching
28 x 22.5 inches
Edition of 40
Price on request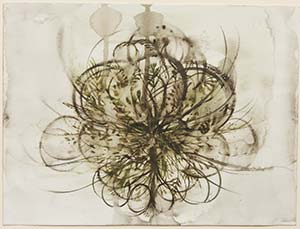 Bouquet No.2, 1997
Watercolor on paper
9 x 12 inches
$2,500 framed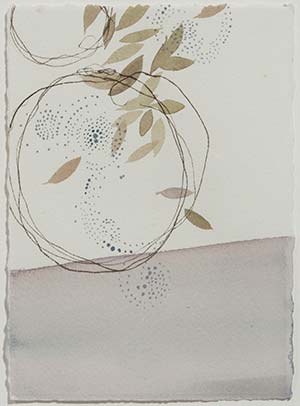 UNTITLED (leaves and circular dots), 2002
Watercolor on paper
7 x 5 inches
$1,300 framed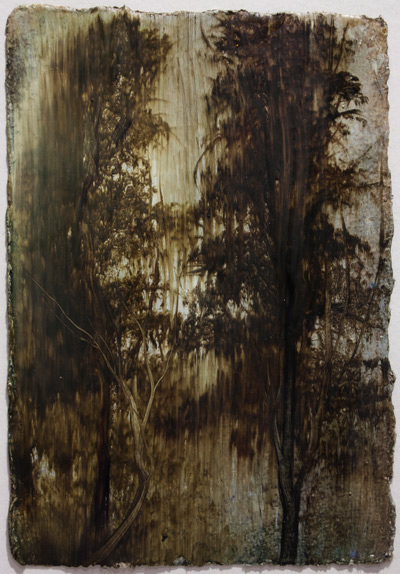 DENMAN TREE STUDY (2 dark fir trees), 1996
Oil on paper
6 x 4 inches
$2,000 framed