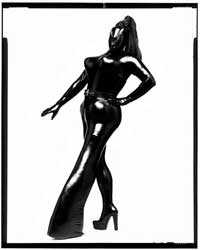 LEIGH BOWERY: SESSION VII/LOOK 38, 1994
Digital C—print
14 x 12 inches
Edition of 10
$1,500. framed

Leigh Bowery, a native of Australia, became famous for his elaborately costumed performances in the early 1980s London club scene. Bowery describes this as a part of the New Romantics: "It was like Punk but maybe it wasn't so aggressive," he said. "It was completely theatrical in a way, the very opposite of what you were expected to look like on the street. It was confrontational, and there was this sort of gender blurring." In 1985, Bowery opened his own nightclub, "Taboo," and further invented what became known as "looks" which were alter-ego personalities, according to Karl-Peter Gottschalk: "To top off the 'look,' Bowery took to extremes of makeup, wigs and hats, from a curly yellow-blonde coiffure with face painted in huge red polka dots, to a tiny policeman's helmet perched above a face made up to resemble a herpes scab infestation. Making the most of his very oversize girth and height, Bowery then shaved his head, poured black molten wax over it, wore two-inch white false eyelashes, and painted his face and cheeks in grotesque imitation of a kewpie doll. He wore a succession of costumes, wigs and makeup effects, attempting to become woman, child, cat-like animal, blue-skinned Hindu god/goddess." Bowery came to the attention of the high art world through two means. His performances were shown at Anthony d'Offay's gallery in London. Through that performance he became a primary model for painter Lucian Freud, albeit completely naked of all the gender-bending, costumes of his performance work.
While most of Bowery's "looks" were about physical delicacy and exaggerated femininity, Freud's portraits show, he was nearly 7 feet tall, bald, with oversized features. Bowery died of AIDS on the 31st of December 1994.