Upcoming exhibition at Greg Kucera Gallery
Sirens on a Shelf
November 6 - December 24, 2014
Opening reception, Friday, September 5, 6-8

Claudia Fitch Receives 2014 Twining Humber Award for Lifetime Artistic Achievement
Read more here

Portland Art Museum APEX
May 5 - August 12, 2012
Claudia Fitch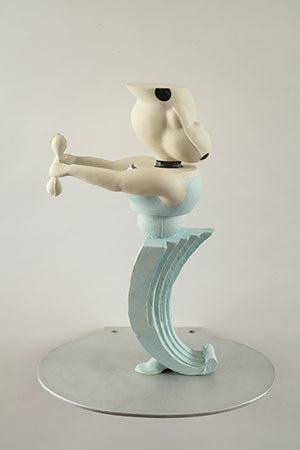 THE BALANCE, 2013
Porcelain, watercolor, aluminum and steel
17 x 16.5 x 12.5 inches
$7,000


Claudia Fitch, Portland Art Museum, Installation Views 2012



CLOUD MORPH, 2012
Porcelain, metal leaf, aluminum, stainless steel cable
48 x 31 x 26 inches
SOLD



RADAR (veiled), 2012
Porcelain, earthenware, acrylic paint, aluminum and steel
19 x 15 x 13 inches
SOLD




SWORD, 2012
Porcelain, gold leaf, gold color pencil, steel, aluminum with Rustoleum finish
22 x 17 x 12 inches
Variable edition of 3
$7,000.



HELENA, 2011
Porcelain, gold leaf, gold color pencil, steel, aluminum with Rustoleum finish
21.5 x 16 x 13 inches
SOLD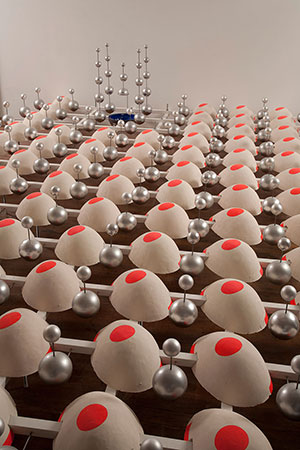 FLOATING MECHANISM: JOURNEY, 2012
Ceramic, plastic, MDF, and steel
38 x 123 x 207 inches
SOLD



FLATSCREEN, 2009
Ceramic, steel, gator board, flocked paint
26 x 15 x 6 inches
$3,500.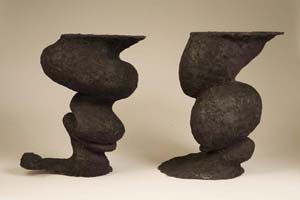 CALIGRAPHY (kimono walk), 2007
Ceramic, oil paint, and flocking
#1 (elevated tail) 17 x 13.5 x 10 inches
#2 (lowered tail) 17.25 x 14.5 x 12.5 inches
$4,500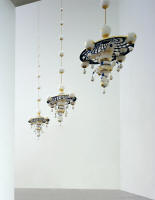 CHANDELIER WITH MILK DROPS, 2003
Ceramic with glazes, oil paint, gold leaf and brass fittings
Dimensions variable; 42 x 30 inches each;
approximately 240 inches in height, including chain
COLLECTION OF TACOMA ART MUSEUM



CHINOISERIE (yellow), 1997
Glazed ceramic 19 x 14 x 14 inches
$5,000 for the pair.
The Chinoiserie series playfully pokes at a western obsession and bends decorative forms (Dutch Gothic, ancient Chinese and American 1950s imagery) to uncover subconscious underpinnings.



KINGDOM, 1997
Glazed ceramic and paint, 114 x 81 x 4 inches as installed above
Collection of Washington State University


---
The Mannequin Head Series, 1996



In all of the works in Fitch's Mannequin Head series the artist employs brightly colored flocking over urethane Styrofoam on welded metal armatures. Each work delivers a monochromatic, high key colored composition of rounded and angular shapes. The materially rich texture of the plush, densely flocked surface is almost unreadable from any distance. From far away, the material looks smooth and hard and the surface looks impenetrable. Upon closer examination, however, the sweetly colored facade is revealed as a surprisingly soft, velvety covering for her Styrofoam and steel armatures. The pieces are wall mounted, generally at a human head height. The pieces from this series are about the size and dimension of a wig dummy or a hat stand. References to crowns, millinery decorations and other sartorial splendors are obvious in some works and more ambiguous in others.

Personal History

Claudia Fitch has been making sculpture for over a decade. Born in 1952 in Palo Alto, CA, Fitch received her BFA in Painting in 1975 from The University of Washington, Seattle and her MFA in 1979 from the Tyler School of Art, Philadelphia. She has also studied ceramics extensively at the University of Washington. In the mid-1980s her sculpture used the ages old theme of gardens and topiary. She gave this subject an unorthodox appearance by using steel and plastic foliage as surface and support.

Commissions, Awards and Honors
Claudia Fitch's work in ceramics began during a three-month residency fellowship at the European Ceramic Work Center in Hertogenbosch, Netherlands in 1997.

Through this program, artists of all visual disciplines were invited to participate with the hope of experimenting and expanding the traditional ceramic process. Only 40% of the participating artists were Dutch, allowing the majority of the artists to be introduced to the Dutch community of artists. For Fitch, this setting stimulated the development of her own ceramic processes and visual ideas.

The artist is heavily interested in the architectural tile work of the Netherlands as well as in the complicated relationship between European and Asian cultures during colonial times. Holland's long history of patterned decoration and its legacy of refined aesthetics particularly inspired Fitch.

In addition to a European Ceramics Work Centre Fellowship, in Hertogenbosch, Netherlands in 1997, the artist also received a Pollock-Krasner Foundation Grant. Other awards and honors include: The MacDowell Colony Fellowship (1996,1987), a WESTAF/NEA Regional Fellowship in Visual Arts (1995), an Artist Trust Fellowship in Visual Arts, Seattle (1992), Seattle Artists Award, Seattle Arts Commission (1990) and an NEA Fellowship in the Visual Arts (1984).

Fitch has exhibited at the Seattle Art Museum, Tacoma Art Museum, the New Museum of Contemporary Art in New York, as well as a number of universities and galleries across the country. Her work has also been included in numerous group exhibitions both locally and nationally. In 1986 Fitch collaborated with Lenora Champagne on two projects at P.S. 122 and Franklin Furnace in New York.

Her work is included in the collections of the Seattle Art Museum, Seattle Arts Commission, Zymogenetics and Microsoft Corporation.