BORROWED TIME, 2014
Jelutong wood, leather, motors, and acrylic on canvas
123 x 192 x 32 inches
POR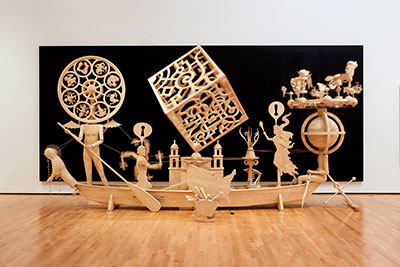 CAT'S CRADLE, 2013
Jelutong wood, leather, motors, and acrylic on canvas
132 x 289 x 106 inches
POR






MUSE, 2014
Carved jelutong wood with motor
POR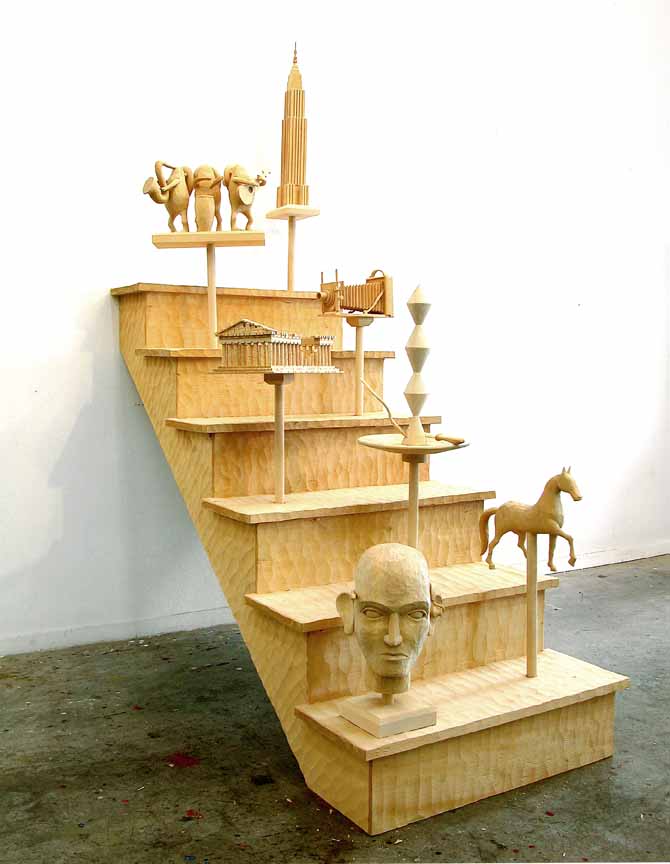 THE ASCENT, 2004
Carved jelutong wood with motor
83 x 31 x 60 inches
POR

Installation view of: THE ASCENT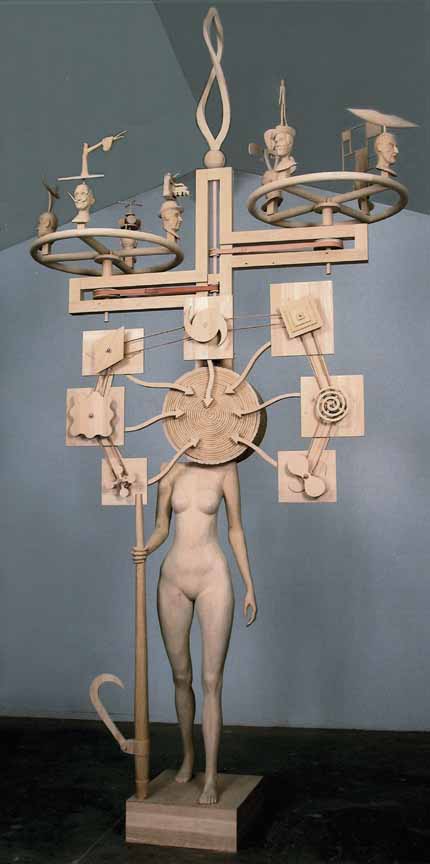 AGAINST THE GRAIN, 2002
Carved jelutong wood, leather and motor, 180 x 84 x 36 inches
POR






THE MAGNIFICENT GADGET, 2004
Carved wood, leather, acrylic and motor
157 x 74 x 50 inches
POR





OMNIBUS, 2004
Carved wood, leather and motor, 90 x 56 x 48 inches
POR

Details of the sculpture in motion: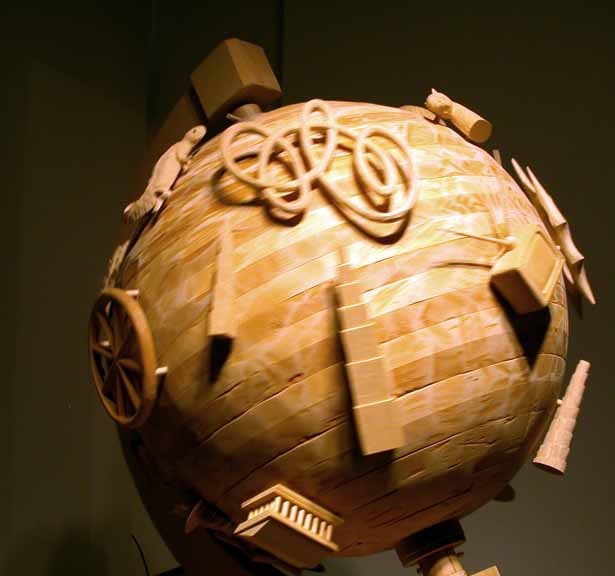 Installation Views - Click to Enlarge


Buck uses jelutong wood as his primary material. It is a soft white wood culled from Malaysian farming operations. Too soft to have any value as a building material, it is perfectly suited to the furniture maker and wood sculptor. The process of its own making becomes very apparent in the finished piece. Every hack mark and chisel cut remains visible. These are not slick, polished pieces. Instead they follow in the tradition of folk art, handmade crafts and votive figures.
John Buck was born in 1946 in Ames, IA. He received his BFA from the Kansas City Institute and School of Design, and went on to study at the Skowhegan School of Painting and Sculpture in Skowhegan, ME. The artist received his MFA in 1972 from the University of California, Davis, where he also met his wife, artist Deborah Butterfield. Buck and Butterfield divide their time between a ranch in Bozeman, MT and studios in Hawai'i.

He has been the recipient of several major commissions, including artworks for Swedish Medical Center in Seattle in 1998. He was the recipient of the National Artists Award in 1984 and was awarded an Individual Artist Grant from the National Endowment for the Arts in 1980. Buck's work is included in several major collections around the country, including the Fine Arts Museums of San Francisco, Art Institute of Chicago, The Brooklyn Museum, Contemporary Arts Center, Honolulu, Denver Art Museum, The Museum of Modern Art, New York, San Francisco Museum of Modern Art, and Seattle Art Museum. In Chicago, his work can be found at Zolla/Lieberman Gallery.