April 1, 2015
Pomegranate
Artist Spotlight: Gregory Blackstock

Recently in the Seattle Times
Gregory Blackstock's intricate world is a charming one, too | Art review by Robert Ayers
December 14, 2012


THE CORNCOBS, 2014
Graphite, permanent marker and colored pencil on paper
42.5 x 18 inches
$3,950




THE DISNEY MARRIED COUPLES A SPECIAL VALENTINE GIFT, 1980s
Graphite, ink, and colored pencil
36 x 13 inches
$2,800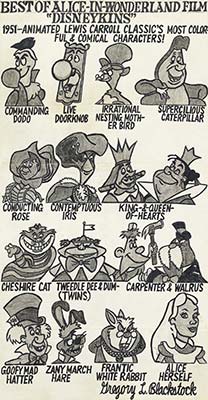 THE BEST OF ALICE-IN-WONDERLAND FILM "DISNEYKINS", 1995
Graphite, ink, and colored pencil
26 x 13.5 inches
$2,400


THE BURROS, 2009
Graphite, colored pencil and permanent marker on paper
55.75 x 19.5 inches
SOLD



Intro
Seattle artist, Gregory Blackstock, began drawing regularly in his mid-40s, cataloguing the world around him just as a botanist might classify plants in terms of families, species and genus, or an entomologist might arrange the various types of bugs within his collection. Blackstock, who is autistic, has a prodigious memory for visual objects, musical tone and compositions, and foreign languages. He learns of his world by replicating it, subject by subject, piece by piece.

For Blackstock, the world is made up of countless things which need to be identified, ordered, and arranged - be they bugs, birds, vehicles or landmarks.

As he draws, he further breaks down those categorical distinctions, setting them on paper in neat rows and columns and always clearly labeling each object. He might create a simple, small drawing comparing two colors of The Wolverines, detail each one of The Great Americas Jays, or explore delightful variety in The Christmas Novelties. Occasionally, Blackstock will add to his titles informative or dramatic subtitles as well as supportive descriptors underneath the objects.


THE WOLVERINES, 2008
Graphite, colored pencil and permanent marker on paper
22 x 18 inches
SOLD




THE HISTORIC F OUTBOARD RACEBOATS EQP'T OF THE 1950S - 1970S SOUTHERN-TO-PACIFIC COASTS US REGION, 2006
Graphite, colored pencil and permanent marker on paper
48 x 24 inches
$7,500
Photo credit: Courtesy of the John Michael Kohler Arts Center



TECHNIQUE
Blackstock's work showed remarkable power and precision from the start, as if he had been storing data in his memory banks all his life. His uniquely styled depictions are drawn with incredible precision and he exhibits a natural sense of balance and a vivid use of color. Straight lines, musical notes and text, are all executed freehand.

Blackstock does not strive to make the drawing realistic but it must be factually correct. He is not drawing as a photorealist; he's drawing as an organizer of information. First and foremost, he must be able to name what he is drawing, and it not only has to be specific (pine tree vs. maple tree), but it has to be exact (Ponderosa Pine vs. Western White Pine) and he is careful to draw it in a clear and readable fashion.

While his approach to life and art is extremely literal, it does not prevent him from using creativity when facts are absent. In his "Colorful Egg Patterns to Go For," Blackstock reproduces international flags in egg shapes, while intermingling invented patterns such as polka dot eggs and honeycomb eggs to create balance and harmony in the finished drawing.

He begins by drawing each item in pencil, carefully labeling it, then outlining in black marker, and finally using colored pencil or crayon to fill in. He usually finishes an entire row in full detail before moving on to the next. As an artist, Blackstock intuitively understands how he wants the subjects to fill the page and has the entire composition visible in his mind before he begins.

Blackstock didn't regularly use color in his drawings until there was a new audience in the form of gallery attendees starting in 2004. His newfound relationship with color could now extend the artist's range, enhancing the breadth of his lists.

Further his categories became ever more specific as he sought to include all possible color variations. For instance, working in black and white, he might do a grouping such as The Herding Dogs. After color, he had to do a single drawing of all the hues of The Bearded Collies, another of the different shades of The German Shepherd Police Dogs. As color became more intriguing to him, Blackstock began producing many drawings where the object itself was drawn repeatedly, seemingly unchanged, because the variety of colors (and the names of the colors) had become the focus.

THE COMPLETE HISTORIC CONVAIR LINER AIRCRAFT (IN COLOR), 2010
Graphite, colored pencil and permanent marker on paper
65 x 18 inches
$9,000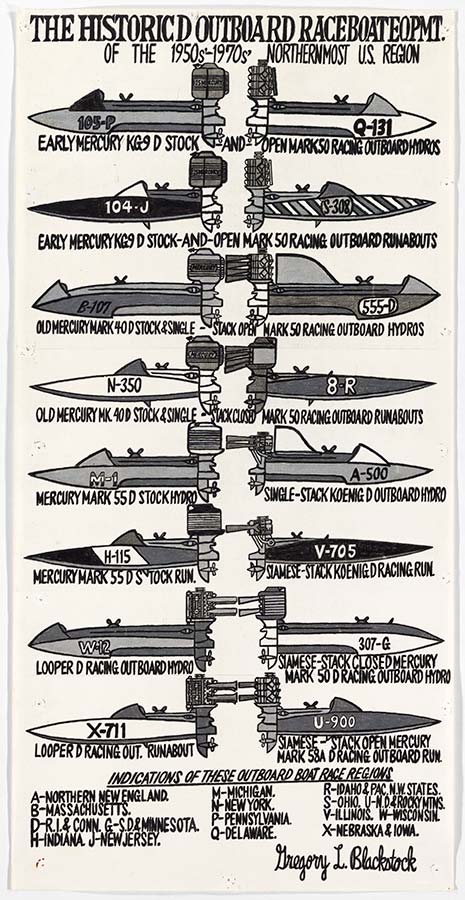 THE HISTORIC D OUTBOARD RACEBOAT EQPMT. OF THE 1950s'-1970s' NORTHERNMOST U.S. REGION, circa 2001-2010
Permanent marker and colored pencil over photocopy of original drawing
54 x 24 inches
$9,400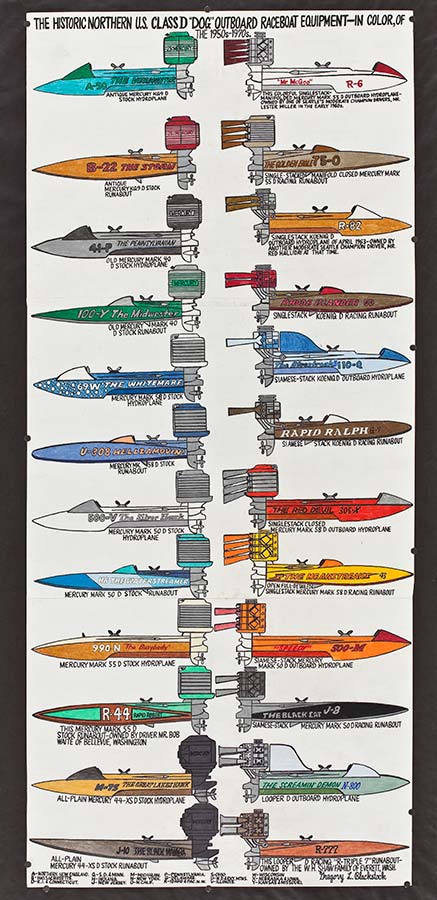 THE HISTORIC NORTHERN US CLASS D DOG OUTBOARD RACEBOAT EQUIPMENT OF THE 1950S - 1970S (IN COLOR), 2010
Graphite, colored pencil and permanent marker on paper
54 x 24 inches
$9,600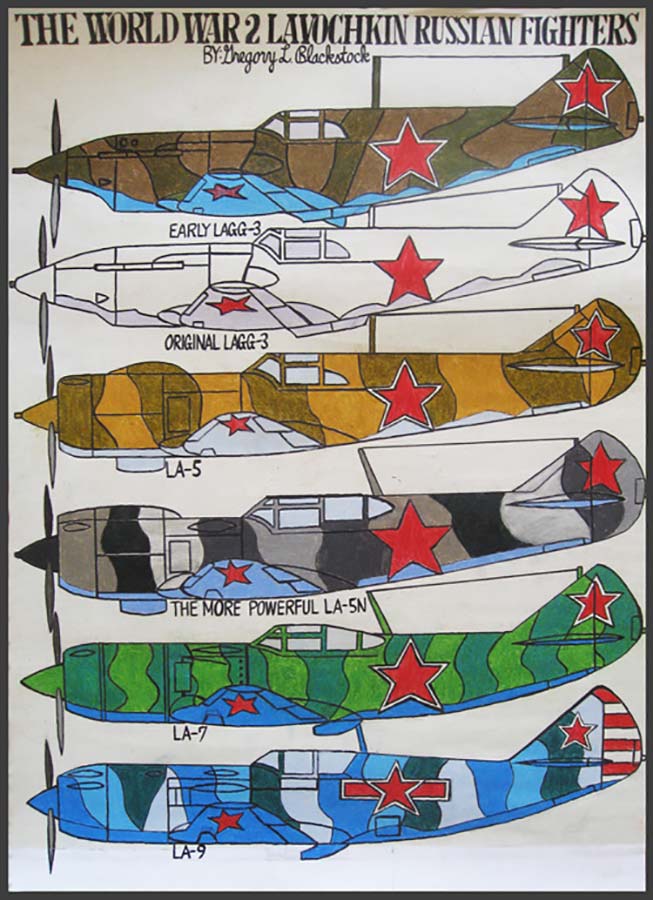 THE WORLD WAR II LAVOCHKIN RUSSIAN FIGHTERS, 2010
Graphite, colored pencil and permanent marker on paper
25 x 18 inches
$4,200



THE ASIA MINOR NATIONAL FLAGS, 2010
Graphite, colored pencil and permanent marker on paper
50 x 24 inches
$7,600



THE EAST INDIES FLAGS, 2012
Graphite, colored pencil and permanent marker on paper
24 x 22.5 inches
$4,000




THE ORNATE TOP 8 BIGWORLDCOUNTRY FLAGS, 2011
Graphite, colored pencil and permanent marker on paper
47 x 24 inches
$7,200



OUR TOP 8 LARGEST UNITED STATES FLAGS, 2011
Graphite, colored pencil and permanent marker on paper
39 x 24 inches
$6,000


HISTORY
Blackstock was born in Seattle in early 1946, long before the term autism was widely known.

Because of his remarkable abilities in art, music, language and memory, Blackstock is now considered a rare "prodigious savant" according to Dr. Darold Treffert, the acknowledged expert on the subject of Savantism, who included the artist in his latest book, Islands of Genius. Blackstock exhibits many of the classic contradictions of the savant.

Gregory Blackstock worked most of his adult life. From a teenaged newspaper carrier, to his twenty-five years as a dishwasher at the Washington Athletic Club, he has rarely been idle. In the years since full retirement, he spends many hours each day creating the drawings that catalogue the world for him, as well as pursuing a myriad of activities that interest him.

EXHIBITIONS AND COLLECTIONS
In the years since his first solo exhibition in Seattle at Garde Rail Gallery in 2004, Blackstock's distinctive drawings have captured the imagination of art collectors throughout the world. A 2006 book of his works, Blackstock's Collections, (with introduction by Karen Light-Piña and foreword by Dr. Darold Treffert) is now in libraries and bookstores worldwide.

Blackstock's work has also been shown at the John Michael Kohler Art Center, Sheboygan, WI. Drawings by Blackstock are included in the collections of the Seattle Art Museum.

In 2011, the prestigious Collection de l'Art Brut in Lausanne, Switzerland presented a solo exhibition of Blackstock's work. Today, 15 of his works now reside in their permanent collection. In collaboration with award winning filmmaker, Philippe Lespinasse, the museum also produced a documentary about him, Gregory Blackstock, l'Encyclopédiste, which has been shown at film festivals in Montreal and Nice. Galerie Susi Brunner in Zurich, and Galerie Gugging in Vienna will be showing Blackstock's work in 2012.



COLORFUL EGG PATTERN FAVORITES TO GO FOR, 2005
Graphite, colored pencil and permanent marker on paper
83.5 x 46.25 inches
$15,000



OUR OWN LOCAL NORTHWEST HOLIDAY NOVELTIES, 2010
Graphite, colored pencil and permanent marker on paper
47 x 24 inches
$7,500

THE CHRISTMAS BOXING ARENA BELLS, 2008
Graphite, colored pencil and permanent marker on paper
33 x 12 inches
$2,000

MAJOR FOREIGN ALPHABETS, 2007
Graphite and permanent marker on paper
25 x 11.5 inches
$1,800 framed



IRAQI WAR TANKS, 2007
Graphite, colored pencil and permanent marker on paper
14 x 8 inches
$1,800


THE IRISH SEATTLE SEAFAIR PIRATE CREWMAN, 2007
Graphite, colored pencil and permanent marker on paper
34.5 x 20.5 inches
$2,400


THE IRISH EMBLEM DAGGERS, 2007
Graphite, colored pencil and permanent marker on paper
26 x 13 inches
$1,800


THE SEATTLE IRISH PIRATE CUTLASSES - FULLY DECORATED CRESCENT WEAPONS, 2005
Graphite, colored pencil and permanent marker on paper
30 x 13 inches
$1,800


THE COLORFULLY DISTINCTIVE PURE VERMONT MAPLE SUGAR CANDY FRUITS, 2007
Graphite, colored pencil and permanent marker on paper
23 x 12 inches
$2,400



THE COLORED VERMONT MAPLE THEME PRODUCTS - 2, 2007
Graphite, colored pencil and permanent marker on paper
35 x 18 inches
$2,600



THE COLORED VERMONT MAPLE CABIN PRODUCTS - 3, 2007
Graphite, colored pencil and permanent marker on paper
18 x 12 inches
$1,000



THE COMMERCIAL VERMONT MAPLE THEME PRODUCTS - 2, 2007
Graphite, colored pencil and permanent marker on paper
22 x 12 inches
$1,600



THE COMMERCIAL VERMONT MAPLE THEMED PRODUCTS - B&W, 2007
Graphite, colored pencil and permanent marker on paper
18 x 10.5 inches
$1,200

THE VERMONT MAPLE CABIN PRODUCTS - 1, 2007
Graphite and permanent marker on paper
18 x 12 inches
$1,200



THE ATOMIC WINGS, 2007
Graphite, colored pencil and permanent marker on paper
24 x 18 inches
$2,000



THE ATTACK BOMBER HELICOPTER FIREWORKS, 2010
Graphite, colored pencil and permanent marker on paper
44 x 12 inches
$2,500



THE FLYING SAUCERS, 2016
Graphite, marker and colored pencil on paper
59 x 29.25 inches
$7,500




THE ROUNDED TORPEDO BOMB COLORATIONS, 2008
Graphite, colored pencil and permanent marker on paper
29 x 12 inches
$2,600



THE SINGLE AMERICAN COLORED GIANT AERIAL BOMBS, 2007
Graphite, colored pencil and permanent marker on paper
24 x 18 inches
$1,800



THE SHINY GEM COLOR FIREWORK MISSILES, 2010
Graphite, colored pencil and permanent marker on paper
45 x 18 inches
$3,500




THE SOLID-COLORED DOUBLE-STAGE SPACE SHIP FLYING WINGS, 2010
Graphite, colored pencil and permanent marker on paper
29 x 12 inches
$1,800